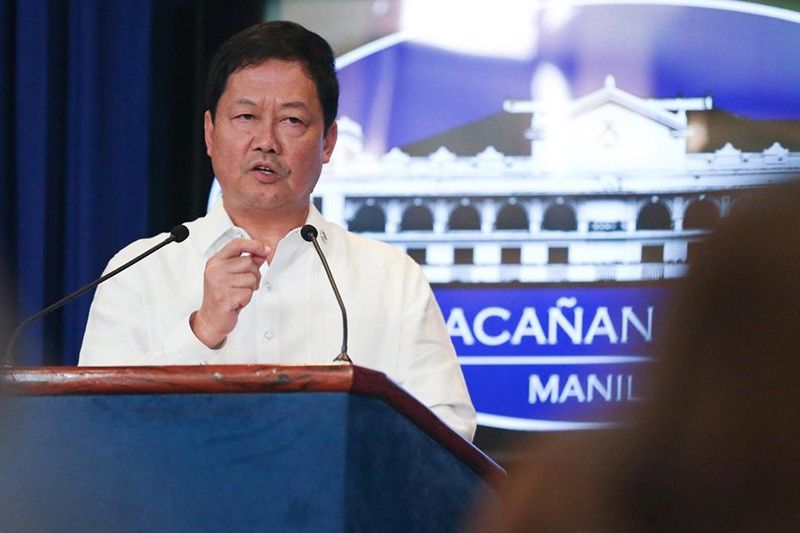 Justice Secretary Menardo Guevarra earlier said that President Rodrigo Duterte told him to "do what is right."
Presidential Photo/Toto Lozano
Guevarra: I will restore DOJ's dignified image
MANILA, Philippines — Justice Secretary Menardo Guevarra on Monday said that it is his personal mission to change the image of the Department of Justice amid controversies faced by the agency.
Guevarra attended his first flag raising ceremony as justice chief on April 16, nearly two weeks since he was appointed by President Rodrigo Duterte to the position.
He currently sits as ad interim justice chief, as the Congress has yet to resume session and his new designation has yet to be approved by the Commission on Appointments. On April 10, Guevarra met with the undersecretaries and employees of the Justice department.
'Personal mission'
In a short speech before the employees of the Justice department, Guevarra lamented that the DOJ and its attached agencies are "suffering from a huge image problem."
"It looks solid, but its structural integrity is suspect, both literally and metaphorically," he said.
"So it is my personal mission to restore DOJ's dignified and respectable image," he added.
Guevarra takes the vacated seat of Vitaliano Aguirre II, whose nearly two years as the DOJ chief were hounded by controversial cases.
READ: Six controversial cases that earned Aguirre criticism
Duterte casually announced his acceptance of the resignation of his fraternity brother, Aguirre, in a speech at the Malacañang on April 5. Hours later, the Palace announced the appointment of Guevarra, deputy executive secretary, as ad interim justice chief.
Seemingly recognizing the weight of the task given to him, Guevarra said that he might be "asking for the moon" or that it might be "too late in the day," but he urged the DOJ's employees to "adopt an attitude that puts premium on the interest of the people... especially the underprivileged and oppressed."
Guevarra said that he intends to keep "cordial relations with the media," in line with his objective to "present the truth, not fake news."
Ties with Duterte
Guevarra also revealed that he first declined the offer to take charge of the DOJ, but the chief executive seemed to "have none of it."
He said that he was already serving as Duterte's lawyer when the latter was still the mayor of Davao City.
He also revealed that he has been a law partner of Executive Secretary Salvador Medialdea for 30 years. "So I guess that president likewise trusted the man trusted by his right hand."
Guevarra also served under the administration of former Benigno Aquino III, as part of the five-member Truth Commission and as deputy executive secretary for legal affairs.
He reiterated that he would follow Duterte's order to him when he was given the position which is to do what is right.