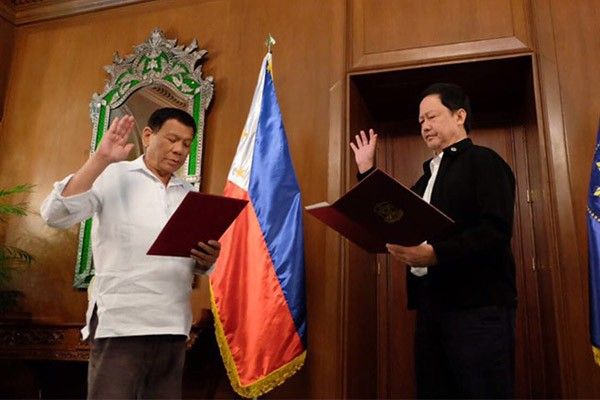 Guevarra takes his oath before President Rodrigo Duterte
Handout
Menardo Guevarra replaces Aguirre as Justice chief
MANILA, Philippines — In a little more than an hour after President Rodrigo Duterte announced Vitaliano Aguirre II's resignation, he was replaced by Senior Deputy Executive Secretary Menardo Guevarra.
Speaking to reporters on Thursday, presidential spokesman Harry Roque said that President Rodrigo Duterte has signed the appointment paper of Guevarra "now."
He added: "He will take his oath right away."
READ: Duterte accepts Aguirre's resignation
Asked on Guevarra's qualifications, Roque said the new justice chief has proven his "competence and excellence on the law, and integrity."
The Palace spokesman also noted that Guevarra, as senior deputy executive secretary, already holds a position in the Cabinet. His designation as the new Justice secretary is merely "a transfer of appointment."
Roque added Guevarra was issued an ad interim appointment because Congress is on recess.
In a speech on Thursday afternoon, Duterte said: "I [will] just also tell you now that I conferred with the officials, I accepted the resignation of Vit Aguirre, [my] fraternity brother, as secretary of Justice."
Duterte did not detail the reason for Aguirre's resignation.
Before Aguirre's resignation, the firebrand leader did not mince his words in expressing his disappointment over a DOJ-issued resolution that dropped the drug raps against confessed drug trader Kerwin Espinosa, Peter Lim, Peter Co and a dozen others.
READ: Six controversial cases that earned Aguirre criticism
Who is Guevarra?
Guevarra obtained his law degree from Ateneo de Manila, and he placed second in the bar exams in 1985.
During his law school years, he worked as staff economist of the National Economic and Development Authority and the Bangko Sentral ng Pilipinas.
Upon passing the bar, he took part of the 1986 Constitutional Commission. He later worked as a private lawyer and put up his own law partnership in 1990.
He returned to government stint in 2010, as one of the five members of former President Benigno Aquino III's Truth Commission.
The commission, created as Aquino's first executive order, was mandated to "primarily seek and find the truth on, and toward this end, investigate reports of graft and corruption."
In May 2015, Guevarra was appointed Aquino's deputy executive secretary for legal affairs.
During Congress' deliberation on Duterte's request for a year-long extension of martial law in Mindanao, Guevarra was a resource speaker for the government and fieled questions from lawmakers to defend the extension.