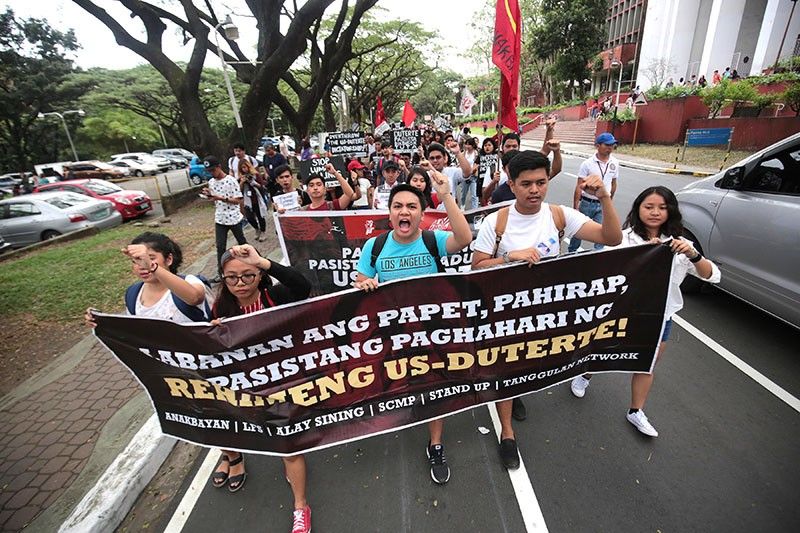 Anakbayan said police warnings are meant to keep the youth from seeing militarization themselves.
File
Youth group condemns 'red-tagging' of activists
MANILA, Philippines — Youth group Anakbayan condemned what it called the government's malicious red-tagging of student organizations, saying this could be a prelude to crackdown against activists in schools and universities.
The group was reacting to activist groups being labeled recruiters of the Communist Party of the Philippines and of the New People's Army,
"We condemn this latest publicity stunt by the Philippine National Police to further justify repression against organizations fighting the Duterte regime's anti-people policies and fascist terror," Anakbayan national secretary general Einstein Recedes said.
The recruiters of communist rebels, Recedes said, are not the activists but the PNP, the Armed Forces of the Philippines and President Rodrigo Duterte.
"By blatantly violating human rights, repressing legal dissent and silencing critical voices, they are pushing many to join the armed resistance," he said.
Anakbayan's statement came days after the PNP warned students against joining off-campus activities organized by groups with suspected links to communist guerrillas.
Chief Superintendent John Bulalacao, PNP spokesperson, also advised students not to visit areas with a heavy presence of communist rebels.
READ: PNP asks students: Shun NPA off-campus activities
The supposed maligning of youth groups is an attempt by the Duterte's administration to "whitewash its fascist attacks against urban and rural poor communities.," Recedes said.
"What Duterte really wants is to discourage the youth from going to the grassroots to see how urban and rural communities are militarized and prevent them from linking arms with the struggles of workers, urban poor, as well as farmers and indigenous peoples being driven off the land to make way for foreign investments," he also said.
Duterte, in past speeches, has accused militant groups of being legal fronts of the communists.
Activists said the red-tagging by the chief executive and his men puts their lives in grave danger.
A Justice department petition was filed in a Manila court last month seeking to declare the CPP and NPA as terror groups and more than 600 individuals—most of whom are activists and rights defenders—as terrorists.