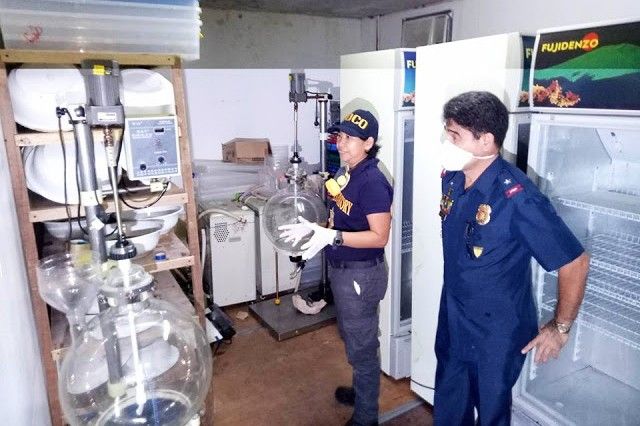 The Scene of the Crime Operatives conducts an inventory of the materials and equipment used in the manufacture of shabu in the clandestine drug lab discovered in Barangay Palta, Virac, Catanduanes. Bicol Standard
Ex-NBI director tagged in Catanduanes mega shabu lab surrenders to NBI
MANILA, Philippines — The former National Bureau of Investigations acting director charged in connection with the mega shabu laboratory in Catanduanes has surrendered to authorities, the NBI said on Wednesday.
NBI Spokesperson Ferdinand Lavin, in a press conference, said that Augusto Eric Isidoro "voluntarily surrendered to the NBI on the account of a warrant issued against him for violations of Republic Act 9165."
Isidoro, former NBI acting director for Region 7, has a pending arrest warrant from the Virac, Catanduanes Regional Trial Court Branch 43.
Isidoro and eight others are facing drug charges in connection with the police-led aid of the "mega shabu lab" on Nov. 26, 2016.
Believed to be the owner of property where the laboratory was constructed is a certain Sarah Sarmiento and leased by Angelica Balmadrid, who is allegedly the common-law wife of Isidoro.
Others charged in the case are:
Xian Xian Wang
Pido Bonito
Paolo Uy
Jayson Gonzales Uy
Lorenzo Flores Piñera II, alias Lawrence, Kidot
Paolo Wee Palisoc
Phung Yuan Estorco
Sheng Wang
Seized in the shabu laboratory are 22.509 kilograms of crystallized metamphetamine hydrochloride or shabu and 359.75 kg of Ephedrine, both dangerous drugs. Chemicals and equipment for the manufacture of illegal drugs were also confiscated during the search.
READ: House to probe mega shabu lab in Catanduanes
Lavin said that Isidoro is currently in the custody of the NBI. The bureau is waiting for the court to issue a commitment order for his transfer of detention.
Court transfer request
Meanwhile, Justice Secretary Vitaliano Aguirre II also asked the Supreme Court to transfer the case to a Makati or Quezon City court.
In a four-page letter addressed to Acting Chief Justice Antonio Carpio, Aguirre asked the SC to allow the transfer of hearing to a court in Makati or Quezon City.
The justice chief cited the motion for inhibition filed by state prosecutors handling the case.
In the said motion, state prosecutors noted that when the police arrived at the warehouse on Nov. 26, 2016, they saw Presiding Judge Lelu Contreras with the wife of Isidoro.
"With due respect, the foregoing circumstances fosters a strong belief on the part of the prosecution that the Presiding Judge cannot handle this case with the required cold neutrality of an impartial judge and places in grave doubt the integrity of her eventual disposition," the prosecutors said in their motion.
Aguirre, in his letter to Carpio, also cited the supposed "politically connections" of some of the accused.
"The transfer of the venue will also insulate the proceedings from influence or threats from any groups affiliated with the accused," the justice chief added.