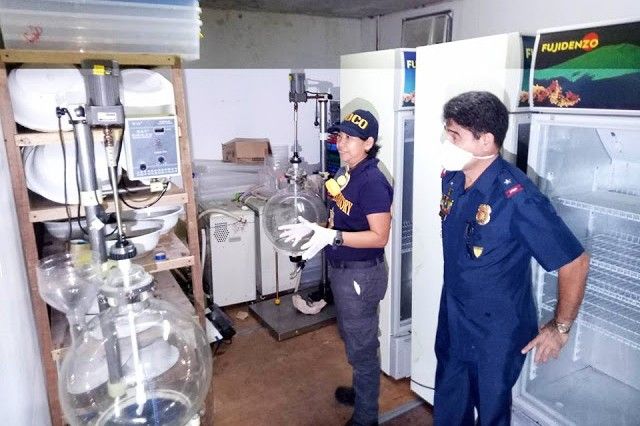 The Scene of the Crime Operatives conducts an inventory of the materials and equipment used in the manufacture of shabu in the clandestine drug lab discovered in Barangay Palta, Virac, Catanduanes.
Bicol Standard/File photo
House to probe mega shabu lab in Catanduanes
VIRAC, Philippines (Bicol Standard) - The scheduled congressional inquiry regarding the mega shabu lab that was uncovered here will be in aid of legislation, and not to malign politicians.
This is the statement issued by the camp Catanduanes Rep. Cesar Sarmiento in reaction to insinuations that he may be using the inquiry to damage the reputation of Gov. Joseph Cua.
READ: Catanduanes governor denies drug links, lauds shabu raid l Alleged shabu lab in Catanduanes secured by PNP, Army
Other camps believe that this is the opportunity for Cua to clear his name, which has come up in previous reports.

The probe was agreed upon by the members of the House Committee on Dangerous Drugs headed by Rep. Ace Barbers based on a house bill filed by Sarmiento.

Among the scheduled activities related to the said inquiry are the following: meeting with local government officials, briefing on the drug situation by the regional Philippine National Police (PNP) and the Armed Forces of the Philippines (AFP), ocular inspection of the shabu laboratory, and public hearing at the auditorium of Catanduanes State University.

The resource persons include representatives from the Philippine Drug Enforcement Agency, PNP, National Bureau of Investigation, AFP Region 5, Philippine Ports Authority Region 5, Philippine Coast Guard Region 5, Office of Transport Security, Land Transportation Authority, and the Maritime Industry Authority.

It will be recalled that the mega shabu lab was uncovered here on Nov. 26, 2016 at Barangay Palta Small.

Both Cua and Mayor Samuel Laynes, whose names were mentioned in earlier reports, categorically denied knowledge or participation in the construction and operation of the shabu lab.
There were other persons who were named in the police report, including Jason Gonzales Uy and three unidentified Chinese men, who are all still at large.
READ: Catanduanes shabu lab caretaker charged in court
The mega shabu laboratory was constructed in the property of a certain Sarah Sarmiento and leased by Angelica Balmadrid, who is allegedly the common-law wife of NBI Region 7 director, lawyer Eric Isidoro.

Meanwhile, in a separate interview by the Bicol Standard with Chief Superintendent Melvin Buenafe, PNP Regional Director, he said they have submitted their reports regarding their own investigation to the government authorities.
***
Melissa Basmayor is the editor-in-chief of the Bicol Standard, a regional partner of Philstar.com.