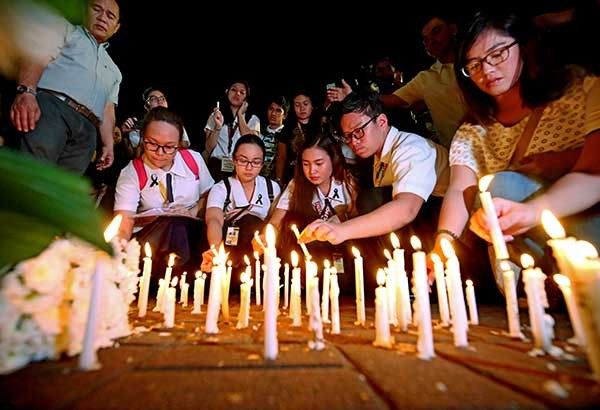 University of Santo Tomas students light candles for law student Horacio Castillo III during a ceremony at the campus plaza in September 2017. MIGUEL DE GUZMAN
DOJ indicts 11 Aegis Juris members over fatal hazing of Atio Castillo
MANILA, Philippines — The Department of Justice has recommended filing anti-hazing charges against 10 members of the Aegis Juris Fraternity over the fatal hazing of law freshman Horacio "Atio" Castillo III.

State prosecutors meanwhile charged John Paul Solano, who brought Castillo's body to the Chinese General Hospital on Sept. 17, 2017, with perjury and obstruction of justice.

Complaints against Nilo Divina, University of Santo Tomas law dean, and Arthur Capili, UST Faculty Secretary, were dismissed due to "insufficiency of evidence."

The following Aegis Juris Fraternity members face anti-hazing charges:
Arvin Balag
Ralph Trangia
Oliver John Audrey Onofre
Mhin Wei Chan
Danielle Hans Matthew Rodrigo
Joshua Joriel Macabali
Axel Munrio Hipe
Marcelino Bagtang
Jose Miguel Salamat
Robin Ramos

"The presence and participation of the said respondents in the initiation rites were established by the statements of both respondents Solano and Ventura," the DOJ noted in its resolution.

While the respondents argued that their participation in Castillo's hazing were not specified in the complaints against them, the DOJ said "Ventura's statement and the Facebook group chat" established their individual participation.

"Bearing in mind the concealment in hazing, it is only logical and proper for the prosecution to resort to the presentation of circumstantial evidence to prove it," the DOJ also said.

On the respondents' defense that it was a pre-existing heart condition that killed Castillo, and not being punched and paddled for hours, the DOJ said: "We give credence to complainants' argument that the finding of [Hypertrophic Cardiomyopathy] was only a provisional anatomical diagnoses, hence, subject to further examination."

Raps against Mark Ventura were dropped due to his admission into the DOJ's Witness Protection Program.

Ventura's testimony, according to state prosecutors, was instrumental in uncovering the fraternity's hazing rites.

According to Ventura, Castillo was punched and paddled until he was black and blue by his would-be fraternity brothers.

Further investigation recommended

The DOJ has also recommended additional investigation of following whose names appeared in Ventura's testimony:
Zach Abulencia
Daniel Ragos
Dave Felix
Sam Cagalingan
Alex Cairo
Luis Capulong
Kim Cyrill Roque
Ged Villanueva
Edric Pilapil
RR Magbuhos

Supterintendent Erwin Magarejo, Manila Police District chief, welcomed the indictment of the fraternity members.

In a statement to reporters, Magarejo said that the MPD stands ready to arrest the accused should an order be issued.

"Our investigation will continue, especially on the ten other members of the fraternity, as recommended by the DOJ," Magarejo added.

The lifeless body of Castillo, a 22-year-old law student, was found sprawled on a sidewalk along Balut, Tondo on the morning of September 19.