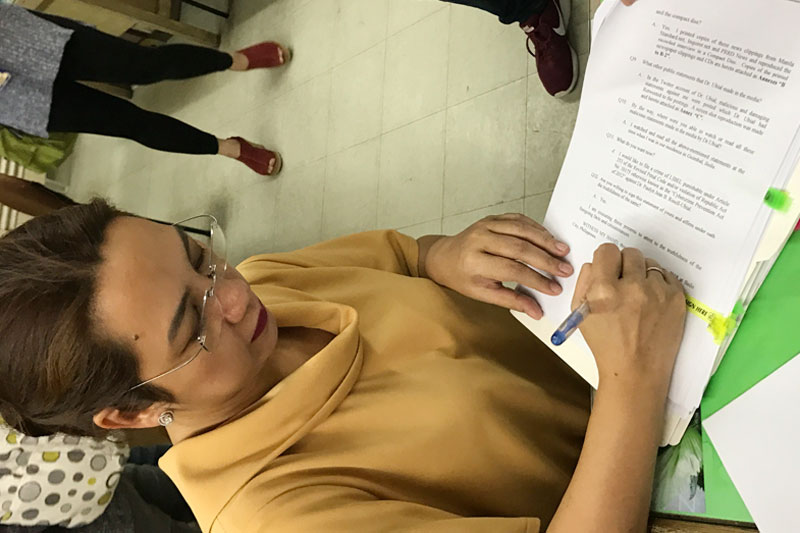 Garin accused Ubial, health advocate Anthony Leachon, Ubial's consultant Francisco Cruz and former Department of Health (DOH) undersecretary Teodoro Herbosa of libel under Article 353 of the Revised Penal Code and/or violation of Republic Act No. 10175 or the Cybercrime Prevention Act. File
Janette Garin files libel suit vs Paulyn Jean Ubial, 3 others
ILOILO CITY, Philippines — Embattled former health secretary Janette Garin yesterday filed libel charges against her immediate successor, Paulyn Jean Ubial, and three other physicians.
Garin accused Ubial, health advocate Anthony Leachon, Ubial's consultant Francisco Cruz and former Department of Health (DOH) undersecretary Teodoro Herbosa of libel under Article 353 of the Revised Penal Code and/or violation of Republic Act No. 10175 or the Cybercrime Prevention Act.
Garin, together with lawyer May Castillo, filed the case before the Iloilo Provincial Prosecutor's Office.
In her complaint affidavit, Garin accused the four respondents of maligning and dishonoring her with their malicious statements over print, broadcast and social media.
Her complaint against Ubial stemmed from the latter's interviews and/or press conferences last Jan. 14.
Garin said Ubial's pronouncement that the Dengvaxia immunization program was riddled with corruption and anomaly was malicious "by imputing upon me, together with other DOH officials, of a crime, or of a vice or defect, or any act, omission, condition or circumstance."
She claimed that Ubial also posted "damaging" statements against her on her Twitter account.
On the other hand, Garin charged Cruz for his malicious imputations last Jan. 15.
The former DOH chief and representative of the first district of Iloilo pointed to Cruz's statement about the so-called "mafia" system inside the DOH, whose officials – including Garin – allegedly benefitted from the controversial P3.5-billion procurement of Dengvaxia vaccine from French pharmaceutical Sanofi Pasteur.
"To call me and other DOH officials as belonging to a mafia is a purely malicious statement without any basis," Garin said.
In accusing Herbosa, Garin referred to his malicious retort on the speed by which the vaccine was procured.
Herbosa on his Twitter account posted last Jan. 31 that "Garin did not listen. Stubborn."
As to Leachon, Garin referred to his interview on Dec. 6 last year when he alleged anomaly in the processing and procurement of the anti-dengue vaccine.
Leachon said those behind the Dengvaxia controversy did not follow the policy of the Food and Drug Administration regarding the conduct of a post clinical trial. He also claimed that the approval of the mass vaccination was done in haste.
Garin said the respondents have been persistently maligning not only her but also other officials of the DOH.
"My conscience is clear. (There's no problem) if we will be investigated but it is a mortal sin to use these issues to confuse the public and in effect the public health program," she added.
Last Jan. 26, she also filed a case against Cruz for libel and/or violation of RA 10175 while her husband, Rep. Oscar Garin, filed a similar case against Ubial.
For their part, DOH officials yesterday filed another libel case against Cruz at the Manila City Prosecutor's Office.
The complaint-affidavit filed by DOH undersecretaries Mari Carolina Taino, Gerardo Bayugo, Lilibeth David; assistant secretary Nestor Santiago; directors Laureano Cruz, Maria Joyce Ducusin and Mar Wynn Bello stated that the former DOH consultant's allegations that they benefitted from the procurement of Dengvaxia were unfounded and baseless accusations aimed to besmirch their reputations.
The complaint also stemmed from Cruz's claim during several interviews that a "mafia" composed of DOH officials conspired with the administration of former president Benigno Aquino III for the purchase of Dengvaxia.
Cruz alleged that individuals, including Garin, were members of the so-called "mafia" in the DOH.
Last Monday, Philippine Children's Medical Center (PCMC) executive director Julius Lecciones filed a similar complaint against Cruz at the Quezon City Assistant Prosecutor's Office. – Rey Galupo