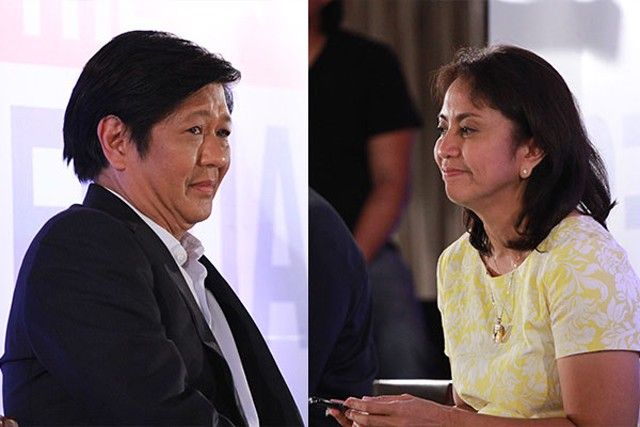 The Presidential Electoral Tribunal has reminded the camps of Vice President Leni Robredo and former Sen. Ferdinand "Bongbong" Marcos Jr. to observe the sub judice rule.
File photos
PET warns Marcos, Robredo: Refrain from discussing matters already in court
MANILA, Philippines (2nd update 3:18 p.m.) — The Presidential Electoral Tribunal has reminded the parties of Vice President Leni Robredo and former Sen. Ferdinand "Bongbong" Marcos Jr. of the rule to refrain from commenting on ongoing judicial proceedings.
"[C]onsidering that the revision process is about to commence, the tribunal directs both protestant and protestee to observe the sub judice rule," the two-page resolution from the tribunal read.
Under jurisprudence, sub judice "restricts comments and disclosures pertaining to pending judicial proceedings."
In the past months, the two camps have traded words in separate press conferences on the proceeding.
Marcos, in a press conference, presented evidence that would allegedly back his claim that Robredo committed fraud in the 2016 national elections. He showed copies of ballot images from Camarines Sur and Negros Oriental that would supposedly prove massive fraud in the 2016 polls.
Romulo Macalintal, lead counsel of Robredo, in a later press conference said that the "square" images Marcos has pointed out are new features for the 2016 automated elections, a point the Commission on Elections has discussed with all political parties.
The camp of Marcos also challenged the vice president to withdraw all pending motions that may delay the recount proceeding.
Tribunal: No pending motions from Robredo camp
Macalintal heeded the challenge and filed their camp's motion to withdraw all pending motion on February 4.
In the latest PET resolution, the tribunal noted the said pleading. It read: "Based on the records of this case, the Tribunal finds that there are no such pending motions from protestee (Robredo)."
The tribunal also ordered the camp of Marcos to comment on the vice president's motion.
"Accordingly, the Tribunal resolves to note the motion and require protestant to submit his comment thereon and inform the Tribunal if he intends to file a similar motion as that filed by protestee (Robredo) within ten days from notice thereof," the resolution read.
After challenging the camp of Robredo, Vic Rodriguez, counsel of Marcos, sent a signed manifestation signifying the commitment not to delay the election recount.
But Macalintal pointed out that Rodriguez and Marcos signed a wrong pleading, as the court cannot act on a manifestation.
Marcos, the son of the ousted Philippine dictator Ferdinand Marcos, has accused Robredo of cheating her way to the second highest office in the land. He lost to the former Camarines Sur Rep. and human rights lawyer by a slim margin of about 260,000 votes in the 2016 national elections.
If Marcos wins in his electoral protest, this will mean a massive step in the efforts by his family to rehabilitate and regain the presidential palace 32 years after their patriarch was ousted from power.