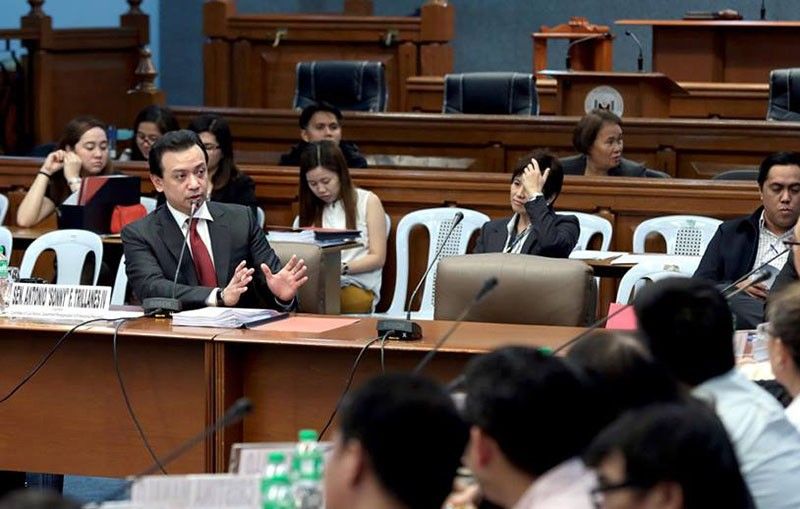 The Davao City council has declared Trillanes unwelcome in their city.
Senate PRIB/Albert Calvelo
Hits and Misses: Fact-checking Trillanes on Davao City
MANILA, Philippines — Sen. Antonio Trillanes IV has been declared "persona non grata" or unwanted and unwelcome in Davao City over a statement that it was "the most dangerous city in the Philippines."
Trillanes, an outspoken critic of President Rodrigo Duterte, made the statement in a press briefing prior to a forum before the Filipino community in Chicago a few days ago.
The senator compared the citizens of Davao City to North Korea, whose citizens are said to have been brainwashed into praising their leader Kim Jong Un.
Traffic situation
In the interview, Trillanes said that General Santos City had much better urban planning compared to Davao City.
"In his city, traffic is terrible. The situation of the urban poor is terrible and the city doesn't have a good garbage collection system. It's a typical Filipino city," Trillanes said in English and Filipino, adding that Duterte was mayor of Davao City for more than 20 years.
A survey conducted by the Institute of Popular Opinion in November 2017 showed that 81 percent of the public believed that massive development has caused traffic congestion in the city.
"In effect, it has affected road use, and worsened the traffic situation," the report read. Citizens, however, believe that it was "necessary sacrifice" to achieve progress in the city.
A small number of the 1,200 respondents attributed the growing number of vehicles in the city as the cause of heavy traffic.
Crime situation
The senator claimed that Davao City had the highest incidence of murder and second highest of rape, based on December 2015 data from the Philippine National Police.
"Duterte was still mayor then — Davao City was Number One for murder and Number Two for rape in the Philippines," Trillanes said.
The PNP's Crime Situation for calendar year 2010 to 2015 showed that Davao City posted the most recorded murders at 1,032. Quezon City ranked second with 961 followed by Cebu City with 806 and Manila City with 712.
Quezon City recorded the most rape cases with 1,122 while Davao City ranked second at 843. Manila City ranked third with 746 followed by Zamboanga City with 574.
Rape cases in Davao City also increased in the third quarter of 2017 with 58 cases, according to a report from Sun.Star Davao. This is a 7.4-percent increase compared to the same period in 2016 with 54 cases.
The increase in rape cases in the city were recorded despite the declaration of martial law in Mindanao.
'Most dangerous city'
In the same crime index, the PNP released a list of 15 cities with the highest number of index crimes from 2010 to 2015. Index crimes, which are used to measure crime, include murder, homicide, robbery theft, carnapping and physical injury.
Trillanes had claimed that Davao City was "the most dangerous city in the Philippines," pushing the Davao City council to declare him persona non grata.
The PNP data, however, showed that Quezon City recorded the highest number of index crimes with 65,514 cases in the past five years. Manila ranked second with 54,689 cases while Cebu City placed third with 38,797.
Davao City ranked fourth with 37,684 cases.
'Safest city in the Philippines'
"Davao residents were so brainwashed into believing Davao City is the most safe city not only in the Philippines but in the world," Trillanes said.
In June 2015, Davao City was declared the fifth safest city in the world, according to crowd-sourcing survey site Numbeo.com. At the time, Davao City had a crime index of 18.18 and a safety index of 81.82.
As of February 2018, Davao City ranks 275th out of 330 cities in Numbeo's crime index. Davao City's current crime index is at 28.96 while its safety index is at 71.04.
Data from the Philippine Drug Enforcement Agency shows that there are only two drug-free barangays in the whole Davao region. PNP data also showed that Davao City harbors marijuana plantations, drug laboratories and drug smuggling ports.
It is actually the Iloilo region that has the most drug-free barangays with 838 out of 3,389 as of May 2017. It is also free of marijuana plantations and drug laboratories.