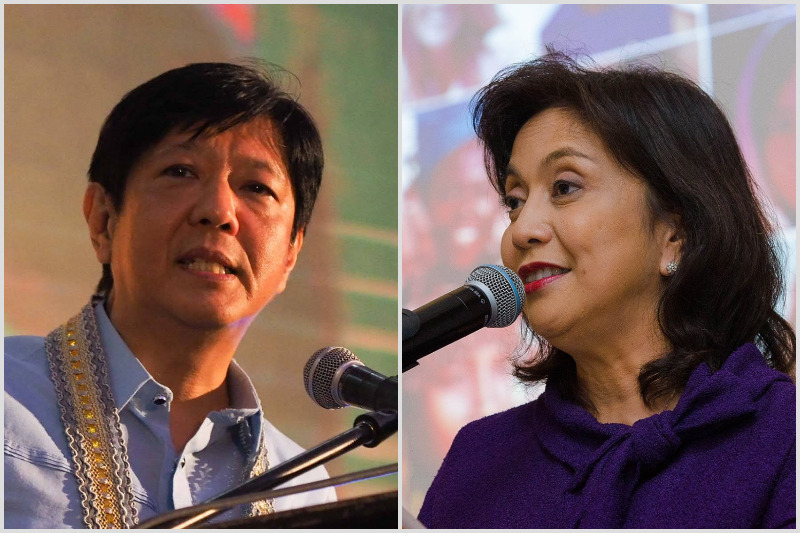 Vice President Leni Robredo's camp accepted the challenge of former Sen. Ferdinand "Bongbong" Marcos Jr. to sign a joint petition witdrawing all petitions pending before the Presidential Electoral Tribunal. Combination Photo/File
Robredo camp files motion to withdraw pending motions
MANILA, Philippines — The camp of Vice President Leni Robredo has officially filed a motion to withdraw pending appeals before the Presidential Electoral Tribunal on Thursday afternoon.
The motion was in answer to the challenge issued by former Sen. Ferdinand "Bongbong" Marcos Jr. to hasten the recount proceeding.
In a statement, Romulo Macalintal, legal counsel of the vice president, said: "If there is any pending motion of the protestee (Robredo) which may delay the recount proceedings the same should be considered as withdrawn or abandoned."
The elections lawyer held a press conference on Wednesday morning to sign the motion. He also pointed out that Marcos failed at his own challenge as he merely signed a manifestation and not a motion.
"A motion is a pleading where a party asks the court to grant him the relief or remedies or what he wants from court. A manifestation is merely a pleading wherein the party merely makes a representation or statement which the court may just take not of without any action at all," Macalintal added.
READ: Robredo camp: Marcos signed wrong pleading
But Vic Rodriguez, counsel for Marcos, replied that they signed a joint manifestation as "expression of our commitment to the court and the Filipino people to withdraw any or pending motion and all other future motions that would cause a delay in the recount proceeding."
Meanwhile, Marcos joined his flock of supporters who trooped to the Supreme Court on Thursday morning. The supporters called for the tribunal to start the recount soon.
Macalintal has earlier said that the recount would start on March 19.
READ: Marcos camp: Manifestation shows commitment not to delay recount
Last week, Marcos presented evidence that would supposedly show fraud during the 2016 national and local elections. He presented copies of ballot images from Camarines Sur and Negros Oriental that would allegedly prove massive fraud during the 2016 polls.
Robredo's camp dismissed the supposed evidence as "highly ridiculous if not outright frivolous" and urged the PET and the Commission on Elections to investigate the source of the images.
Marcos, the son of the ousted Philippine dictator Ferdinand Marcos, has accused Robredo of cheating her way to the second highest office in the land. He lost to the former Camarines Sur representative and human rights lawyer Robredo by a slim margin of about 260,000 votes in the 2016 national elections.
If Marcos wins in his electoral protest, this will mean a massive step in the efforts made by his family to rehabilitate and regain the presidential palace 32 years after their patriarch was ousted from power.