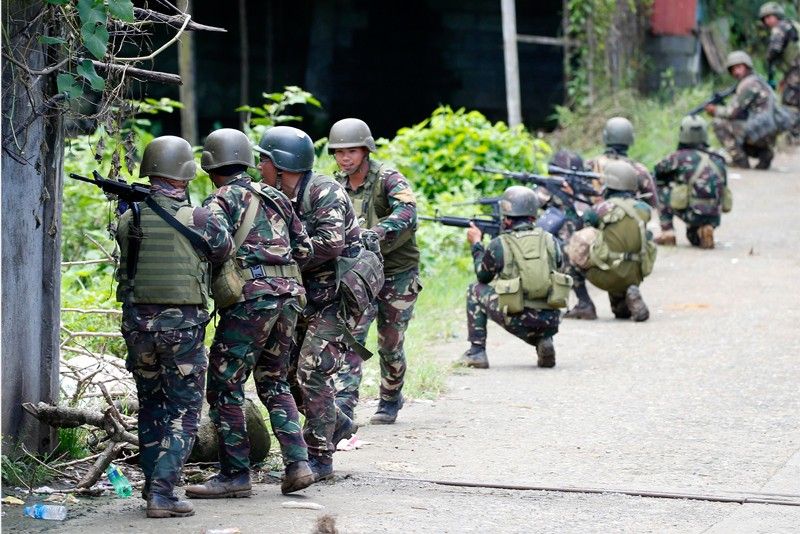 Washington recently launched a new assistance mission in the Philippines that would allow the country to receive the same appropriation used in funding US counterterrorism operations in the Middle East. "Operation Pacific Eagle" was launched to assist the Armed Forces of the Philippines in their fight against violent extremist organizations, including those affiliated with ISIS and other terrorist groups, according to the Pentagon.
AP/Bullit Marquez, File
Pentagon reveals when US anti-terrorism ops in Philippines will stop
MANILA, Philippines — Operation Pacific Eagle, the US Department of Defense' contingency operation to support the Armed Forces of the Philippines in fighting extremist groups, will not have a specific end date.
Last month, the Pentagon renamed its anti-terrorism mission from "Operation Enduring Freedom-Philippines" to "Operation Pacific Eagle" to mark a new phase of counter-terrorism efforts in the region.
In the Pentagon's Lead Inspector General report, Operation Pacific Eagle was "conditions-based and will terminate when the AFP no longer requires U.S. military assistance to address its internal terrorist threat."
RELATED: US intensifies anti-terrorism ops in the Philippines with new military mission — report
The operation was designated to acknowledge the severity of the terrorist threat in the Philippines following the seize of Marawi City by ISIS-inspired local terror groups.
US Ambassador to the Philippines Sung Kim, in a Wall Street journal report, said that the operation "indicate[s] recognition in Washington that a greater degree of attention is required for the situation in Mindanao."
The Pentagon explained how the threat of terrorism led to renewed military-to-military cooperation.
"This heightened threat caused the [Department of Defense] to prioritize resources to halt and reverse the degradation of an already unstable area and prevent the southern Philippines from becoming a safe haven for terrorists," the Pentagon report read.
Limited operation
Seemingly addressing possible concerns over the new military activity, Glenn Fine, Lead Inspector General of the Pentagon, said the US has not altered the way its forces operate in the Philippines.
"[Operation Pacific Eagle] is a bilateral operation, and [Department of Defense] officials stated there were no plans to expand the effort into a 'coalition,'" Fine said in his report.
Under Operation Pacific Eagle, US special operations missions will continue to advise and assist the AFP while Filipino troops conduct all military operations.
The US Pacific Command also provides the Philippine military with logistical support, intelligent sharing, operational planning and intelligence, surveillance and reconnaissance.
In 2017, the Pentagon, under Operation Pacific Eagle, spent $16 million for intelligence, surveillance and reconnaissance.
For 2018 and 2019, the Pentagon, including the Pacific Command and the military departments, are yet to identify requirements and resourcing options to support the operation.
"According to the DoD Comptroller, discussions regarding proposed revisions to the existing [overseas contingency operations] criteria continued this quarter, and the DoD's pending FY 2019 budget request will include the details of the amount and source of funding for counterterrorism operations in the Philippines," the report read.