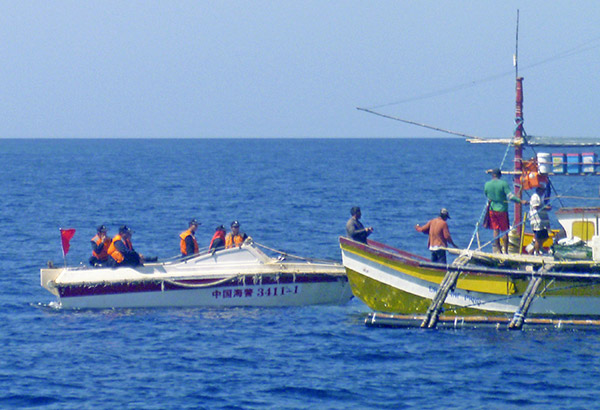 In this Feb. 27, 2015 photo provided by fisherman Renato Etac, Chinese Coast Guard members approach his fellow fishermen near Panatag (Scarborough) Shoal in the West Philippine Sea. More than once, the Chinese approached Etac's boat and pointed their rifles at him, but he says he knew they would not fire and start a war. AP, File
Palace won't be part of 'US-China intramural' over Panatag Shoal
MANILA, Philippines — Malacañang won't meddle in the tiff between China and the United States over the Panatag (Scarborough) Shoal in the West Philippine Sea (South China Sea) even if the area is within the Philippines' exclusive economic zone.
Beijing has accused Washington of violating China's sovereignty after US missile destroyer USS Hopper sailed near the shoal, a traditional fishing ground located 124 nautical miles off Zambales.
China has vowed to defend its sovereignty but American officials have insisted that the presence of the ship was in line with international law.
The Philippines, which has been warming up to China since President Rodrigo Duterte assumed office, is keeping its hands off the issue.
"We do not wish to be part of a US-China intramural," presidential spokesman Harry Roque said in a statement issued Sunday.
"The United States can take care of its own interest," he added.
Roque said the problems of the US is no longer the problems of the Philippines because the Duterte administration is pursuing a more independent foreign policy.
As China is protesting the presence of a US ship in Panatag, Roque insisted that the Philippines' claim over Scarborough Shoal "is recognized under our constitutional law and international law."
China, which claims about 90 percent of South China Sea, started occupying the shoal in 2011 after Chinese surveillance ships stopped the Philippine Navy from arresting Chinese fishermen who had poached endangered marine species.
The Philippines, under former President Benigno Aquino III filed several protests against the occupation but they were ignored by China, which insisted that it has sovereignty over the shoal.
In 2013, the Philippines questioned China's expansive maritime claim before an international arbitral tribunal, calling it "excessive" and "exaggerated." A Hague-based court voided China's claim in 2016 but the Chinese government refused to recognize the ruling.
The court said Panatag is a common fishing ground but reprimanded China for interfering with the Filipinos' fishing rights at the shoal.
Officials claimed that Filipino fishermen are now allowed to enter Panatag because of the improving ties between the Philippines and China. But Duterte, who has chided the US for allegedly interfering with the Philippines' internal issues, has admitted that no one can stop China from building structures on the shoal.