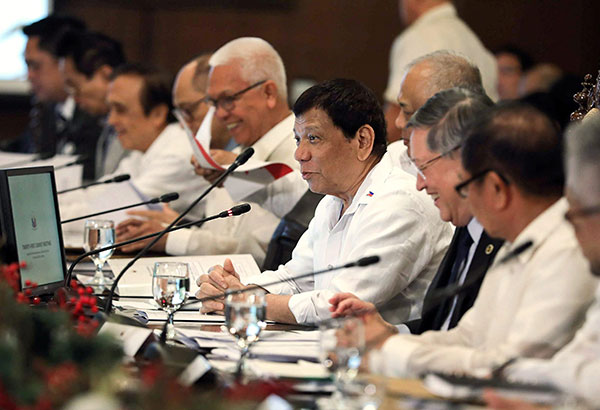 Ultimate Nightmare: President Duterte, here shown with his Cabinet during their meeting at Malacañang the other day, considers an extension of his term his 'ultimate nightmare,' according to his spokesman.
Palace: Extended term 'ultimate nightmare' for Duterte
MANILA, Philippines — Staying in office beyond his term is President Duterte's "ultimate nightmare," Malacañang said yesterday, as it brushed aside claims that he would use proposals to change the form of government to stay in power.
Presidential spokesman Harry Roque reiterated that Duterte is willing to let go of the presidency once the Constitution is amended to strengthen measures against graft and corruption and to establish a federal form of government.
"(Duterte) wants to make institutional changes, particularly on the Constitution and that appears to be his short-term, medium-term and long-term objective. If that's met, then there's no use for him to stay. But, he has never, ever, ever said that he is willing to stay one minute longer beyond his term in 2022," Roque told CNN Philippines in an interview last Monday.
"Not even a day longer. To him that's the ultimate nightmare. He wants to finish his term. He wants to give it his best shot and that's it," he added.
Speaker Pantaleon Alvarez, an ally of Duterte, has said that the 2019 midterm polls could be scrapped if the Constitution is amended and the form of government is changed to federal from unitary.
He said the no-elections (no-el) scenario could be part of a transition because a shift in the form of government could not be implemented immediately.
Senate President Aquilino Pimentel III, on the other hand, has said Duterte's term may be extended if the new Constitution provides for it and if the President is amenable to such provision.
The opposition suspects that the no-el scenario and efforts to change the Constitution will be used to enable Duterte to establish a dictatorship and to perpetuate himself in power.
Roque reiterated that Duterte is against efforts to scrap the 2019 elections.
"You know, the President, after all, was mayor of Davao for almost 30 years. He is used to running in elections and he had not lost an election. But the point is that he is not running in another election and that's why he sees no benefit really in no-el," Roque said.
"(Duterte) is the chief implementor of the Constitution and because of this, he will abide by the terms of the Constitution. When the Constitution says that the next election will be in May of 2019, he will implement that. And he promises that the next election in 2019 will be the cleanest that we will ever have," he added.
Asked what assurance he could give to those who doubt that Duterte does not want to extend his term, Roque replied: "Well, let's just say that he loves Davao very much. He can't stand Manila and really the moment that he can go back to his home by the sea, he would take that opportunity, anytime."
Roque noted that the midterm elections would push through unless the 1987 Constitution is amended.
Regional police proposal nixed
Meanwhile, Roque stressed that Duterte is against the idea of establishing regional police units even under a federal government.
Duterte issued the statement during a Cabinet meeting at Malacañang last Monday.
"The President rejected the idea of regional PNPs even in the context of federalism. He said that he wants the police to still be under the Philippine National Police at least until such time that we have gotten rid of regional warlords," Roque said in a press briefing yesterday.
In his previous speeches, Duterte said the military and the police should remain under the President and he would not allow federal states to have their own security forces.
Roque said Congress could propose amendments to the Constitution with or without the 25-member advisory committee that would review the Charter.
Duterte called for the creation of the committee through Executive Order No. 10 issued in 2016.
Senate to set hearings
In further developments, the Senate committee on constitutional amendments is set to conduct hearings into various proposals to amend the Constitution, including a resolution that seeks to shift the country to a federal system when Congress resumes session next week, Sen. Francis Pangilinan said yesterday.
Pangilinan, chairman of the committee, has scheduled the hearings even as leaders of the House of Representatives continued to exert pressure on the Senate on the Charter change issue and persist on talking about the slow pace of work in the upper chamber and term extensions of elected officials.
The committee will hear the measures filed by Senate Minority Leader Franklin Drilon, Senate President Pro Tempore Ralph Recto and Senators Richard Gordon and Juan Miguel Zubiri as well as the resolution Pimentel announced he would file in the coming days.
Last week, Pimentel announced he would file a resolution calling on both the Senate and the House to convene into a constituent assembly to draft a new Constitution where a federal form of government will run the country as pushed by the ruling PDP-Laban.
"We will conduct hearings promptly. We will not be a cause for delay but neither will we be pressured in coming up with a hastily crafted committee report," Pangilinan said. – Paolo Romero