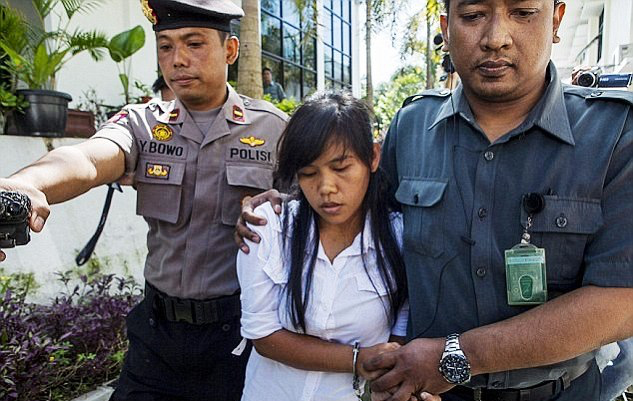 Mary Jane Veloso, a mother of two, claimed that she was duped into carrying a suitcase lined with heroin into Indonesia. She was sentenced to death by the government of Indonesia. Following an appeal from then-President Benigno Aquino III and surrender of her alleged recruiters in the Philippines, she was granted a last-minute reprieve before her scheduled execution on April 29, 2015. Reuters, file
CA blocks Mary Jane Veloso's testimony in case vs recruiters
(Philstar.com) - January 5, 2018 - 10:35am
MANILA, Philippines — Convicted drug mule Mary Jane Veloso has yet to tell her story in court, as the Court of Appeals granted her alleged recruiters' appeal to bar a local judge from observing the deposition of her testimony.
In an 18-page decision dated Dec. 13, 2017, the former 11th Division of the CA granted the petition for certiorari and prohibition filed by the lawyers of Maria Cristina Sergio and Julius Lacanilao, Veloso's alleged recruiters.
The ruling likewise reversed and set aside the decision of the Nueva Ecija Regional Trial Court Branch 88 that allowed Judge Anarica Castillo-Reyes to observe Veloso's deposition in Indonesia. Earlier, Reyes' sala allowed the Philippine consulate in Indonesia to take Veloso's testimony through deposition in Wirongunan Penitentiary, where she is detained in Indonesia.
The judge should also be present to observe the deposition.
A deposition is a witness's testimony taken outside court.
READ: Mary Jane allowed to testify vs illegal recruiters
The CA agreed that allowing such is "violative of their right to confront the witnesses or to meet them face to face guaranteed under Section 14 (2) of the 1987 Constitution."
Sergio and Lacanilao are represented by the Public Attorney's Office, while lawyer Edre Olalia of the National Union of People's Lawyers represents Veloso. He is also a private prosecutor in the case against the alleged illegal recruiters.
The appellate court also noted that "[g]enerally, the examination of witnesses must be done orally before a judge in open court."
It said "the requirement is the safest and the most satisfactory method of investigating facts as it enables the judge to test the witness' credibility through his manner and deportment while testifying."
READ: Court blocks Mary Jane Veloso deposition in Indonesia
The appellate court said that it is "not oblivious of the sad and unfortunate fate that befell Mary Jane."
Veloso, a mother of two, claims that she was duped into carrying a suitcase lined with heroin into Indonesia. She was sentenced to death by the government of Indonesia.
Following an appeal from President Benigno Aquino III and surrender of her alleged recruiters in the Philippines, she was granted a last-minute reprieve before her scheduled execution on April 29, 2015.
"However, the circumstances in this case call for the application of Rule 119, which categorically states that the conditional examination of a prosecution witness shall be made before the court where the case is pending in light of the constitutionally enshrined right of the petitioners to meet the witnesses face to face or the right of confrontation and cross-examination," the Court added.
In granting the appeal of Veloso's recruiters, the Court held: "Verily, the first and fundamental duty of the Court is to apply the law."
Sergio and Lacanilao are currently facing human trafficking charges and in police custody.