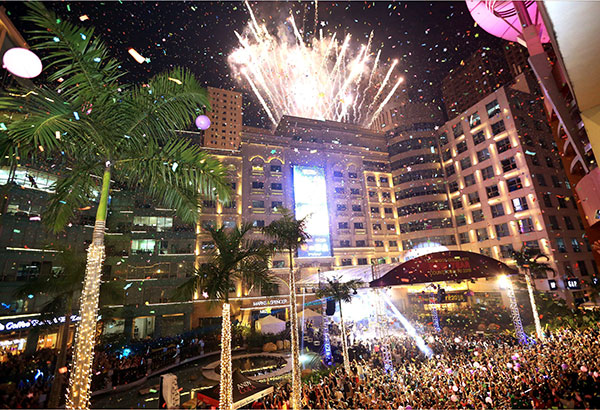 Revelers watch as fireworks welcome 2018 during Eastwood City's annual New Year's Eve celebration at the Eastwood Mall Open Park. One of the biggest and longest yearend celebrations in Metro Manila, the Eastwood Quezon City New Year Countdown attracted thousands of revelers who witnessed live musical performances and spectacles including the Star Drop, Eastwood City's own version of the Ball Drop in New York's Times Square.
Philippines is 3rd happiest country – poll
(The Philippine Star) - January 3, 2018 - 12:00am
MANILA, Philippines — The Philippines is the third happiest country in the world in 2017, according to a recent survey of Gallup International Association (GIA).
The Gallup International's 41st Annual Global End of the Year Survey found 86 percent of Filipinos claiming they were happy against only two percent saying otherwise or a net score of +84. Ten percent answered they were neither happy nor unhappy.
Reacting to the survey result, Presidential Communications Secretary Martin Andanar said the Duterte administration will make sure Filipinos will have more tangible reasons to be happy.
"In the coming months and years of this administration, we are determined to give greater substance and a more solid foundation for our people's happiness through a booming economy, effective governance, enduring peace and justice," Andanar said.
"Even in the bleakest and dire moments of our history as a nation, Filipinos have shown their immense capacity for hope and happiness," he said in a statement.
The GIA, registered in Zurich, Switzerland, asked the respondents the question: "In general, do you personally feel very happy, happy, neither happy nor unhappy, unhappy or very unhappy about your life?"
In 2016, the Philippines shared second place with China with a net score of +79.
In 2017, Fiji (+92) remained the happiest place in the world out of the 55 countries surveyed, followed by Colombia (+87).
The other Top 10 happy countries were Mexico (+82); Vietnam (+77); Kazakhstan (+74); Papua New Guinea (+74); Indonesia (+68); India (+64); Argentina and the Netherlands (+64).
Iran, on the other hand, replaced Iraq as the unhappiest country in the world in 2017 after posting a net score of +5.
Gallup said 59 percent of the people surveyed globally claimed they were happy, 10 points lower than in 2016.
"2017 was a tough year with terrorist attacks almost each week and it may have influenced personal lives all around the world. Nevertheless, a majority in all polled countries are happy," the polling firm said.
A total of 53,769 persons were interviewed globally. In each country a representative sample of around 1,000 men and women were interviewed either face to face, via telephone or online.
The field work was conducted from October to December 2017. The margin of error for the survey is between plus 3 and minus 5 percent at 95 percent confidence level.
"While Gallup places the Philippines as the third happiest country in the world with a net score of +84 and two places behind Fiji, many Filipinos will agree that we are the happiest people in the world despite our circumstances," Andanar added.