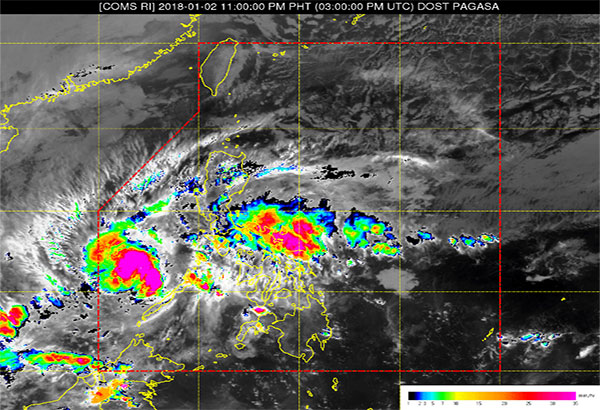 This latest image from the Philippine Atmospheric, Geophysical and Astronomical Services Administration shows "Agaton's" latest position and the amount of rainfall it is bringing to different parts of the country. PAGASA
'Agaton' slams into Palawan as it maintains strength
MANILA, Philippines — Tropical Depression "Agaton" maintained its strength and made landfall in the vicinity of Aborlan, Palawan on Tuesday evening, the Philippine Atmospheric, Geophysical and Astronomical Services Administration said in its latest bulletin.
Tropical Cyclone Warning Signal Number 1 is still hoisted in Palawan where residents can expect winds of between 30 to 60 kilometers per hour in the next 36 hours, according to the weather agency.
"Agaton" is packing maximum sustained winds of 55 kph near its center and gustiness of up to 75 kph as it continues to move westward at 30 kilometers per hour.
"At 10:00 PM today, the center of Tropical Depression "AGATON" was estimated based on all available data at 40 km South of Puerto Princesa City, Palawan," according to the weather agency's bulletin issued at 11:00 p.m. Tuesday evening.
PAGASA said that moderate to heavy rains were expected in areas under Storm Signal Number 1 as well as Bicol region, Samar provinces, southern Quezon, Panay Island and the rest of Mindoro, Marinduque, Romblon and Palawan, collectively known as MIMAROPA.
The weather agency also warned against sea travel in areas under Storm Signal Number 1 and waters off the seaboards of Northern and Southern Luzon, eastern seaboard of Central Luzon, eastern and western seaboards of the Visayas and eastern seaboard of Mindanao due to the surge of the northeast monsoon and "Agaton."
"Agaton" is forecast to be at 165 km northwest of Pagasa Island, Palawan on Wednesday evening and outside of the Philippine area of responsibility at 800 km northwest of Pagasa Island, Palawan by Thursday evening.
Some areas of the Visayas and Mindanao are still reeling from the devastation caused by two successive tropical storms that sliced through these regions just before Christmas in December. "Urduja" and "Vinta" left hundreds dead, dozens injured or missing and a large swath of lands with flattened houses and trees.
The Philippines, located on the Pacific Ring of Fire, is annually visited by around 20 typhoons, many of which leave a trail of destruction and devastation, making the country one of the most susceptible to such disasters in the world.