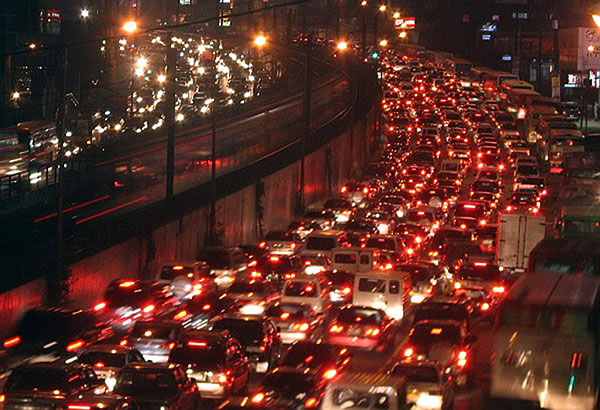 Traffic is at a standstill on EDSA in this file photo, shown with the traffic icons of the navigation app Waze.
Waze sees Metro Manila carmaggedon on Dec. 22
Janvic Mateo
(The Philippine Star) - December 19, 2017 - 4:00pm
MANILA, Philippines — Traffic in Metro Manila and other metropolitan areas in the country is expected to worsen this week as preparation for the Christmas holidays peaks.
Community-based traffic and navigation application Waze yesterday released projections on traffic conditions in the following days.
Citing collected data over the past year, Waze said the worst times to be on the road this holiday season is from 4 p.m. to 6 p.m.
The worst day for driving is Friday, when the Christmas rush is expected to reach its peak.
Based on the infographic released by the mobile application, traffic will worsen between 4 p.m. to 6 p.m. on Dec. 22 to 23.
The worst time to drive on Sunday, Christmas Eve, will be from 2 p.m. to 4 p.m., while traffic is expected to get worse from 1 p.m. to 3 p.m. on Jan. 2 as people return home after the holidays.
Waze said the projection is based on company data and insights gained from total drivers per hour during the holiday season last year.
The mobile application also noted expected increase in traffic in other key metropolitan areas in the country, including Naga, Angeles, Bacolod, Batangas, Iligan, Iloilo City, Cagayan de Oro, Davao City, General Santos and Zamboanga City.
"If you have plans to go through these areas, best schedule hitting the road earlier than usual or just go somewhere else to celebrate," said Waze.
It also recommended the use of its Planned Drive feature, which gives drivers the estimated time of arrival at their destinations.
The Metropolitan Manila Development Authority (MMDA) warned motorists yesterday that heavy traffic is expected this Christmas with nearly 400,000 vehicles using EDSA.
Jojo Garcia, MMDA assistant general manager for planning, said there are over 300,000 vehicles using EDSA daily but an additional 56,000 vehicles are expected along EDSA during the Christmas holidays as more shoppers from the provinces flock to bigger malls in Metro Manila.
To avoid getting stuck in traffic, Garcia said shoppers could choose to visit malls near their areas rather than go to establishments where they have to travel farther from their residence.
He also urged motorists to plan their trips and look for alternate routes.
Garcia said the agency would implement new traffic schemes – including the yellow lanes that are exclusive for commuter vehicles and the dry run for the car pool or high occupancy vehicle (HOV) lanes.
He said the implementation of the yellow lane has helped increase travel speed on EDSA.
As far as the implementation of the HOV lane is concerned, Garcia said they will continue with the dry run up to the second week of January next year until they finish gathering data for heavily tinted cars.
Garcia said that at least 4,000 heavily tinted vehicles were recorded by the MMDA in both non-contact and on the ground apprehensions from Dec. 11 to 17. – Robertzon Ramirez