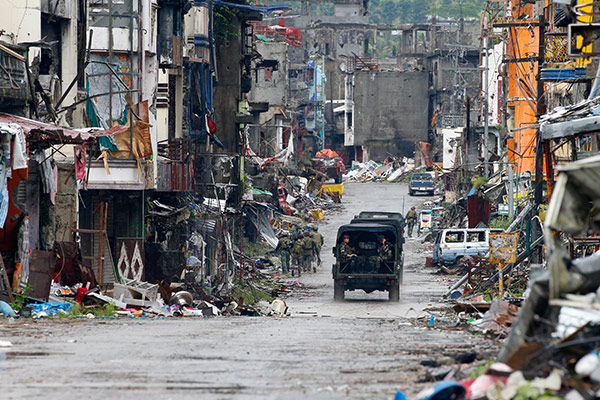 In this Tuesday, Oct. 17, 2017, file photo, Philippine troops return to their deployment after attending the ceremony where President Rodrigo Duterte declared the liberation of Marawi city in southern Philippines after almost five months of the siege by pro-Islamic State group militants. Gunfire rang out sporadically and explosions thudded as Philippine soldiers fought Tuesday to gain control of the last pocket of Marawi controlled by Islamic militants as President Duterte declared the southern city liberated from "terrorist influence." AP Photo/Bullit Marquez, File
Military: Maute continuing its recruitment in Marawi
MANILA, Philippines — The Armed Forces of the Philippines on Friday confirmed that the remaining forces of the Islamic State-inspired Maute Group were continuing with their recruitment efforts.
Col. Edgard Arevalo, spokesperson of the AFP, said that the militants were able to conduct recruitment activities despite heavy military presence in Marawi City and neighboring areas and the existence of martial law in Mindanao because their efforts were being done clandestinely.
"We are monitoring recruitment activities in municipalities around Marawi- those in the immediate vicinity of Marawi," Arevalo said in a press conference in Malacañang.
"Of course they are offering financial remunerations. They are also continuously using social media in their recruitment activities," he added.
READ: Military sees ISIS-inspired Turaife group as major threat
Arevalo said that the military got its information from local residents and was continuing its operations to prevent the militants from enticing more people to join their ranks.
The military spokesperson said that the militants started their recruitment operations just after their defeat in Marawi City which was witness to five months of heavy fighting and heavy aerial bombardment.
Arevalo however refused to confirm if arrests had been made, adding that the military doesn't have any information so far on the number people who have already been convinced by the militants to join their activities.
According to Arevalo, the relatives of the militants and young residents in the areas were the most "vulnerable" to the recruitment entreaties of the terror fighters.
"I cannot tell you if they doubled. But what I can tell you is they are continuing with their recruitment activities," he said.
"And that what is what we intensely are working on to prevent them from continuing to recruit these vulnerable sectors of our society," he added.
READ: Duterte declares Marawi freed from terrorists
The Philippine Congress recently acceded to President Rodrigo Duterte's request to extend the prevailing martial law in Mindanao for another year or until Dec. 31, 2018 after the chief executive cited the continuing threat of rebellion and terrorism in the region.
Critics and human rights activists are not in favor of this second extension, insisting that it doesn't have Constitutional basis and fearing that its continuation would result in the erosion of civil liberties
The president first placed the island of 22 million under military rule on May 23 after Islamic State-inspired fighters occupied parts of Marawi City, including its central district, in an effort to transform the lakeside town into the center of the group's Southeast Asian caliphate.
The five-month fighting destroyed much of the town's business district as well as the mosques that used to dot its skyline. It has also sent around 360,000 resident fleeing to safety in neighboring areas.
Arevalo said that the military was already countering the militants' recruitment efforts through summits and dialogs especially with sectors susceptible to terror propaganda.
Some young people were also brought to other countries to show them that it was possible to have peace despite religious differences.
"We want them to share their experiences once they have returned to their communities. This is one way for us to promote unity, cooperation and what we call fruitful and mutual co-existence," he said.