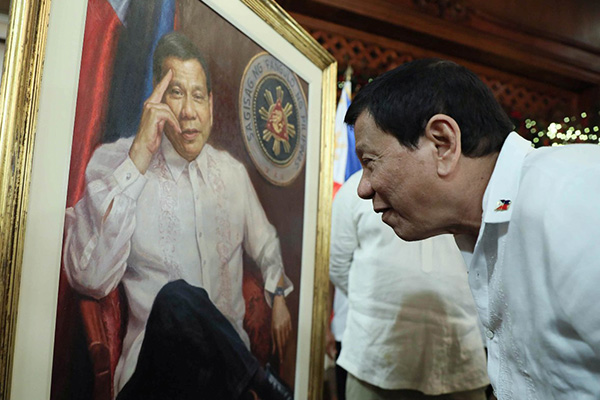 President Rodrigo Roa Duterte takes time to appreciate the painting of his portrait which was presented to him in Malacañan Palace on December 5, 2017. Ace Morandante/Presidential Photo
Duterte wants martial law extended one more year
(Philstar.com) - December 10, 2017 - 11:30am
MANILA, Philippines (Update 2 8:10 p.m.) — President Rodrigo Duterte is seeking a one-year extension of martial law in Mindanao as government forces continue to track down terrorists who survived the Marawi crisis.
Executive Secretary Salvador Medialdea said a letter requesting the extension of the military rule on the island would be transmitted on Monday to Congress.
"Recommendation is one year," Medialdea said in a text message Sunday.
In a statement earlier on Sunday, presidential spokesperson Harry Roque said Duterte had received the recommendations of the Defense department, Armed Forces of the Philippines and Philippine National Police on the extension of martial law in Mindanao, which was declared on May 23 in response to attacks by terrorists of the Maute and Abu Sayyaf groups on Marawi City in Lanao del Norte.
Although Marawi was
declared liberated
last October, clearing operations in the main battle area continue and officials have said threats remain in Mindanao.
Roque said the president's "paramount concern is the security of our people, especially the Mindanaons in the face of threats and the use of available means under the law to fight them."
A Mindanao lawmaker Rep. Celso Lobregat (Zamboanga City, 1st District) said earlier Sunday that if there would be a request by the president for an extension, the House of Representatives and Senate could approve it in a joint session before they go on Christmas break. Otherwise, Lobregat said, they would have to hold a special session.
Opposition solons, however, argued that there is no basis for Duterte to further extend martial law.
Sens. Bam Aquino, Franklin Drilon, Risa Hontiveros, Francis Pangilinan and Antonio Trillanes IV said
martial law
, along with military air strikes, were the primary reasons the residents fled Marawi in the early stage of the Maute group's siege.
"And martial law is also the reason why they are afraid to return, even in cleared areas," they added.
"The projected extension of martial law in Mindanao is constitutionally infirm, both as to grounds and duration. Martial law can only be declared and its extension authorized in 'case of invasion or rebellion, when the public safety requires it,'" Lagman said.
He argued that "actual invasion or rebellion" no longer exists in Mindanao as Duterte had declared Marawi liberated.
"Even the Philippine National Police and the Armed Forces of the Philippines admit only the existence of threats from remnants of terrorist groups who are reportedly recruiting fighters and regrouping to exact 'vengeance' against government forces," he added.
The 1987 Constitution allows the declaration of martial law when public safety requires it in case of invasion or rebellion. Congress declined to hold a special session to discuss the declaration of martial law in May, opting instead for closed-door briefings and resolutions in support of it.