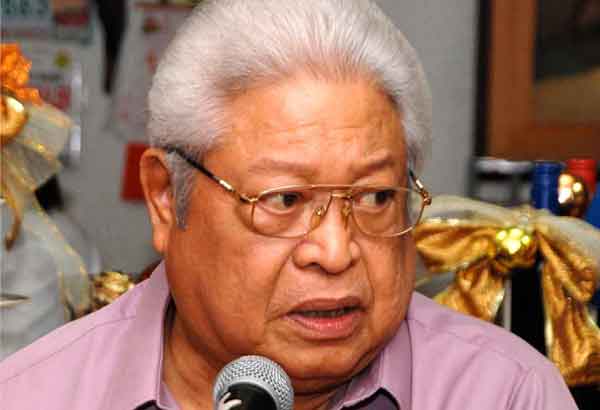 "The projected extension of martial law in Mindanao is constitutionally infirm, both as to grounds and duration. Martial law can only be declared and its extension authorized in 'case of invasion or rebellion, when the public safety requires it'," Albay Rep. Edcel Lagman said. File
No basis to extend Rody's martial law – lawmakers
Jess Diaz
(The Philippine Star) - December 9, 2017 - 4:00pm
MANILA, Philippines — There is no basis for President Duterte to ask Congress to extend martial law in Mindanao, opposition congressmen said yesterday.
"The projected extension of martial law in Mindanao is constitutionally infirm, both as to grounds and duration. Martial law can only be declared and its extension authorized in 'case of invasion or rebellion, when the public safety requires it'," Albay Rep. Edcel Lagman said.
He said there is no more "actual invasion or rebellion" in Mindanao because the President himself had declared that Marawi had been liberated from local and foreign terrorists two months ago.
"Even the Philippine National Police (PNP) and the Armed Forces of the Philippines (AFP) admit only the existence of threats from remnants of terrorist groups who are reportedly recruiting fighters and regrouping to exact 'vengeance' against government forces," he added.
He reminded the President, the military and the police that the writers of the present Constitution removed "threat or imminent danger of invasion or rebellion" as a ground for declaring or extending martial law because it was "contingent, nebulous and self-serving."
"The Constitution envisions a short duration of martial law. The initial declaration must not exceed 60 days, and its extension is subject to the same constraints. An extension of one year as proposed by the police and military establishments constitutes perpetuity, which defies the Constitution," Lagman stressed.
"Safeguards against martial law and its extension are enshrined in the Constitution to protect civil liberties and preserve the rule of law," he said.
Another opposition congressman, Tom Villarin of Akbayan, said the proposed grounds for martial law extension – potential terrorist threats and expediency in the rehabilitation of Marawi – "do not fall under the constitutional basis of actual rebellion or insurrection and when public safety so requires."
"It is stretching our imagination and devoid of any constitutional basis. It puts primacy on fear rather than facts. Rehabilitation under martial law inhibits people participation, a critical and indispensable element for such to succeed," he said.
He said an extended martial law "will also put in limbo the May 2018 barangay elections, which will now be put on hold due to such security concerns."
"It will be a dangerous precedent and can justify expanding martial law all over the country, especially when other terror groups have been identified that operate outside Mindanao," he added.
"It smacks of creeping authoritarian rule that the Duterte administration has planned when it attacked our democratic institutions and the rule of law, and promoting a culture of impunity," Villarin stressed.
The military and the police have recommended that martial law in Mindanao be extended by one year due to continuing terrorist threats.
Marawi rehabilitation task force head Eduardo del Rosario, a retired military general, has supported the recommendation.
He said it would be difficult to undertake the reconstruction of the city if there were no martial rule, since the safety of contractors and others involved in the effort could not be assured.
Duterte declared martial law last May 23, when Muslim and foreign terrorists occupied parts of central Marawi. The declaration was good for 60 days, but before it expired, he asked Congress to extend it for six months until the end of this year.
On July 22, when the 60-day period was to end, members of the House of Representatives and Senate, voting 261-18 in a joint session, approved the President's request.
The two chambers will have only a few days to act on a request to lengthen martial law. They are adjourning for their month-long Christmas vacation next weekend.
Sen. Sherwin Gatchalian said security officials should brief senators about the situation in Mindanao and present "concrete evidence" to justify another extension of martial law.
Impact on image
Gatchalian said a declaration of martial law always has a negative impact on the country's image before the international community. He said foreign investors might see it as an indication of instability.
"Our image internationally is we are unstable that is why we need martial law. We must show that we are stable, including in Mindanao," Gatchalian said over radio dwIZ.
He also said he would like to hear from the Commission on Human Rights (CHR) concerning reports of possible abuses by security forces in the enforcement of martial law in Mindanao.
"To move forward, the security cluster must present to Congress concrete evidence of a grave continuing security threat in Mindanao which clearly illustrates the need for an extension of martial law. I also expect the presentation of a detailed plan with a clear timetable and specific action points to neutralize this threat for good," the senator said.
"Our countrymen in the southern Philippines have suffered under the long shadow of perpetual conflict for far too long. I am counting on this administration to come up with a viable strategy to finally bring the forever war in Mindanao to an end," he added.
Gatchalian clarified he would support efforts to provide security forces with whatever they need to deal with threats, including the declaration of martial law in certain areas.
"If we need to act now to stop terrorism then let's give them the ammunition to fight terrorism. But they really have to justify why they need another year (of martial law)," he said.
Sen. Richard Gordon, meanwhile, said that he fully supports the extension of martial law even though the siege of Marawi City by militants linked to the Islamic State (IS) was over.
Gordon said he believes the security threats or the possibility of another rebellion still exist.
He said it would be good if the military remains on high alert in Marawi City to ensure rehabilitation efforts are not disrupted by terror attacks.
Gordon noted that Paris remains under martial law even though the last terrorist attack in the city took place a long time ago. – With Marvin Sy