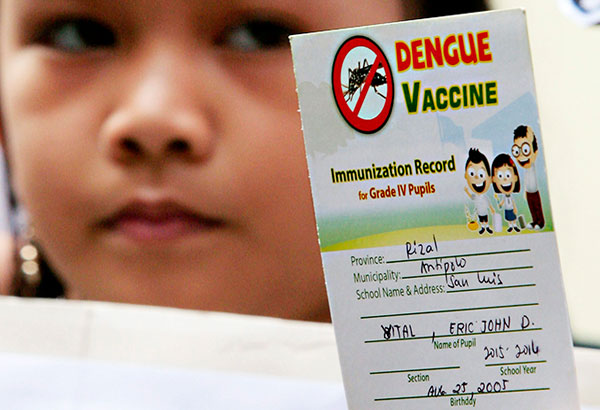 Eric John Vital, 12, holds his vaccination record as he joins a rally outside the Department of Health office in Manila yesterday. Edd Gumban
DOH forms task force on Dengvaxia dengue vaccine
MANILA, Philippines — The Department of Health has created a task force to manage concerns related to the controversial Dengvaxia vaccine, which the DOH used in its school-based anti-dengue immunization program.
Health Secretary Francisco Duque III yesterday said the task force would closely monitor and attend to the health concerns of those injected with Dengvaxia, which was found to be harmful if given to those without a history of dengue.
The task force will also have a legal team that will look into the accountability of French pharmaceutical company Sanofi Pasteur, the vaccine manufacturer.
Sanofi Pasteur warned health authorities last week that Dengvaxia was safe on children with prior dengue infection but could cause severe dengue on those who had not been infected before vaccination if they were bitten by mosquitoes carrying the virus.
"This task force will conduct a thorough review of the dengue vaccination initiative, which started in March 2016, and the new evidence on safety provided by Sanofi," Duque said.
The health department is currently updating the master list of children given Dengvaxia in coordination with DOH's field offices and the Department of Education (DepEd).
At least 830,000 students were vaccinated with Dengvaxia in Metro Manila, Region 3 and Region 4A, where the program was initially launched.
The program was eventually expanded to Central Visayas, particularly in Cebu City, Lapu-Lapu City and Mandaue City.
The task force is composed of top management officials of the DOH Central Office and affected regions, Food and Drug Administration, Philippine Health Insurance Corp. (PhilHealth) and the National Children's Hospital.
The DOH will hire 30 more surveillance officers to be deployed immediately to its hospitals in the regions where these anti-dengue vaccination activities were conducted.
"We will be deploying them immediately for active surveillance and data collection in these hospitals. Surveillance will be done for five years. This is part of our commitment to the parents and children who were immunized with the anti-dengue vaccines," Duque said.
He said the task force shall also guide the DOH on how to proceed with the anti-dengue program to ensure safeguards and prevent similar incidents.
On Nov. 29, Sanofi Pasteur admitted that Dengvaxia is not recommended for people who have no prior dengue infection. Otherwise, they may develop more severe forms of dengue after the cycle of vaccine shots runs its course.
"We will demand the refund of the P3.5 billion paid for the Dengvaxia, and that Sanofi set up an indemnification fund to cover the hospitalization and medical treatment for all children who might have severe dengue," Duque said.
He also said the PhilHealth is ready to cover the expenses of any child who may be hospitalized for severe dengue.
PhilHealth's dengue case rate can cover up to P16,000 for severe dengue, which includes hospitalization and physician fees.
"We will continue to be vigilant in monitoring our children for any adverse event following immunization and will strengthen the readiness of our public hospitals in attending to any severe dengue cases that may occur," Duque said.
DOH urged to probe deaths
Meanwhile, the House committee on health yesterday asked the DOH to check on the cases of five children in Central Luzon who died allegedly after receiving their first dose of the controversial Dengvaxia.
"They should study their medical records to determine if their death was related to their vaccination," said Quezon Rep. Angelina Tan, committee chair.
She said the DOH should also find out if possible who among the five had prior dengue infection and who had not.
Tan suggested that the DOH should test the more than 800,000 children who received vaccination to determine those without prior dengue infection.
She said a few big private hospitals are equipped to do the test, but "it's somewhat expensive."
"Those who did not have prior infection are the ones vulnerable. They should be closely monitored," she added.
Former health secretary Janette Garin, during whose time the DOH procured Dengvaxia, had told the committee on health that the test could cost P1,500 per child.
Some concerned groups and medical practitioners have suggested that Sanofi shoulder the cost.
The DOH has not considered testing all those who were vaccinated as an option, but said it would monitor all of them together with the DepEd.
Reports reaching the House committee on health showed that two children in Bataan and two in Bulacan had died last year months after receiving their first dose of Dengvaxia. There was also a report of a fifth death in Tarlac.
Those who died in Bataan were identified as 10-year-old Christine de Guzman and Paul Ramirez. The two from Bulacan were not identified.
Tan said Christine did not have prior dengue infection.
Christine's father Nelson testified before the committee that his daughter had her first dose of Dengvaxia on April 16, 2016. – Christina Mendez, Jess Diaz, Evelyn Macairan, Ric Sapnu