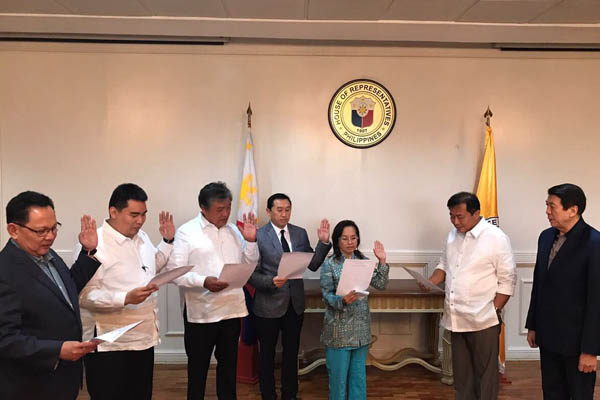 Former President and incumbent Pampanga Rep. Gloria Macapagal-Arroyo and her former party-mates from Lakas-CMD pledged allegiance to PDP-Laban last October. Photo from Majority Floor Leader Rodolfo Fariñas
PDP-Laban accepting new members until February 2018
(Philstar.com) - December 5, 2017 - 2:30am
MANILA, Philippines — The ruling Partido Demokratiko Pilipino-Lakas ng Bayan (PDP-Laban) will be accepting new members until the end of February 2018, Senate President Aquilino "Koko" Pimentel III announced Tuesday.
The political party of President Rodrigo Duterte was supposed to close its doors to potential members by the end of November after the massive influx of new members.
Aquilino, president of PDP-Laban, said that the overwhelming number of pending applications pushed them to extend the deadline for recruitment of new members.
"It will be unjust to arbitrarily close the gates when so many applications for membership remain unacted upon," Pimentel said.
Pimentel earlier said that the party should focus on teaching members the party ideology and program of government to build a "solid and united front" for the May 2019 national and local elections.
According to a press release on Monday, "PDP-Laban as a party advocates Theism, Humanism, Enlightened Nationalism, Democratic Socialism, Participatory and Consultative Democracy, and Federalism."
RELATED: PDP-Laban inks memorandum with Russia's ruling party
Justifying the deadline extension, Pimentel added that the party's plan to consolidate its gains for the upcoming midterm elections is "still in force."
"We have to deal with the influx of new members and ensure everyone in the Party is aware of our ideals, goals, and values," he said, adding "2019 will be an issue-based election, not a personality contest."
Pimentel, party president, represented PDP-Laban in Beijing over the weekend in a dialogue with political countries from other nations.
"Politics in other countries are based on ideology and policy, as put forward by political parties. In our country, our politics is still personality-based. There is no consistency in policy and institutions are weakened, leading to many of the problems that we now face. We must strengthen the party system in the Philippines," he said in a release on Monday.
A few weeks ago, House Speaker Pantaleon Alvarez released a list a partial list of the party's senatorial bets including presidential spokesperson Harry Roque, PCOO Assistant Secretary Margaux "Mocha" Uson, Rep. Alfredo Benitez (Negros Occidental), Rep. Karlo Nograles (Davao City), Rep. Geraldine Roman (Bataan) and presidential adviser Francis Tolentino.
Tolentino, a former Metro Manila Development Authority chairman, withdrew from the Liberal Party-led administration coalition for the 2016 elections because of criticism for supposedly hiring an all-girl group to dance at a political event in 2015.
The list is yet to be approved by the entire party, including Duterte. — Patricia Lourdes Viray