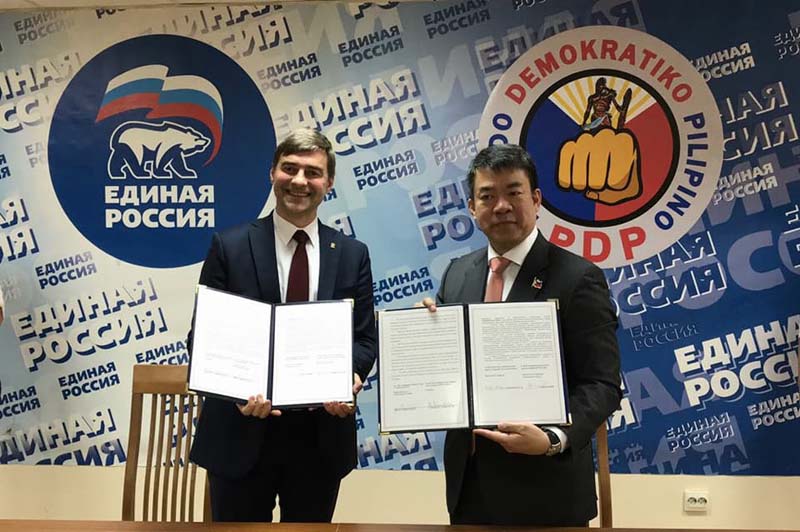 United Russia is the ruling party of the Russian Federation. Photo release, Sen. Aquilino Pimentel III
PDP-Laban inks memorandum with Russia's ruling party
(Philstar.com) - October 18, 2017 - 6:41am
MANILA, Philippines — The administration PDP-Laban party has entered into a memorandum of understanding with Russia's ruling United Russia party, a move meant to bring "Russia and the Philippines closer together."
"This is a historic moment, as it brings Russia and the Philippines closer together through relations between their ruling parties, and not just their governments," Senate President Aquilino "Koko" Pimentel III, PDP-Laban president, said in a press statement.
Although details of the memorandum have yet to be released, the party pointed out that it is the second agreement with a foreign administration party for PDP-Laban. The party signed a Memorandum of Agreement with the Communist Party of China in February.
"PDP-Laban is unique among political parties in the Philippines not just for its active grassroots presence and ideological discipline, but also for its efforts to boost diplomatic ties through relations with ruling parties of other countries," the Senate president said.
The party "is open to building ties with political parties in other countries that share its commitment to Change for the welfare of the people," the press statement said.
"We want to share our experiences with parties from other countries, and we want to learn from their experiences as well. The Change we push is not change for the sake of change, but rather, it is aimed at eradicating age-old problems and must therefore be sustainable," Pimentel said.
United Russia, led by Russia President Vladimir Putin, controls Russia's legislature, New York-based watchdog organization Freedom House said in its
Freedom in the World 2017
report. It noted a decline in political rights in Russia "due to the heavily flawed 2016 legislative elections, which further excluded opposition forces from the political process."
Freedom House adds in its report: "The government also has strong control of the media environment, and has been able to retain domestic support despite an ongoing economic slump and strong international criticism."
Human Rights Watch, another international watchdog, said in its
World Report 2017
that Russian authorities "used a 2012 law to demonize as 'foreign agents' dozens of nongovernmental organizations, including leading rights groups and independent think tanks."
It also noted that the Russian government "refused to sanction public protests organized by government critics and political opposition and punished protesters participating in unsanctioned peaceful gatherings and single-person pickets."
The government also has also "[empowered] law enforcement agencies to place on watch lists individuals allegedly engaging in "anti-social behavior," or "actions that run contrary to commonly accepted norms of behavior and morality." — Jonathan de Santos