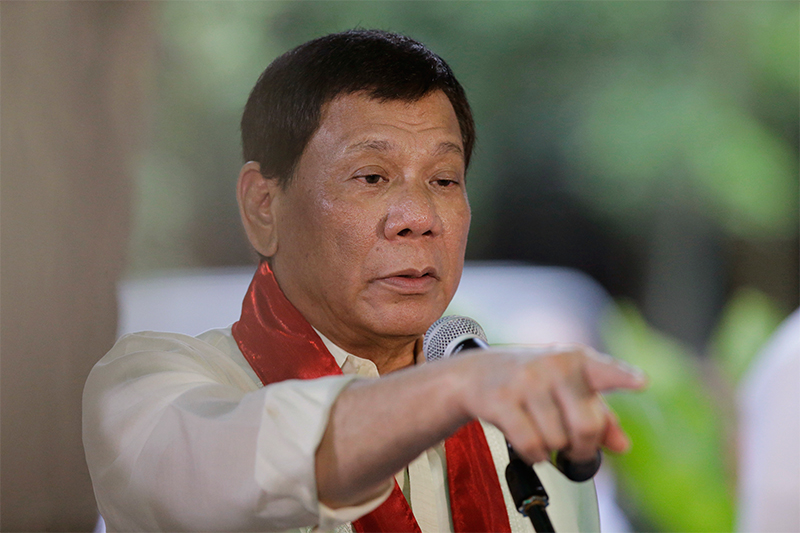 President Rodrigo Duterte points at a reporter during a press conference at the 113th Founding Anniversary of the Bureau of Internal Revenue in metropolitan Manila, Wednesday, Aug. 2, 2017. Tanggol Bayi said Duterte's words and actions are inciting state forces to commit further violence against women human rights defenders. The world marks International Women Human Rights Day on November 29. AP/Aaron Favila, File
Women human rights defenders say they face 'graver challenge' under Duterte
MANILA, Philippines — Women's rights group Tanggol Bayi on Wednesday said women human rights defenders are facing "graver challenge" under the Duterte administration.
In a press statement, Tanggol Bayi, in which name translates to Defend Women in English, convenor Gerifel Cerillo said Duterte's words and actions are inciting state forces to commit further violence against human rights defenders, most of whom are women.
"Duterte's words and actions do not only smack of machismo and sexism. These are words and actions of an avowed fascist, one who flaunts state violence and terror on the poor majority to maintain a status quo that is inimical to the interests of the Filipino women and people," Cerillo said as their group celebrated the International Women Human Rights Day on Wednesday.
Based on Karapatan's records 17 women activists were summarily killed under the Duterte administration most of them were peasant leaders and members of various human rights advocate groups.
Cerillo said women human rights defenders are also threatened with trumped-up charges. Cerillo cited the recent arrest and detention of five women and 17 other individuals in Cordillera by the 7th Infantry Division of the Philippine Army for supposed fabricated charges of frustrated murder and multiple attempted murder
Cerillo said the arrested individuals are members of Cordillera-based people's movements fighting for ancestral land and right to self-determination.
Cerillo said that based on their records, as of September 30, 2017, there are 42 women political prisoners out of the 435 political prisoners in the country.
"This form of political persecution often results to illegal arrests and detention of women activists," Cerillo said.
"Women, however, have been at the forefront of the people's resistance against fascist and tyrannical regimes such as Duterte's. With his renewed threats to crack down on progressive groups, we will remain steadfast in upholding women's rights and human rights. We are not afraid of tyrants like Duterte," she added.