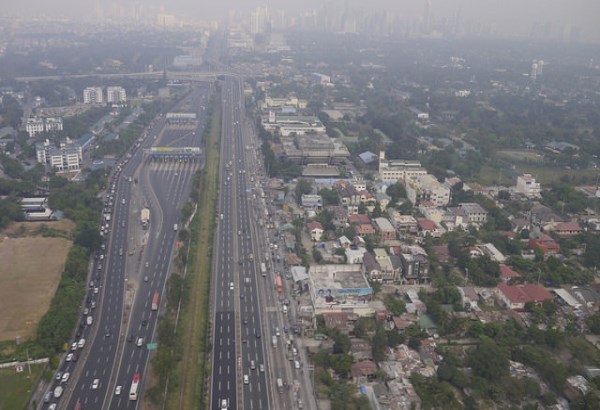 The equipment to be installed could measure levels of particulate matter (PM) 2.5 or particle pollution less than 2.5 micrometers in diameter and carbon dioxide, as well as temperature and humidity. Photo from Monica Arellano-Ongpin/CC BY 2.0
DENR to put up more air monitoring stations in Metro Manila
MANILA, Philippines — The Department of Environment and Natural Resources, in partnership with an independent oil player, is set to put up additional air quality monitoring stations across Metro Manila.
In a statement, DENR Undersecretary for Policy, Planning and International Affairs Jonas Leones said the agency has recently signed a memorandum of agreement with Unioil Petroleum Philippines for the installation of "state-of-the-art" air equipment and sensors powered by AirVisual application
Leones said AirVisual has been described as the world's most advanced air quality monitoring system that helps track invisible threats in the air.
Leones said the MOA serves as the DENR's first partnership with a private company in terms of addressing air pollution, which has been a major challenge to the agency.
"This is the first time that an industry, as big as Unioil, is now helping the department in addressing this kind of problem," Leones said.
Leones said the equipment to be installed could measure levels of particulate matter (PM) 2.5 or particle pollution less than 2.5 micrometers in diameter and carbon dioxide, as well as temperature and humidity.
The collected data will be transmitted live to the web and later to the central server of the DENR's Environmental Management Bureau.
PM2.5 is a complex mixture of extremely small particles and liquid droplets that get into the air. Once inhaled, these particles can affect the heart and lungs and cause serious health problems. Carbon dioxide, on the other hand, is a greenhouse gas that traps heat and warms the planet, thus contributing to climate change.
At present, all 17 cities and municipality in Metro Manila have at least one AQMS.
Leones said the EMB is set to identify the locations for the additional AQMS. Installation and operation of the equipment and training of EMB personnel for its use will be shouldered by the Unioil and at no cost to the government, Leones said.
"With the signing of the MOA with DENR, Unioil will further expand the installation of AQM stations in full support of its programs," said Unioil President Kenneth Pundanera.
Pundera said that since 2016, Unioil has installed AirVisual-powered AQMS in 27 locations all over the country.
"We are very proud to offer DENR live data from our active air quality monitoring stations through the signing of this MOA," he said.
Meanwhile, Yann Boquillod, founder and chair of AirVisual said that the equipment uses laser-based technology that is much cheaper compared to other technology.
"You can know real time and with major precision the source of pollution, such as factories," Boquillod said.
"The idea of the technology is to go at different types of measurement using laser and to get valuable and meaningful data for the people," he added.