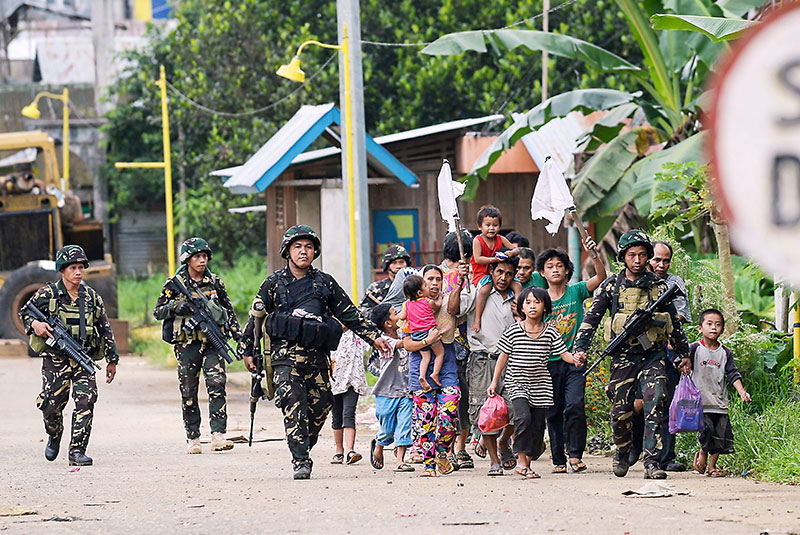 Soldiers escort rescued civilians in a village on the outskirts of Marawi yesterday. Families trapped in the clashes have been asked to prepare flags made of white cloth to signal government troops for rescue. AFP, File
Australia warns citizens vs 'high threat' of terror in Philippines
MANILA, Philippines — The Australian government on Friday warned its citizens about a "high threat" of a terrorist attack in the Philippines just days after security forces officially declared the end of operations to retake a southern Islamic town under siege by militants for five months.
Australia said that the high threat of terror attack was prevalent in the whole country, including Manila, and told its nationals to be alert to possible threats in areas with low protective security and places traditionally targeted by terrorists and criminals.
"There is a high threat of terrorist attack in the Philippines, including Manila," the latest Australian travel advice said. "Exercise a high degree of caution in the Philippines overall. Higher levels apply in some parts of the country."
"Pay close attention to your personal security at all times and monitor the media about possible new safety or security risks," it added.
Australians should also avoid traveling to central and western Mindanao due to the "very high threat" of kidnapping, terrorist attack, violent crime and deadly clashes between armed groups, the advice said.
"We advise against all travel here due to the very high risk. If you do travel, you should typically seek professional security advice. Be aware that regular travel insurance policies will be void and that the Australian Government is unlikely to be able to provide consular assistance," the advisory said.
Canberra meanwhile is asking its citizens to "reconsider" if there is a need to travel to eastern Mindanao as there are "very high levels" of violent crime and "high threat" of terror attack and kidnapping in these areas.
The Australian government said its nationals who needed to travel to this region should do research and take a range of extra safety precautions, including coming up with contingency plans.
Some possible targets of terror attacks are commercial and public places frequented by foreigners such as transportation hubs, rail systems, hotels, shopping malls, clubs, restaurants, bars, schools, markets, places of worship, outdoor recreation events and tourist areas, the advisory said.
It added that the deterioration of the security situation in Mindanao had resulted in a more volatile security environment in the Philippines as it advised Australians in Marawi to exercise "heightened vigilance" and review their personal security plans.
According to the travel advice, there is also a high threat of kidnapping in southern Philippines especially along the Zamboanga peninsula and in the Sulu archipelago. Other possible targets of kidnapping are southern Palawan, southern Negros and Siquijor.
Australia has also given warning over the possibility of the transmission of Zika virus in the Philippines.
"There is ongoing risk of transmission of Zika virus in the Philippines. Protect yourself from mosquito bites and take additional precautions advised by the Department of Health. If you are pregnant, consider deferring your travel," the advice said.
Just last week, the United Kingdom warned its citizens about travel to western and central Mindanao because of terrorist activity and clashes between the military and armed groups in these areas particularly in Marawi City.
The Islamic town was the scene of intense battles between security forces and militants following a failed attempt by the military to arrest a terror cell leader in one of its suburbs.
The fighting quickly spiraled out of control, prompting President Rodrigo Duterte to place Mindanao under martial law and abort a long-planned visit to Moscow, Russia.
Following the deaths of militant leaders Isnilon Hapilon and Omar Maute, Duterte declared the city free from terrorist influence. Days later, the government declared the end of the battles that had left much of the city's center in ruins.