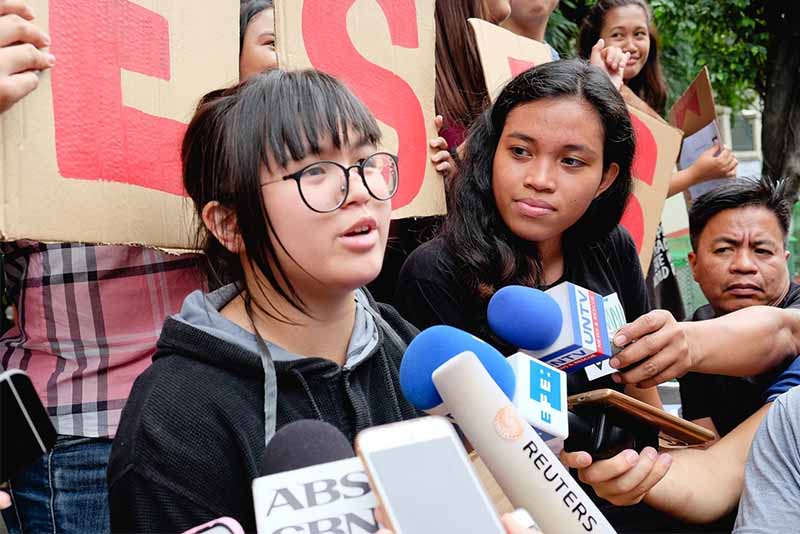 Shibby Ge Guzman is seen in this photo joining a protest in her school last year. YoungStar/Ina Jacobe
Filipina criticized for joining anti-Duterte rally among Time's most influential teens
MANILA, Philippines — A Filipino high school student who was criticized online for protesting the clandestine burial of the late dictator Ferdinand Marcos at the heroes' cemetery has been named by Time magazine as one of its 30 most influential teenagers of 2017.
Time lauded Shibby De Guzman, 14, for speaking against the policies of President Rodrigo Duterte, who has conducted a relentless and bloody campaign against illegal drugs, despite the dangers this posed.
De Guzman shot to prominence last year after she was photographed joining a protest organized by her school slamming the surreptitious burial of Marcos at the Libingan ng mga Bayani despite widespread human rights abuses during his rule from 1965 to 1986.
Time cited the fate of people or institutions who dared to speak out against Duterte or his policies.
The Philippine leader told politicians from the European Union to go to hell for raising concerns over the reported human rights violations attending his drug war.
He also branded Oxford University, which is regularly included on the list of the world's best educational institutions, as a "school for stupid people" following its release of a study showing that he was employing an army of trolls to suppress dissent.
Sen. Leila De Lima, one of the fiercest critics of the president since his time as Davao City mayor, is currently detained on drug-related charges she describes as concocted.
"None of this has deterred de Guzman, who shot to prominence after she was photographed protesting the lionization of late Philippine dictator Ferdinand Marcos," Time said in naming the Filipino teenager to the list.
In the photo, De Guzman was seen wearing a cardboard sign similar to those found near bodies of slain drug suspects. The cardboard read, "We all could be drug pushers," an apparent dig at usual police claims that many of those killed in police operations were peddlers of narcotics.
Some people on social media cried child abuse and said the teenagers, including De Guzman, were "brainwashed."
To which the gritty teenager replied, "Please do not underestimate the youth. We completely know and understand the injustice we are protesting against."
Time said that De Guzman, now a ninth-grade student at St. Scholastica's College, hoped that more young Filipinos would take action in the Philippines.
"It's so important that [they] know their own rights and when authorities abuse them," she was quoted by the American magazine as saying. "There are values that aren't up for debate."
Aside from De Guzman, Filipino beauty vlogger Bretman Rock Sacayanan, 19, was also included on the list of 30 influential teenagers.
The American news magazine said that Sacayanan was popular online because of his "larger-than-life personality" as shown by the musings he posted alongside his demonstrations.
Among his favorite topics are his haters, his appearance and his family and friends about whom he has posted witty reflections.
"There is nobody on the Internet more fabulous than Rock. Just ask him. The Hawaii-based Filipino beauty vlogger shot to fame for demonstrating makeup skills—fierce contouring, flawless eyebrows—that could give the Kardashians a run for their money," Time said.
Sacayanan is now building a career off that "cheeky candor," Time noted, as he hosted the Miss Universe red-carpet preshow and kicked off a national tour in September to meet his biggest fans.
"I think the universe is taking quite good care of [me]," he was quoted as saying.
Aside from De Guzman and Sacayanan, also included in this year's most influential teenagers are Millie Bobby Brown, Mikaila Ulmer, Moziah Bridges, Salvador Gomez Colon, Maddie Ziegler, Rayouf Alhumedhi, Auli'i Cravalho, Kaia Gerber, Han Hyun Min, Wang Yuan, Noah Cyrus, Ethan and Grayson Dolan, Chloe Kim, Krtin Nithiyanandam, Yara Shahidi, Willow Smith, Brooklyn Beckham, Sydney McLaughlin, Hu Ranran, Isaac Hempstead Wright, Muzoon Almellehan, Elle Fanning, Khalid, Steve Lacy, Shawn Mendes, Christian Pulisic and Jaden Smith.