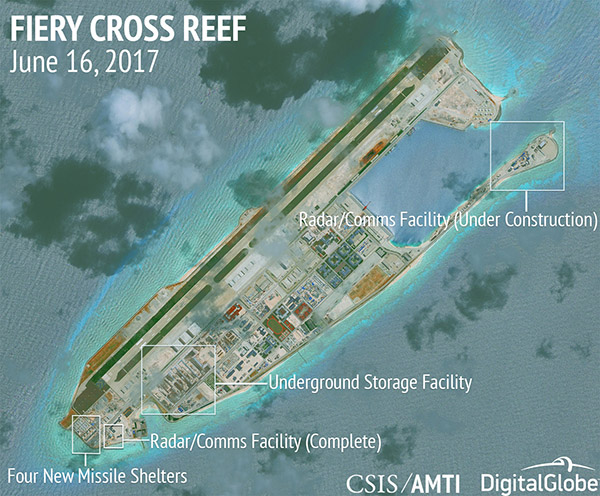 The image shows the Chinese miltiary structures installed on Feiry Cross Reef or Kagitingan Reef. AMTI, File
Analyst: AFP modernization continuing despite improved ties with China
MANILA, Philippines (Updated 8:05 p.m.) — The Philippines continues to bolster its military despite President Rodrigo Duterte's move to improve relations with China, a defense analyst said.
According to Alexander Vuving of the Asia Pacific Center for Security Studies, the build-up of Philippine military forces has hit a plateau between 2007 and 2012 when military spending remained the same.
The standoff between the Philippines and China over Scarborough Shoal, 120 nautical miles off Manila's coast, from April to June 2012 led the government to jack up military expenditure by 136 percent between that year and 2016.
The United Nations Arbitral Tribunal ruled in favor of the Philippines invalidating China's nine-dash line claim over the South China Sea.
"It is noteworthy that President Duterte's about-face regarding the 2016 South China Sea rulings and his pivot to China do not significantly affect the Philippines' force modernization," Vuving said.
"The 2012 standoff with China over the Scarborough Shoal may prove to be a watershed in the evolution of the Philippine strategic culture, reverting a decade-long neglect of the air force, navy, and coast guard," he added.
READ: South China Sea: Beyond the Hague ruling
Manila's reliance on the United States for its external defense and its focus on internal threats, such as Muslim and Maoist insurgencies, have resulted in the "chronic neglect" of its navy, air force and coast guard, according to Vuving.
Past attempts at modernization, he said, have failed due to economic problems and lack of funds.
In 1995, the Philippines passed a law calling for the modernization of the AFP following China's occupation of Mischief Reef, which exposed its lack of capability to protect its territory.
However, this plan was halted by the 1997 Asian financial crisis.
"A Capability Upgrade Program to implement the AFP Modernization Act of 1995 was constantly underfunded although it was reprioritized in 2005," he said.
The extension of the AFP modernization program was taken as one of the priority pieces of legislation in the Philippine Development Plan 2011-216, he said.
READ: Tribunal ruling: Blunting China's realpolitik approach in the South China Sea dispute
The 2012 Scarborough standoff was what accelerated the upgrade of the AFP.
"The standoff with China at Scarborough Shoal between April and June 2012 led to China's de facto control of the reef and its surrounding waters," Vuving said.
"This prompted Manila again to pass, in late 2012, a new law (Republic Act 10349) that renews and accelerates the modernization of the Philippine Armed Forces."
In recent years, the Navy, the Coast Guard, and the Air Force have each launched programs to acquire military hardware to beef up their long-neglected fleets.
The Philippine Air Force launched a modernization plan titled, "Fight Plan 2028," in 2014 which would see the PAF addressing incursions between 50 to 75 percent of the territory by 2020 and the entire Exclusive Economic Zone by 2028.
"This appears to be extremely ambitious, as the Philippines possesses only 12 FA-50PHs in 2017. The PAF has plans to acquire six more FA-50PHs and 12 multi-role fighters capable of air superiority," Vuving said, noting that the PAF became combat-capable again only in 2015 after losing its air fighting capacity in 2002.
READ: Palawan within range of China's jets, missiles in South China Sea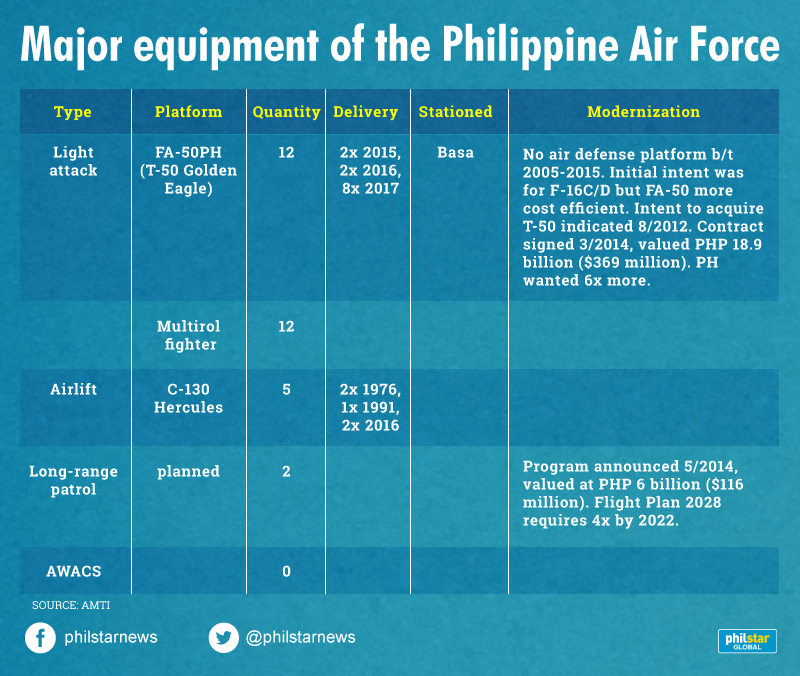 The Navy, whose ships are either four decades old or operative since World War II, meanwhile launched a modernization plan called, "Strategic Sail Plan 2020," which aimed to procure up to six frigates, 12 corvettes, 18 offshore patrol vessels and three anti-mine ships.
It also targeted the acquisition of strategic sealift vessels, landing craft, patrol gunboats, assault craft, maritime patrol aircraft, naval and utility helicopters, and submarines, Vuving said.
"The intention, indicated in 2011 and reiterated in 2013, was to acquire three diesel-electric submarines, possibly of the Kilo-class," Vuving said but noted that the Philippines was unlikely to acquire a submarine until 2025.
READ: Duterte hopeful China will stop expansion in disputed sea
The Philippines also acquired two newly-built frigates in 2013 and awarded a contract worth $337 million to South Korea's Hyundai Heavy Industries for two ships that could displace 3,000 tons and could be equipped with anti-ship, anti-aircraft and anti-submarine weapons.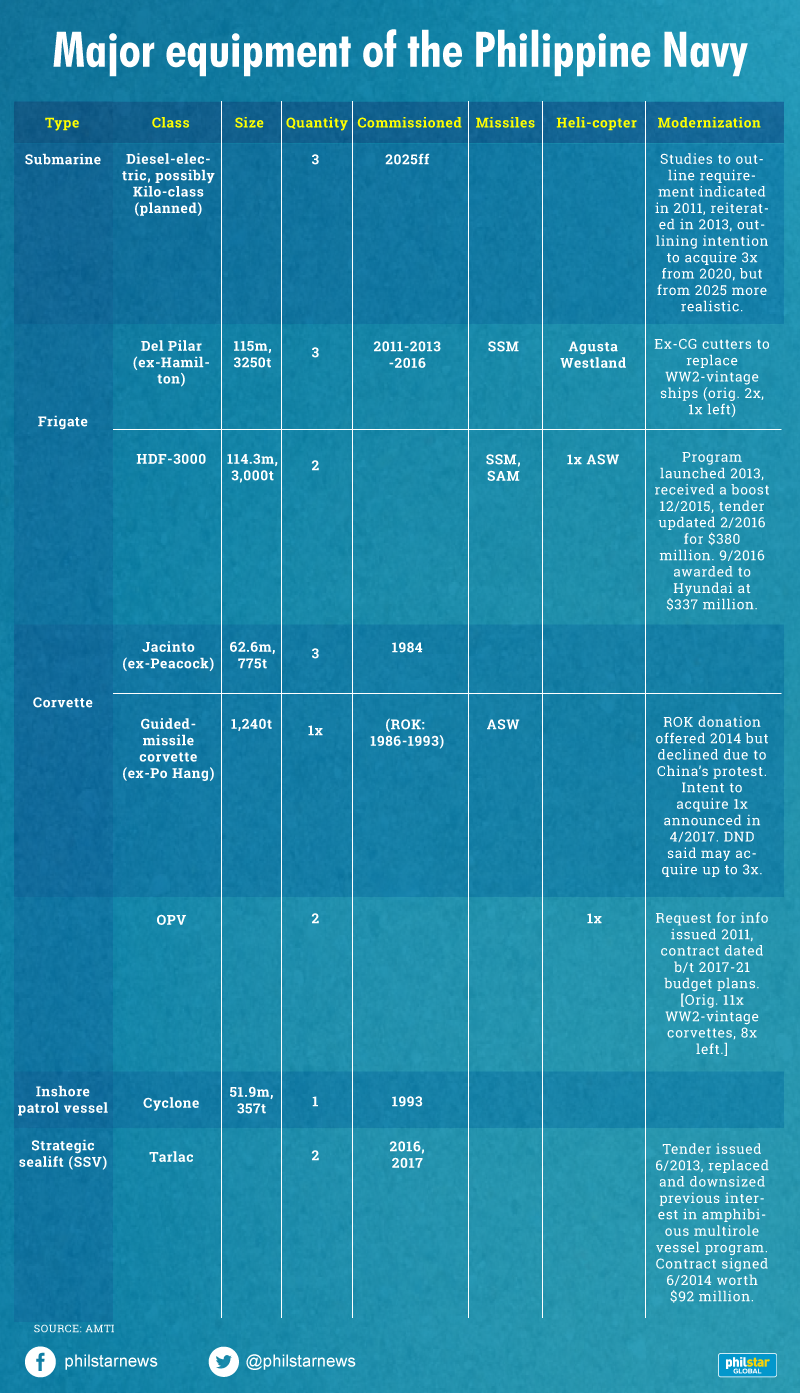 Through Japan's official development assistance, the Coast Guard procured 10 multi-role response vessels (MRRVs), and two 250-ton Parola-class MRRVs were delivered.
"In another program, the Philippines purchases five new-built vessels from France, including one 82-meter offshore patrol vessel (OPV) and four 24-meter fast patrol boats. The 1,400-ton OPV is expected to be delivered in 2018," he added.
READ: Shifting tactics: China advances 'four sha' claim in South China Sea
The Philippines was also able to secure an agreement with Japan for Tokyo to build two high-endurance MRRVs during President Rodrigo Duterte's visit there in August 2016.
The first one is expected to be delivered by November 2020 while the second one will be ready by March 2021, Vuving said.
"With these ships, the PCG will have 22 vessels larger than 100 tons with a total displacement of 7,700 tons by the end of 2018. This represents a 103 percent growth in tonnage and a 100 percent increase in number of ships during 2008-2018," Vuving added.