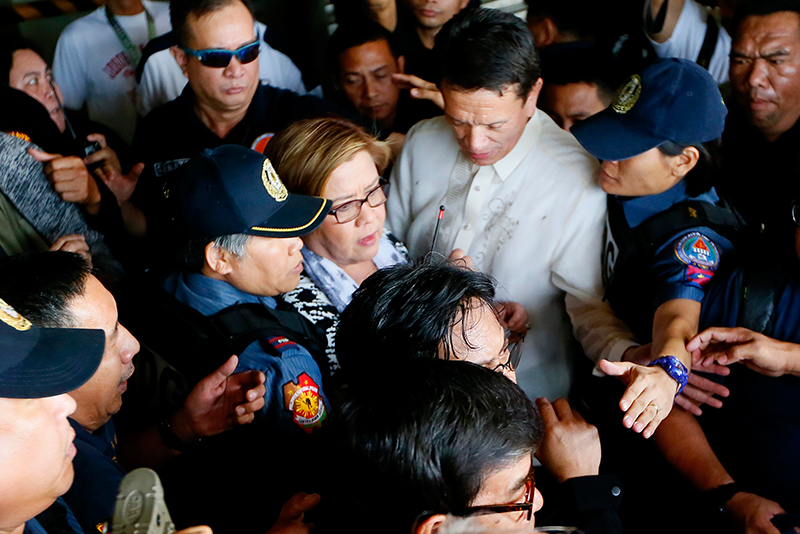 This was part of the recommendations made by a delegation of the IPU's human rights committee, which visited the country recently to check on the status of Sen. Leila de Lima and the extrajudicial killings under the Duterte administration. AP/Bullit Marquez, File photo
Palace slams IPU for 'bullying'
(Philstar.com) - October 21, 2017 - 6:14am
MANILA, Philippines — Malacañang on Saturday accused an international lawmakers group of bullying for its plan to send an observer here to monitor the trial of a detained senator who is critical of the administration.
In its report, the Inter-Parliamentary Union recently said it is sending an observer to monitor the trial of embattled Sen. Leila de Lima as soon as it commences.
READ: IPU to send observer to De Lima trial
This was part of the recommendations made by a delegation of the IPU's human rights committee, which visited the country recently to check on the status of De Lima and the alleged extrajudicial killings under the Duterte government.
In a statement, Presidential Communications Secretary Martin Andanar slammed IPU for "meddling" in the country's internal affairs.
Andanar said deploying a monitoring team to observe De Lima's case would be a "classic example of bullying."
"We should stand up to this kind of meddling into our domestic affairs. Their intent is not to merely observe De Lima's trial by our laws, but to meddle in our democratic as well as judicial processes," Andanar said.
"Over and over, pronouncements from the IPU portray the Philippines as a lawless nation when there is abundant evidence to the contrary," he added.
De Lima was arrested last February 24 upon warrant issued by the Muntinlupa Regional Trial Court on drugs charges she says were hurled against her as part of a presidential vendetta.
READ: De Lima surrenders to CIDG
In the drug cases, De Lima is accused of receiving around P10 million in drug payoffs from high profile convicts engaged in the drug trade in the New Bilibid Prison.
A former justice secretary, she launched a Senate probe into alleged unlawful killings by the police in President Rodrigo Duterte's war on drugs.
Last week, the Supreme Court effectively kept her in detention after it denied her petition seeking the nullification of her arrest.
READ: SC votes 9-6 to junk De Lima petition to nullify her arrest l Carpio: SC ruling on De Lima 'one of the grossest injustices' in recent memory
Meanwhile, in the same report, the IPU delegation raised its doubts about the evidence or lack thereof against De Lima to support the filing of the cases against her.
"The delegation points out that in each of the three cases, there are serious questions and doubts about the evidence," the report stated.
"The delegation also fails to understand how the accusations against Senator De Lima make sense, given that it was she who took action against the alleged drug trafficking in the NBP (New Bilibid Prison)," it added.