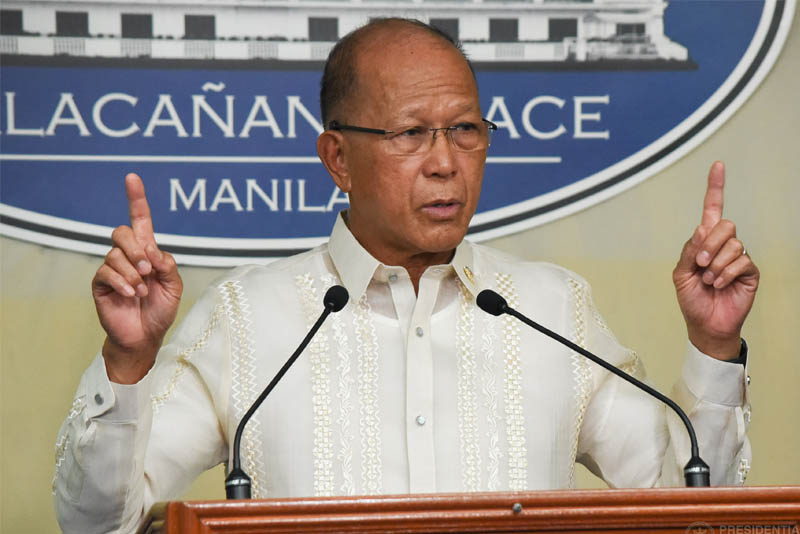 Defense Secretary Delfin Lorenzana gives a briefing before journalists at Malacañang in June 2017. PPD/File photo
Defense chief refuses to set Marawi deadline this time
MANILA, Philippines — Defense Secretary Delfin Lorenzana will no longer set a date for the end of the conflict in Marawi City, saying he has been "burned" several times before when the deadlines were not met.
"I have been burned many times, perhaps five times... But at the end of the day it's the ground commander will determine," Lorenzana said on Friday.
State troops have faced extremist militants in the southern municipality since May. Hundreds of civilians and security personnel have perished in gun battles as soldiers try to drive out the Maute-led coalition that has pledged allegiance to the Islamic State and attempted to lay siege on the Islamic city..
Lorenzana flew from to Zamboanga City from Malaysia on Friday for a summit with the Ulama, or Muslim scholars, who are being tapped to help prevent radicalization of locals targeted by the ISIS.
President Rodrigo Duterte cautioned against imposing deadlines for the ground commanders, since there are civilians still trapped in the battlegrounds, Lorenzana siad.
The Defense chief said that last week's rescue of 17 hostages from the hands of the ISIS-affiliated extremists in Marawi was a sign that the end to the battle could be delayed.
"Imagine, for every day that we delay, we can save that much number of people. It's worth it," Lorenzana said.
But Western Mindanao Command chief Lt. Gen. Carlito Galvez Jr. has already told Lorenzana that the completion of the operation is nearing.
"[Galvez] told me just awhile ago the days are numbered and it's (operation) concluding. But he did not give any date, because we might again give the wrong signal," Lorenzana said.
He said that while no specific date shall be given, it is enough to proclaim that the military offensives are nearing a halt.
Lorenzana said that even without announcing a deadline, he and President Duterte could just suddenly declare the "conclusion of the war."