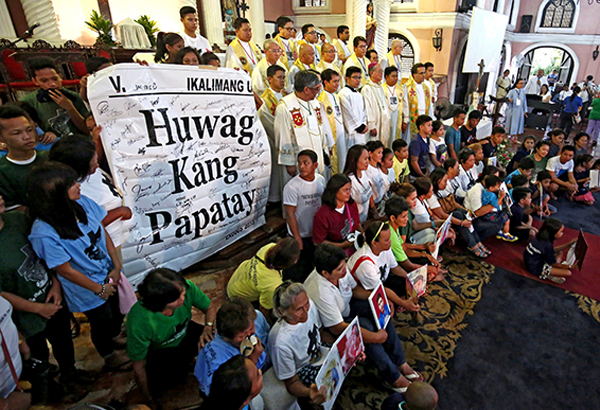 Presidential Spokesperson Ernesto Abella advised the Church to exercise due diligence in providing sanctuary to confessed cops as "there are drug protectors, kidnappers, kotong and ninja cops who want to destroy the ongoing campaign against illegal drugs." MIGUEL DE GUZMAN
Palace advises Church vs sheltering cops involved in EJKs
(philstar.com) - October 6, 2017 - 9:50am
MANILA, Philippines ?— Malacañang on Friday said the Church's offer of sanctuary and protection to cops who confess their participation in extrajudicial killings might affect the government's campaign against illegal drugs.
In a statement, Presidential Spokesperson Ernesto Abella said that while "we welcome the Church's efforts to help rogue cops mend their ways, we hope the Church exercises due diligence as there are drug protectors, kidnappers, kotong and ninja cops who want to destroy the ongoing campaign against illegal drugs."
'Ninja' cops refer to corrupt police officers who resell confiscated drugs.
The Palace urged "a certain objectivity to avoid being used by said aberrations."
On Monday, Catholic Bishops' Conference of the Philippines president Socrates Villegas said law enforcers have approached priests to seek sanctuary, aid and protection because "their consciences are troubling them."
While the Church will grant the cops accommodation and protection, he said the spiritual leaders will also look into the sincerity of their motives and the veracity of their stories.
"The hospitality, comfort and acceptance that they seek from the Church will be attended to. Whatever we do to the least of our brethren we do to Christ," Villegas said, quoting a line from the Gospel of Matthew.
READ: Cops seek refuge with Church to testify on EJKs
Bishops Roberto Mallari of San Jose City, Nueva Ecija and Ruperto Santos of Balanga also announced that they will be opening their doors to "those who want to stand for the truth."
Senators: Bring them to hearings
Senators Grace Poe and Panfilo Lacson urged the Catholic Church to deliver the confessed police officers to the Senate inquiry.
Poe hopes for the immediate passage of the proposed Whistleblower's Protection Act. The measure aims to provide security and monetary grants for whistleblowers.
"Of course, they can't just live in the church," the senator said in Filipino.
The Catholic Church is one of the institutions critical of President Rodrigo Duterte's bloody crackdown on illegal drugs because of its belief in the right to life. This has earned it criticism from Duterte supporters, ranging from a reminder to stay out of political affairs to condemnation for its perceived inaction on sexual abuse within the church.
Last month, Justice Secretary Vitaliano Aguirre II said Caloocan Bishop Pablo Virgilio David could be guilty of obstruction of justice for taking the custody of the witnesses to the killing of school boy Kian Loyd delos Santos.