Duterte says Philippines a drug transshipment point of notorious Bamboo triad
September 26, 2017 | 1:34pm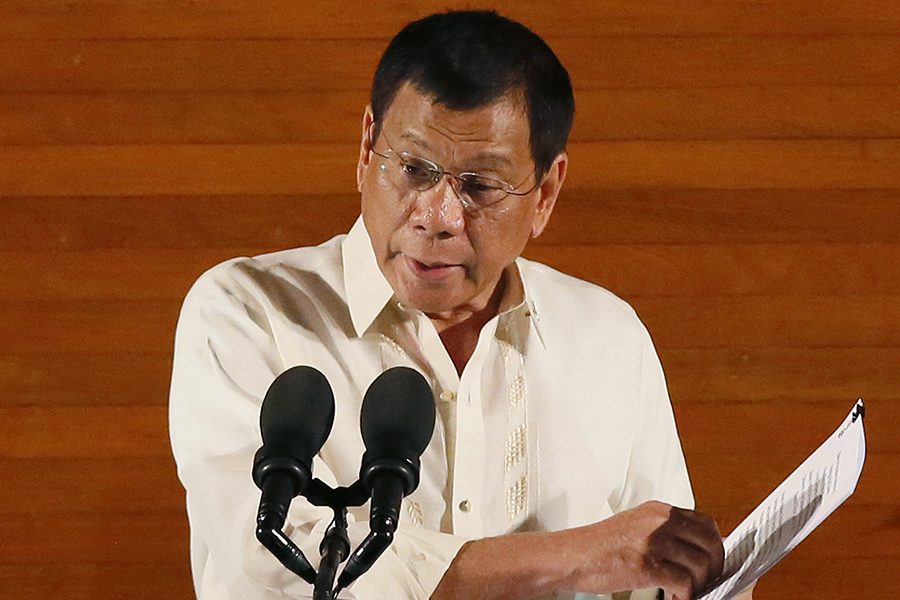 MANILA, Philippines — Two international syndicates are behind the proliferation of illegal drugs in the country, President Rodrigo Duterte said Tuesday, as he called on the United States to work closely with the Philippines to address the problem.
Duterte said the Philippines now serves as a transshipment of narcotics to the United States because of the "Bamboo triad," a criminal group based in Taiwan.
"I said we are in trouble. This is the first time I would reveal it because we're talking about the Constitution and the interest of our country and of course the Bill of Rights and due process," the president said during the 56th anniversary of the Philippine Constitution Association in Manila.
"The Philippines today is a client state of the Bamboo triad. They have taken over the operations of, sad to say, the Chinese but I do not mean the country and people in a sense that most of them are really into this kind of business," he added.
During the 120th anniversary of the Justice department in Pasay also Tuesday, Duterte said the Bamboo triad and another group, the 14K triad based in Hong Kong, have taken over the drug operations in Southeast Asia.
He said those cooking drugs in the country were given "franchise in distribution" by the two groups.
"I said they have decided to go international. The Philippines is a transshipment of shabu to America and it behooves upon America to work closely with the Republic of the Philippines especially on this serious matter," Duterte said.
"We are flooded with drugs and the locals here haven't taken in but they participate in the (production) of, the selling and I think they are happy because they are protected," he added.
Duterte said about 40 percent of barangays in the Philippines are affected by the drug menace, which he called a "disease."
"We have become a narco-state long ago," he said.
Duterte reiterated his warning against drug lords, saying he would not hesitate to kill them if they destroy the future of the country.
But he clarified that his crackdown on narcotics would be compliant with the Constitution.
"When it comes to this country, I could be the most brutal but I do not lose sight of the Constitution… I have been a prosecutor I know what due process means," Duterte said.
"I do not want killing innocent Filipino people… Due process must be observed," he added.
Critics claim that Duterte's war on drugs has encouraged summary executions and abusive practices. Duterte has denied condoning criminal acts and has promised to "slaughter" policemen involved in extrajudicial killings.
Duterte also challenged the opposition to find a single policeman who can prove that he ordered the killing of innocent civilians. — Alexis Romero