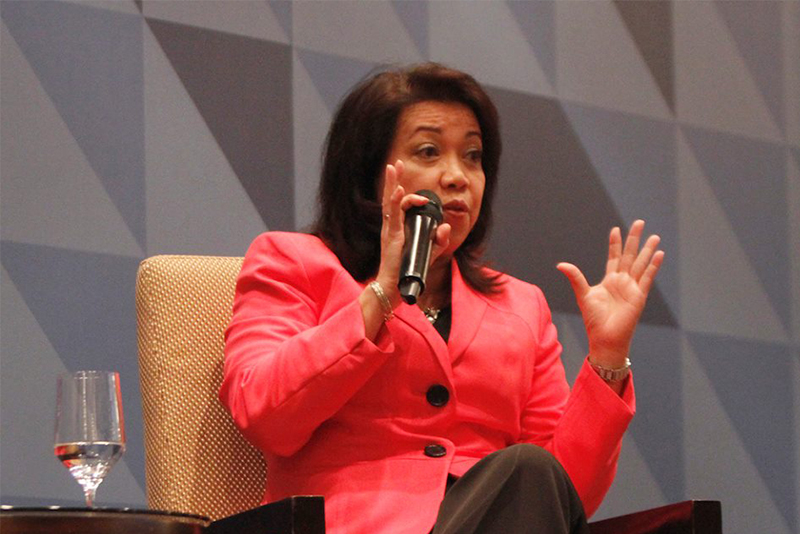 The camp of Chief Justice Maria Lourdes Sereno on Monday files a verified response to the impeachment complaint filed by lawyer Larry Gadon. Her legal team believes the allegations against the chief justice are "totally false and baseless" and should be dismissed. APEC/Released, File
Sereno camp: Charges vs CJ 'totally false, baseless'
(philstar.com) - September 25, 2017 - 4:40am
MANILA, Philippines — The camp of Chief Justice Maria Lourdes Sereno said the impeachment complaint filed by lawyer Larry Gadon against her is "totally false and baseless" and should be dismissed.
Sereno's camp on Monday submitted a 86-page reply affidavit to the allegations of corruption, betrayal of public trust, culpable violation of the Constitution and other high crimes.
Her legal team maintained that the charges are based on hearsay and newspaper clippings and are not grounds for impeachment.
"The charges are totally false; they are absolutely without bases in the facts and the applicable law. The second ground is that the acts alleged do not even constitute grounds for impeachment under the Constitution," Alex Poblador, head of Sereno's legal team, said.
He noted that Gadon's allegations are not substantiated and based on hearsay and newspaper articles.
Poblador added the authentic court documents that Gadon was able to acquire "may be related to the impeachment but do not support the impeachment grounds."
"The complaint should not have reached this stage. It should have been dismissed from the very start," he said.
Gadon's accusations
The House Justice committee has already found Gadon's impeachment complaint "sufficient in form and substance."
Gadon, a former counsel of Pampanga Rep. Gloria Macapagal Arroyo, accused Sereno of using public funds to finance the purchase of Toyota Land Cruiser and supposed lavish trips abroad, failing to disclose in her Statement of Assets, Liabilities and Net Worth declaration and falsifying court documents.
Sereno's legal team also said that her purchase of vehicle amounting to more than P5 million as her personal vehicle is a "non-issue, much less a ground for impeachment."
In 2010, then Budget Secretary Rolando Andaya signed Budget Circular 2010-2, which set the guidelines on the acquisition and use of government vehicles.
The Land Cruiser—a sports utility vehicle—falls under one of the definitions; however, the same circular exempts the president, vice president, Senate president, House speaker and Supreme Court chief justice from the restrictions given the luxury cars are used for security reasons and purposes.
READ: Impeachment against Sereno raises political questions
PIATCO case
Gadon claimed Sereno did not declare the professional fee she received, amounting to P37 million, when she was a private lawyer who represented the government in an arbitration case prior to her appointment to the high court.
Sereno and the late high court magistrate Florentino Feliciano represented the Department of Transportation and Communications when the Philippine International Air Terminals Co. Inc sued them before an international arbitration tribunal. They won the case for the government.
But Poblador dismissed Gadon's allegation, saying Sereno earned a little over P30 million.
"She used this income to acquire a house and lot, a very modest vehicle, to pay for the living expenses of her family including medical, hospital and funeral expenses. The assets which she continues to possess from the proceeds of this attorney's fees are reflected in her SALN," he said.
Sereno unfazed
Sereno's spokeperson Carlo Cruz said the chief justice is unfazed because "she knows in conscience she did not do anything wrong."
"She is composed. She radiates peace, strength kahit sa harap ng mga maling paratang. Bagay na bagay talaga 'yung kanyang pangalang Sereno. She is a picture of serenity, [calmness]," he said.
Sereno's legal team is confident that they will win the case.
"We are convinced, CJ is convinced na walang ground ito. Ito ay based on fake news," lawyer Aldwin Salumbides said.
He added: "Kami ay confident, no matter what political maneuver is happening, because we know we will break through. Mananalo kami dito."
Poblador urged the members of the House of Representatives to administer "true justice."
"[The members of the House] have to decide on the basis of the facts and the applicable law, not on the basis of the dictates of their political leaders following some kind of political agenda and they should accord the Chief Justice full exercise of her rights," he said.