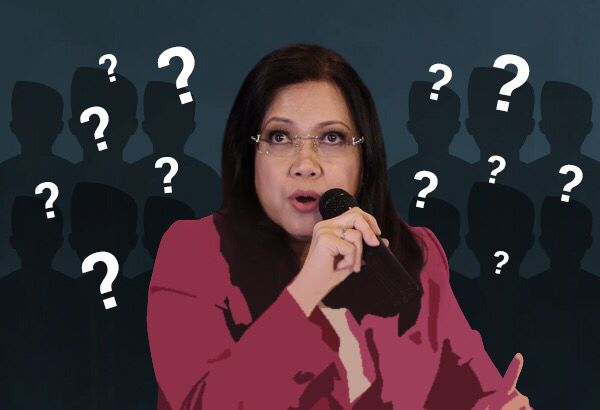 The move to impeach Chief Justice Maria Lourdes Sereno goes beyond the ethics of purchasing a luxury vehicle. An analyst said it has a "very heavy political context."
Impeachment against Sereno raises political questions
(Philstar.com) - September 6, 2017 - 3:48am
MANILA, Philippines (Updated Sept. 7, 10:10 a.m.) — Maria Lourdes Sereno may become one of the longest-serving chief justices in the country with her mandatory retirement in 2030, 20 years after she was appointed to head magistrate.
But her time in office might be cut short just like her predecessor, the late Chief Justice Renato Corona.
On August 30, 25 members of the House of Representatives endorsed an impeachment complaint against Sereno filed by lawyer Lorenzo Gadon.
A second impeachment complaint with endorsements from 16 solons was filed on Monday by Dante Jimenez of the Volunteers Against Crime and Corruption and Eligio Mallari of the Vanguard of the Philippine Constitution.
Jimenez and Mallari submitted an impeachment complaint earlier in August; however, the complaint did not gain any endorsement at the time.
Sereno is not the only official in a Rodrigo Duterte-led government facing fleeting threats of removal from office. Vice President Leni Robredo, Ombudsman Conchita Carpio Morales, Commission on Human Rights chief Chito Cascon and Comelec Chairperson Andres Bautista dealt with calls for resignation and impeachment over the past year.
The president himself was likewise threatened with an impeachment bid over extrajudicial killings and an alleged secret agreement with China. The complaint was dismissed by the lower house.
Political questions
For political analyst Ramon Casiple, the move to impeach Sereno has a "very heavy political context."
"Many are out for her blood […] [It] is very political, not based on evidence alone [and] not based on specific violations of whatever rules they are citing," Casiple said on ANC's "Early Edition."
Tight-knit network
Complainant Gadon was a former counsel of now Rep. Gloria Macapagal Arroyo and VACC is affiliated with the president's party, Partido Demokratiko Pilipinas and Lakas ng Bayan.
Jimenez, however, denied the VACC's links to PDP-Laban in an interview on ANC's "Headstart." He also dashed speculations that the president is behind the complaint.
Gadon, president of PDu30 Constitutional Reform Toward Federalism and senatorial candidate in 2016, is also a complainant in the impeachment case against Bautista.
The grounds for the impeachment cases against the chief justice include culpable violation of the Constitution, corruption, other high crimes and betrayal of public trust.
The cases alleged that Sereno, among other things, used public funds to finance her supposed lavish lifestyle, misdeclared in her Statement of Assets, Liabilities and Net Worth declaration, falsified of court documents and manipulated the shortlist of the Judicial and Bar Council in the Sandiganbayan for personal and political reasons.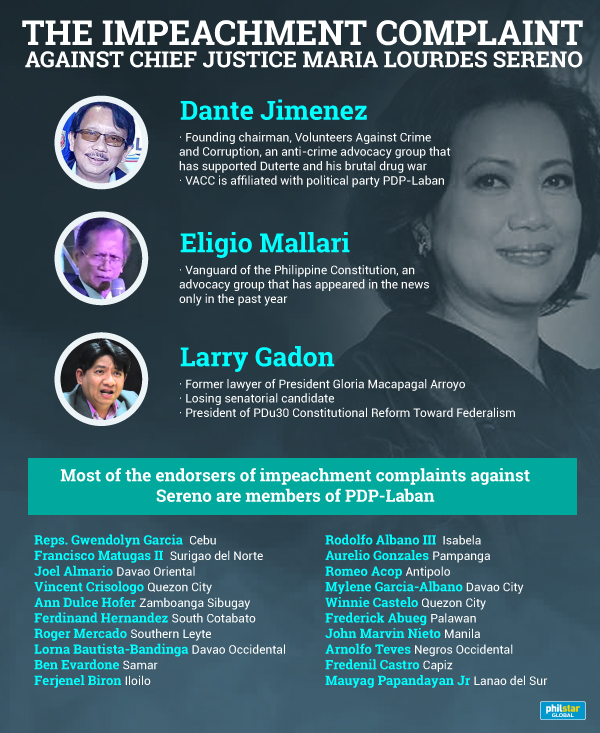 Among the congressmen who endorsed the first impeachment complaint against Sereno are 15 solons from PDP-Laban: Reps. Gwendolyn Garcia (Cebu), Rodolfo Albano III (Isabela), Francisco Matugas II (Surigao del Norte), Aurelio Gonzales (Pampanga), Joel Almario (Davao Oriental), Romeo Acop (Antipolo), Vincent Crisologo (Quezon City), Mylene Garcia-Albano (Davao City), Ann Dulce Hofer (Zamboanga Sibugay), Winnie Castelo (Quezon City), Ferdinand Hernandez (South Cotabato), Frederick Abueg (Palawan), Roger Mercado (Southern Leyte), John Marvin Nieto (Manila) and Lorna Bautista-Bandinga (Davao Occidental).
Meanwhile, four out of the 16 congressmen who endorsed the second impeachment are from PDP-Laban, namely: Reps. Arnolfo Teves (Negros Occidental), Ben Evardone (Samar), Fredenil Castro (Capiz) and Fejenel Biron (Iloilo).
Car trouble
Gadon's complaint claimed Sereno used public funds to finance the purchase of brand new Toyota Land Cruiser 2017 model as her personal vehicle, amounting to more than P5 million.
"This is the first time that a chief justice has purchased that kind of luxury vehicle and she even planned to have it bulletproofed," Gadon said on CNN's "The Source."
According to Article 11, Section 1 of the 1987 Constitution, public officers and employees must, at all times, lead modest lives.
But did Sereno, a salary grade 32 earner, violate any laws when she ordered the purchase of a luxury car?
In 2010, then Budget Secretary Rolando Andaya signed Budget Circular 2010-2, which set the guidelines on the acquisition and use of government vehicles.
Her land cruiser—a sports utility vehicle—falls under one of the definitions; however, the same circular exempts the president, vice president, Senate president, House speaker and Supreme Court chief justice from the restrictions given the luxury cars are used for security reasons and purposes.
The legal and the political
Rep. Jericho Nograles (PBA party-list), one of the endorsers of the first impeachment complaint, said the Supreme Court enjoys fiscal autonomy.
"Are they allowed to purchase a Land Cruiser? Yes. They are legally allowed to purchase that Land Cruiser. However, is it politically allowed? Right now, this is a political process. This is a numbers game and the question is there is a call for austerity," Nograles added.
But will the Congress and the Senate find the purchase of luxury car politically excessive? Will Sereno be the second magistrate to be removed from office?
PDP-Laban is the super majority coalition in the House of Representatives as even lawmakers from the militant bloc are now supportive of the current administration.
Should Sereno suffer the same fate as Corona, what will happen to the High Court?
Sen. Leila De Lima, last week, accused Duterte of wanting to "hasten the removal" of Morales and Sereno from their respective offices to weaken their offices as independent institutions.
"He wants to hasten the removal from office of two women who dare to hold on to their independence, integrity and impartiality in the face of a president who expects and demands blind loyalty and kowtowing from everyone," De Lima said in a statement.
The chief executive and the chief justice
Tensions between Duterte and Sereno started to arise when Duterte threatened to order everyone in the executive branch to stop respecting the chief justice or he will declare martial law. This came after Sereno said the president's decision to name "narco-judges" could lead to a constitutional crisis.
Sereno also voted against the burial of late president Ferdinand Marcos at the Libingan ng mga Bayani. In her dissenting statement, Sereno said the hero's burial would degrade the pains of Marcos' martial law victims and disregard documented truths regarding his regime.
Last week, Duterte accused Sereno of "sitting on" the temporary restraining order against two contraceptives regulated under the Reproductive Health Law. The high court, however, clarified that the TRO only covers the distribution of two contraceptive implants and does not suspend the implementation of the contraceptives law.
There are currently four Duterte appointees in the Supreme Court: Justices Alexander Gesmundo, Noel Tijam, Samuel Martires and Andres Reyes. Within the president's six-year term, he will have appointed all but three remaining high court justices: Sereno, Marvic Leonen and Benjamin Caguioa.
Corona parallels
Given the political context of Sereno's impeachment, Casiple, the political analyst, said the current attempt to oust Sereno is in some ways similar to that of disgraced chief justice Corona.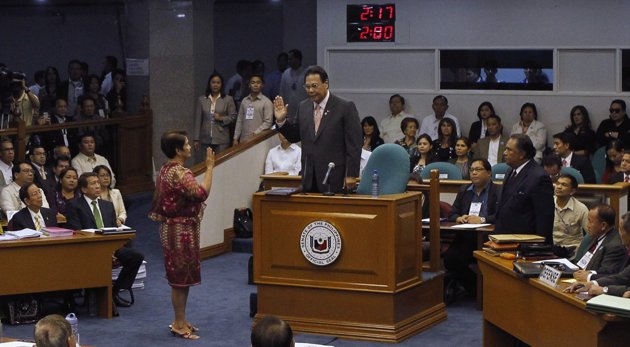 In this May 22, 2012 file photo, Supreme Court Chief Justice Renato Corona, center, takes his oath as he testifies during his impeachment trial in the Senate in Manila, Philippines, Tuesday. Corona denied that he stole from the country's coffers. AP/Erik De Castro, Pool
Gadon's complaint argues that Sereno is not truthful with her Statement of Assets, Liabilities and Net Worth declaration.
He claimed Sereno did not declare the professional fee she received, amounting to P37 million, when she was a private lawyer who represented the government in an arbitration case prior to her appointment to the high court.
Sereno and the late high court magistrate Florentino Feliciano represented the Department of Transportation and Communications when the Philippine International Air Terminals Co. Inc sued them before an international arbitration tribunal. They won the case for the government.
"According to my sources, she only declared P15 million that was included in the case filed at Regional trial Court Mandaluyong wherein the judge declared the fees are exorbitant and unquestionable," Gadon said, adding he has the necessary documents to support his claims.
"There is something wrong with that (receiving 37 million) if you did not pay your taxes on that and you did not declare that in your SALN," Nograles said.
The misdeclaration in his SALN cost the late Corona his office. Senator-judges in 2012 ousted him on the allegation that he betrayed public trust and committed culpable violation of the Constitution for his failure to disclose some of his alleged properties and bank accounts in his SALN.
Corona was the third government official to be impeached, following former president Joseph Estrada and former ombudsman Merceditas Gutierrez. He died last year.
The impeachment process: From filing to official's exit
With the impeachment complaints already filed at the lower house, Congress must have it endorsed to the proper committee within 10 session days as stated in Article 11, Section 3 of the 1987 Constitution.
The committee, after hearing and by a majority vote of all its members, shall submit a resolution within 60 days. The resolution will then be calendared for consideration by the House within 10 session days.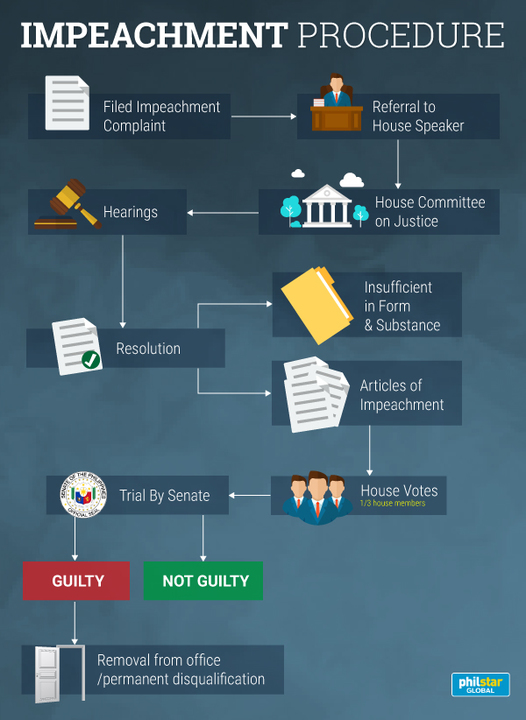 A vote of at least one-third of all House members is necessary either to affirm a favorable resolution with the articles of impeachment of the committee or override its contrary resolution. This translates to at least 98 members of the House given there are 292 congressmen at present.
In case the verified complaint or resolution of impeachment is filed by at least one-third of all the members of the House, the same shall constitute the articles of Impeachment, and trial by the Senate will proceed.
The Senate has the sole power to try and decide all cases of impeachment.
Judgment in impeachment cases shall not extend further than removal from office and disqualification to hold any office but the party convicted will nevertheless be liable and subject to prosecution, trial and punishment.
Sereno, meanwhile, remains unfazed by any move to remove her from office, saying she has "not done anything wrong."
"Nothing can be proven against me that will show that the chief justice has betrayed her oath of office. I have served the country with all faith and diligence. I will never waver from that pledge," she said last week in a town hall meeting in Cebu. — Graphics by Jonathan Asuncion