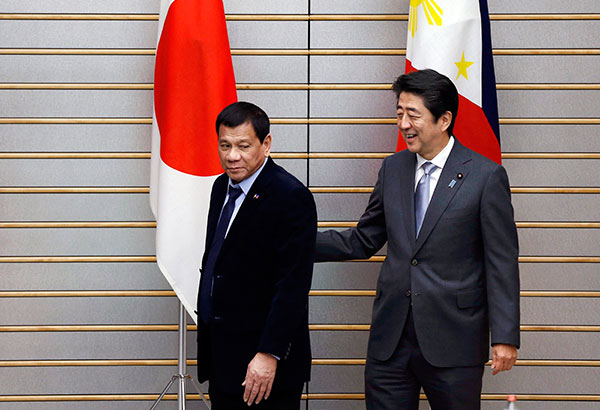 "I discussed with Prime Minister Shinzo Abe in full detail the state of Philippines-Japan ties and we identified points of collaboration that would lead to a common path towards the achievement of shared objectives," President Rodrigo Duterte said. AP
NEDA: Japan remains Philippines' top source of ODA for first half of 2017
(philstar.com) - September 21, 2017 - 11:09am
MANILA, Philippines — Japan remained the Philippines' top source of loans for the first half of 2017, the National Economic and Development Authority said on Thursday.
In a statement, NEDA said Japan, through the Japan International Cooperation Agency (JICA), had the biggest share of the Philippines' total official development assistance (ODA) loans portfolio at 44.83 percent, which amounted to $4.84 billion.
The World Bank came in second with $2.948 billion (27.31%) while the Asian Development Bank (ADB) ranked third with $2.174 billion (20.14%), NEDA also reported.
READ: Abe pledges $8.7B in investments, speedboats to Philippines
According to the country's economic planning agency, the Philippines' total ODA loans on the first half of the year amounted to $10.797 billion, which consists of 54 project loans ($8.197 billion) and 7 program loans ($2.6 billion).
"Japan has been our long-time development partner and we have established a strong relationship with them. They have one of the best loan terms," NEDA Undersecretary for Investment Programming Rolando Tungpalan said.
Twenty-three of the 35 approved projects by the NEDA Board will be funded by ODA loans, including the Metro Manila Subway Project worth P355.588 billion that bagged the inter-agency body's approval last Sept. 12, Tungpalan also said.
Aside from the Metro Manila Subway, among the priority projects to be bankrolled by JICA are the PNR North 2 (Malolos-Clark Airport-Clark Green City Rail), Cavite Industrial Area Flood Management Project, and the Malitubog-Maridagao Irrigation Project Phase II.
READ: NEDA Board approves Metro Manila Subway, new projects
The government plans to spend about P847.22 billion this year on infrastructure alone, equivalent to 5.32% of gross domestic product (GDP), as part of its ambitious infrastructure drive called "Build, Build, Build."
According to the country's economic managers, the Duterte administration will finance its big infrastructure plan through an optimal mix of ODA, government domestic financing (General Appropriations Act), and private capital (Public-Private Partnerships).