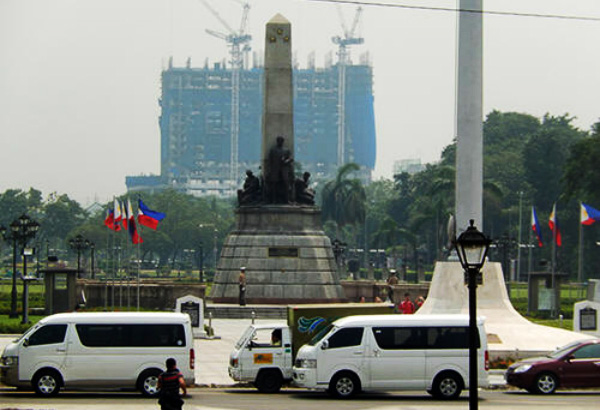 The Rizal Monument in Luneta with the Torre de Manila rising behind it. Sen. Pia Cayetano Office, File
Manila named 10th most stressful city in the world
(philstar.com) - September 14, 2017 - 9:38am
MANILA, Philippines — A recent study named the City of Manila as one of the most stressful cities in the world.
UK-based dry-cleaning and laundry service Zipjet recently conducted a study on 500 locations based on data relating to 17 categories covering infrastructure, pollution levels, finance and citizens' wellbeing.
Manila placed tenth on the roster of most stressful cities in the world with a score of 8.92. Baghdad, Iraq ranked first place with a total score of 10.
In its methodology, Zipjet said it analyzed various criteria including traffic, security and mental health issue in ranking 150 cities. The study also provided a standard score based on their ranking after selecting the cities.
"A low score indicates a low level of stress, with each increasing number indicating a higher level of stress for this factor. A score of 1 represents the least amount of stress possible and 10 indicates the most," the firm said on its website.
Below appears the top 10 most stressful cities in the world, according to Zipjet:
Baghdad, Iraq
Kabul, Afghanistan
Lagos, Nigeria
Dakar, Senegal
Cairo, Egypt
Tehran, Iran
Dhaka, Bangladesh
Karachi, Pakistan
New Delhi, India
Manila, Philippines
Zipjet also determined the least stressful cities in the study. Four cities of Germany placed in the ranking where Stuttgart topped the list.
Here are the ten least stressful cities in the world:
Stuttgart, Germany
Luxembourg City, Luxembourg
Hanover, Germany
Bern, Switzerland
Munich, Germany
Bordeaux, France
Edinburgh, UK
Sydney, Australia
Graz, Austria
Hamburg, Germany
Graz and Hamburg are tied in their score.
— Rosette Adel