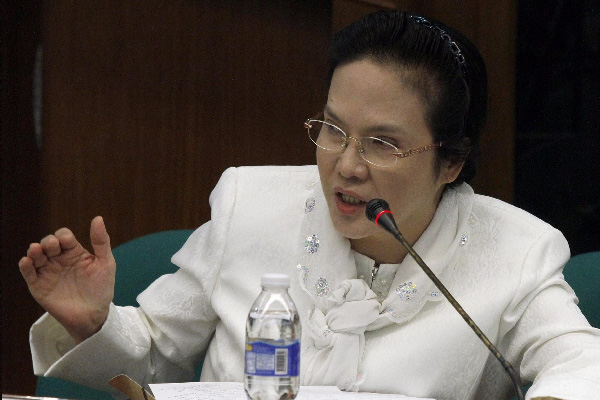 The Public Attorney's Office raised that the Philippine National Police's move is "suspicious" since they stressed that the body was already "positively identified" by Kulot's parents. Senate PRIB, File
PNP taking Kulot's DNA sample sans lawyers may be illegal, PAO says
(philstar.com) - September 12, 2017 - 8:04am
MANILA, Philippines — The Philippine National Police's taking of DNA sample from 14-year-old Reynaldo "Kulot" de Guzman might have been illegal, according to the Public Attorney's Office.
"The panel of PAO lawyers handling the case of the murder of Reynaldo De Guzman is of the opinion that the taking of consent and DNA sample in the absence of PAO lawyers was illegal," the PAO said in a statement released to the media on Tuesday.
READ: Acosta plays down DNA test, insists parents identified 'Kulot'
The PAO also raised that the PNP's move is "suspicious" since they stressed that the body was already "positively identified" by Kulot's parents.
"There was no issue at all on the identity of the cadaver and that there are no other claimants," the PAO added.
On Monday morning, the PNP released the results of its DNA test done on the body found floating in the lake in Nueva Ecija. The body sustained almost 30 stab wounds and its head was wrapped with a cloth and tape.
READ: PNP: Boy found dead in Nueva Ecija not Reynaldo de Guzman
Parents of Kulot positively identified the body as their son's, pointing out that it bore the same scars of Kulot's "kulugo." PAO Chief Persida Rueda-Acosta, who is extending legal assistance to the family, also asserted the same claim, downplaying the results of the PNP's DNA exam.
De Guzman was last seen with 19-year-old Carl Arnaiz, who was purportedly killed in a shootout with Caloocan police last August 18. Arnaiz allegedly robbed a taxi driver in Caloocan and fired at responding police, prompting the authorities to fire back.
"The PAO Forensic Lab therefore will take no further action on the DNA result released as it appears to be of very little credibility given the circumstances surrounding its release," the statement further reads.
READ: 4 key details in cabbie's version of events leading to Carl Arnaiz's death