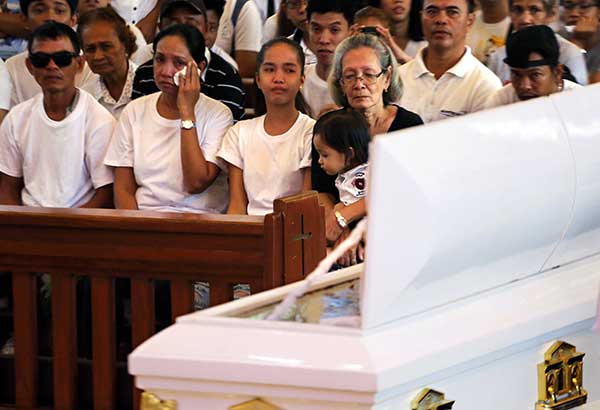 Relatives of Carl Angelo Arnaiz attend mass at Mater Dolorosa Parish in East Rembo, Makati before his burial at the San Roque cemetery in Pateros, Sept. 5, 2017. The STAR/Miguel de Guzman
4 key details in cabbie's version of events leading to Carl Arnaiz's death
(philstar.com) - September 11, 2017 - 1:20am
MANILA, Philippines — The reappearance of cabbie Tomas Marleo Bagcal after days of hiding could hold key details that might reveal what happened to 19-year-old Carl Angelo Arnaiz.
Bagcal, who claimed he was robbed by Arnaiz, was among the last people the teen was with before the latter died in an alleged shootout with Caloocan City police.
More questions, however, were raised than answers as Bagcal refused to answer clarifications and follow-up questions from reporters, explaining that his intent is to provide the details at a proper venue such as the court or the Senate, which is holding a probe into drug war deaths.
But Bagcal did provide snippets of crucial information. One of which was his revelation that he brought Arnaiz alive to a police station at 9th Avenue in Caloocan City.
He also disavowed his two police affidavits, saying he did not make those statements.
"Hindi 'yung totoong statement ko iyon e. Ang tinanong lang sakin doon, pangalan, birthday, saka edad tapos yung OR/CR ng sasakyan," he said.
Here are four major details in Arnaiz's death revealed by the cabbie.
1. Bagcal brought Arnaiz alive to 9th Avenue police station
Bagcal initially refused to identify Arnaiz as the hold-upper, repeating that he would answer questions at the right venue. He even declined to answer if the suspect looks like Arnaiz.
Later, however, Bagcal said he was able to identify Arnaiz after taking off the latter's hoodie while bystanders were beating up the teen.
He then brought the 19-year-old to a police station at 9th Avenue in Caloocan City with the help of the bystanders.
Bagcal also vaguely hinted that an hour elapsed until he found out that the hold-upper died.
"Mga isang oras yun na yun. May ano na ako na itong humoldap sa akin ay namatay," he said.
2. Arnaiz was later taken to C-3 road
Bagcal declined to answer how Arnaiz ended up at the crime scene on C-3 road where his body was found if he was taken alive to a police station more than a kilometer away.
It was also unclear how events transpired from the time Arnaiz was taken to the station to Bagcal's statement that he saw the teen walking then shot at by police. Bagcal said he witnessed the killing as the police took him with them to C-3 road.
"Pinasunod po ako," he said.
He was also unsure if the teen really fought back as events happened quickly.
The Public Attorney's Office has raised the possibility that the crime scene where the teen was killed in an alleged shootout might have been
staged
as its forensic team found that there was no blood, no bullet slugs and holes on the wall and vegetation were not disturbed.
3. Reynaldo de Guzman was not with Arnaiz
The cab driver said only one person robbed him. This leaves queries on where Reynaldo de Guzman, the 14-year-old who accompanied Arnaiz to buy midnight snacks in their Rizal neighborhood on August 17, was at that time.
Bagcal said De Guzman was being implicated in the robbery case when he was asked if he was forced to sign the two affidavits.
"Yung una, yun nga tungkol dun sa holdapan, kasi iniimplicate nila yung isang 14-year-old na kasama daw nung namatay sa C3... which is, isa lang ang humoldap sa akin. Tinurnover ko sa station na iyon ay isa lang."
He did not detail, however, if the boy's implication in the robbery case happened during the first affidavit on August 18, on the day of the alleged robbery, or on August 29, the day after Eva Arnaiz identified the body of her son, Carl.
He said he picked up the allegedly armed Arnaiz on a highway in Navotas. Bagcal also showed a scar on his hand where the teen allegedly hit him with a gun.
De Guzman's body was found in a creek in Nueva Ecija last week. The boy's parents were able to identify him but police said Monday that DNA test showed the body was not De Guzman.
Police announced that the boy is still missing.
4. Police fabricating affidavit, planting evidence?
"Hindi yung totoong statement ko yun e. Ang tinanong lang sa akin dun pangalan birthday saka edad tapos yugn OR/CR ng sasakyan," he said.
He added that the killing seems to have been staged but provided no details why he thought so.
"Ang ano ko lang kasi sa nangyari sa pulis yung pagkapatay nung prinesent kong hold-upper is parang stage play o scripted."
Bagcal also affirmed that PO1 Jeffrey Perez and PO1 Ricky Arquilita were the ones involved in the killing of Arnaiz.
According to him, the two were in civilian clothing at the time. — Mikas Matsuzawa