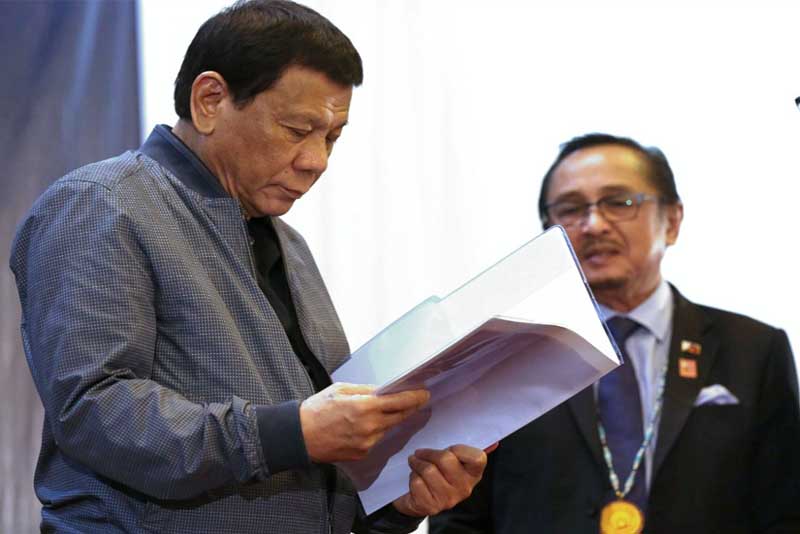 President Rodrigo Duterte reviews the documents presented to him during the 26th Mindanao Business Conference (MINBIZCON) closing ceremony at the Xavier Sports and Country Club in Cagayan de Oro City on Sept. 9, 2017. PPD/Simeon Celi Jr.
Duterte certifies proposed 2018 budget as urgent
(philstar.com) - September 12, 2017 - 7:06am
MANILA, Philippines — President Rodrigo Duterte certified his administration's proposed P3.767 trillion budget for 2018 as urgent to "ensure budgetary preparedness."
In a letter sent to House Speaker Pantaleon Alvarez, Duterte certified as an urgent legislative measure House Bill 6215, or "An Act Appropriating Funds for the Operation of the Government of the Republic of the Philippines from January One to December Thirty-One, Two Thousand and Eighteen, and for other purposes."
A copy of the letter was also furnished to Senate President Aquilino "Koko" Pimentel III.
Presidential certification allows the House of Representatives to proceed with the third reading of the bill once the measure is approved by lawmakers on second reading without having to wait for at least three days in between as otherwise required by rules.
In the letter, Duterte said the certification of the proposed 2018 budget aimed to "address the need to maintain continuous government operations" and expedite funding for the government's programs and projects next year.
It would also "ensure budgetary preparedness that will enable the government to effectively perform its constitutional mandate," the president added.
Duterte formally submitted to Congress the proposed 2018 national expenditure program during his second State of the Nation Address in July.
Representing 21.6 percent of the projected gross domestic product for 2018, the proposed 2018 budget is 12.4 percent higher than 2017's P3.35 trillion.
In line with the Duterte administration's thrust to reduce poverty and promote economic growth, the largest allocations will go to the education sector and the infrastructure development program called "Build, Build, Build," according to the budget department.