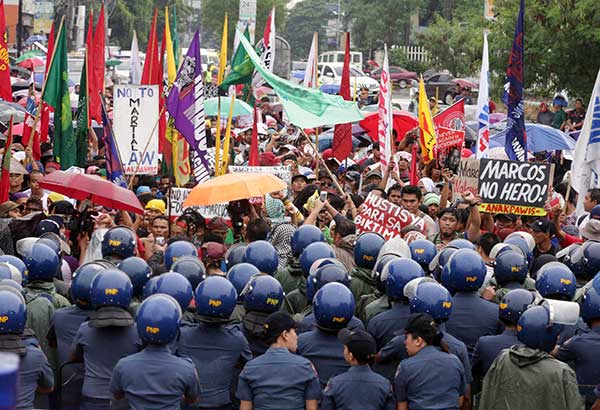 Loyalists and protesters briefly clashed outside the Libingan ng mga Bayani in Taguig City while top government officials stayed away from yesterday's gathering at the tomb to celebrate the 100th birth anniversary of dictator Ferdinand Marcos. Ernie Peñaredondo
Government officials stay away from Marcos birthday rites
MANILA, Philippines — Loyalists and protesters briefly clashed outside the Libingan ng mga Bayani in Taguig City while top government officials stayed away from yesterday's gathering at the tomb to celebrate the 100th birth anniversary of dictator Ferdinand Marcos.
Among the officials invited by the Marcos family were President Duterte, Senate President Aquilino Pimentel III, Speaker Pantaleon Alvarez, several Cabinet members and other lawmakers.
"The activity was peaceful. No untoward incident happened," Philippine Army Public Affairs Office chief Lt. Col. Ray Tiongson said. The Army helped keep out gratecrashers at the event.
Among those in attendance were former first lady and now Ilocos Norte Rep. Imelda Marcos and other members of the Marcos family, former president and now Manila Mayor Joseph Estrada, Iraqi Ambassador Ahmed Al Kuwin and other close friends. Former Senate president Juan Ponce Enrile also attended the event.
While the celebration was ongoing, at least 200 anti-Marcos protesters and around 150 Marcos supporters wearing white shirts held separate rallies near the cemetery entrance.
Tiongson noted that even the rallies of groups supportive and critical of Marcos were peaceful as the event ended and the protesters voluntarily dispersed at around 11:45 a.m.
Media were not allowed to cover the birthday celebration where a mass was held at around 10:30 a.m. followed by eulogies and lunch at the Bulwagan Hall.
Tiongson said the Marcos family requested that the event remain private, thus media were not allowed entry.
Only invited guests were allowed to enter the Libingan where the remains of the former president were laid to rest in November last year.
Former senator Ferdinand "Bongbong" Marcos Jr., speaking at the Libingan ng mga Bayani, vowed yesterday to pursue the vision and dream of the former president.
The former senator also thanked Marcos supporters who came from various parts of the country to join the family in the landmark event.
"On my father's 100th birth anniversary, we celebrate the day, the man and his life. Let us be reminded of his dreams and his vision for our country. Never let those dreams fade until the day we have made them real," the young Marcos posted on his Facebook account marking his father's 100th birth anniversary.
All members of Marcos family led by Imelda Marcos and her grandchildren were present.
Robredo hits Marcos holiday
Vice President Leni Robredo hit yesterday Malacañang's declaration of Marcos' 100th birthday as a special non-working holiday in Ilocos Norte.
"What's there to celebrate? As if we are trying to forget the sins they have committed against the Filipinos. As if we're trying to revise the story, the history, which is not right," Robredo said in an interview in Bulacan.
Robredo is facing an electoral protest filed by Marcos' son and namesake, former senator Bongbong Marcos before the Supreme Court, sitting as Presidential Electoral Tribunal.
Malacañang has declared Sept. 11, Marcos' 100th birth anniversary, a special non-working holiday in Ilocos Norte.
President Duterte, a close friend of the Marcoses, said he approved this upon the family's request, noting that he had no reason to refuse because the late dictator is revered in their home province.
Malacañang said anti-Marcos groups would be allowed to express their views and to hold mass demonstrations.
"I would say again that the President and the Palace exercise maximum tolerance for dissident opinions," presidential spokesman Ernesto Abella said. With Perseus Echeminada, Helen Flores, Paolo Romero, Alexis Romero, Artemio Dumlao