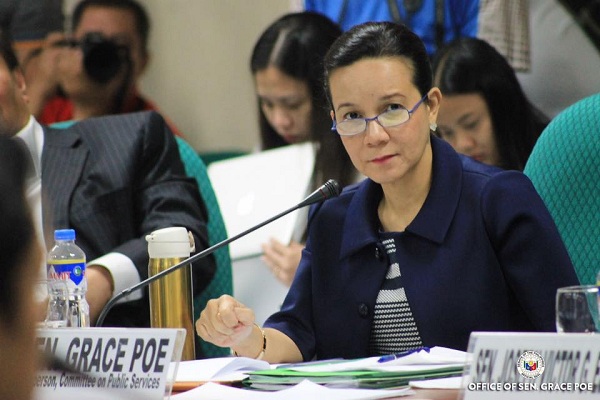 Sen. Grace Poe on Thursday filed a resolution asking the Senate to investigate into the spate of killings of teenagers in connection to the government's drug war. Grace Poe/Released, File
Poe wants Senate probe into teens' 'gruesome' deaths
MANILA, Philippines — A day after the body of a 14-year-old boy who had been missing for days was found in a creek in Nueva Ecija, Sen. Grace Poe on Thursday asked the Senate to investigate into the series of "gruesome" deaths of teenagers allegedly linked to the government's brutal campaign to eradicate illegal drugs.
Poe said that the Senate should probe into the deaths of minors resulting from the government's drug war to establish and reevaluate police procedure and guidelines on arresting minors suspected of illegal activities.
She added that charges should be filed against officers found to have violated the law.
"The plea for justice of the victims' relatives should not fall on deaf ears; the senseless killing of innocent Filipinos, especially minors, under the cloak of addressing the country's drug problem should be addressed by relevant legislation, policy recommendations, and impartial investigation," Poe said in filing Senate Resolution 498.
In a span of weeks, three teenagers were found dead in Metro Manila and Nueva Ecija. Two of the teens, 17-year-old Kian Loyd Delos Santos and 19-year-old Carl Arnaiz, were killed by cops allegedly after violently resisting arrest. The third one, 14-year-old Reynaldo De Guzman, was found lifeless in a Nueva Ecija creek with 30 stab wounds in his body.
READ: What we know so far: Killing of Reynaldo de Guzman, 14
Autopsy conducted on the bodies of Delos Santos and Arnaiz however contradict police claims and indicate that they were mercilessly killed.
The killings have sparked widespread condemnation of the government's war on drugs which has claimed the lives of thousands since its inception in July last year.
RELATED: What we know so far: Killing of Carl Arnaiz, 19
Another boy, 17-year-old Vaughn Carl Dicang, was found dead in Baguio City on Thursday, six days after he went missing. Dicang's family believes the death was a robbery and not related to the drug war.
According to Poe, the Children's Legal Rights and Development Center has already recorded the killing of 54 individuals aged 18 years old or below. She said that they were killed either in police operations or in vigilante-style executions.
"The following were reportedly killed in anti-drug police operations: (a) ALTHEA BARBON, a four-year old who died last 1 September 2016 from gunshot wounds during an alleged buy-bust operation against her father in Guhuilngan, Negros Oriental; (b) HIDEYOSHI KAWATA, a seventeen-year old killed during a buy-bust operation in Caloocan City last January 2017," Poe said.
"JOSHUA CUMILANG, an eighteen-year old who was allegedly dragged down by armed men to an alley near their home before being killed by a police officer, and (d) JEFFERSON BUNUAN, a 20-year old criminology student and a beneficiary of Kaibigan Foundation was killed during a police operation in Sta. Ana, Manila last 18 July 2016, among others," she added.
She also cited the cases of Danica May Garcia, 5, of Dagupan City, Francis Manosca, 5, of Pasay City and Rowena Samson, 22, of Manoag as victims of vigilante-style executions.
"[Samson] was on her way to enroll for her last semester in college in Manaoag, Pangasinan when she was found dead with the placard 'huwag tularan, pusher,'" Poe said.
According to Poe, these deaths should serve as a reminder that the Philippines is a country of laws and morals.
She also called on policy makers to condemn the disregard for human life of some police officers who swore to protect and serve the people.
"It is imperative to determine whether these killings were arbitrary executions caused by excessive, disproportionate and illegitimate use of force of law by law enforcement officers," she said.
The Senate should ensure that the operational protocols of law-enforcement agencies are observed, according to Poe.