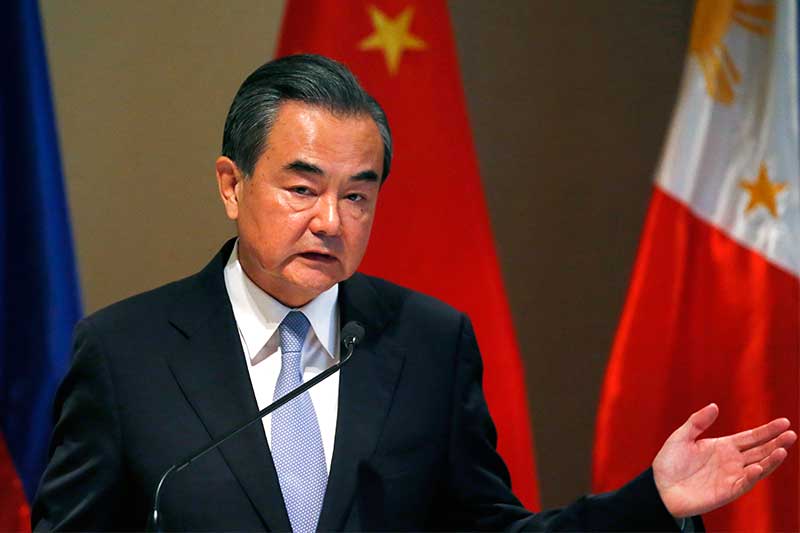 Chinese Foreign Minister Wang Yi gestures during a joint news conference with Philippine Foreign Affairs Secretary Alan Peter Cayetano following their bilateral meeting Tuesday, July 25, 2017 in suburban Taguig city, east of Manila, Philippines. The two officials discussed the South China Sea dispute and other issues concerning both countries. AP/Bullit Marquez
China to provide fish for Filipino fishermen in Palawan
MANILA, Philippines — Beijing on Tuesday vowed to provide assistance to Filipino fishermen in near future after imposing its annual fishing ban in the disputed South China Sea.
Earlier this year, China issued its annual moratorium on commercial fishing in the Yellow/Bohai Seas, East China Sea and the South China Sea which include the Scarborough Shoal, the Paracel Islands and the Gulf of Tonkin.
In his official visit to Manila, Chinese Foreign Minister Wang Yi said that Beijing is committed to contribute to the livelihood of the Filipino people.
"In order to help Philippine fishermen increase production and improve their livelihood in the near future, China will provide 100,000 young Lapu-Lapu fish to fishermen of Palawan region," Wang told reporters in Manila.
Wang was on a two-day official visit to Manila upon the invitation of Foreign Affairs Secretary Alan Peter Cayetano.
RELATED: China: We must stand together vs South China Sea outsiders
The Philippines is claiming a portion of the Spratly Islands, known as the Kalayaan Island Group, located in a 64,000- square-mile area and made up of 54 islands, reefs and shoals.
The country has an airstrip and maintains a small community on Pag-asa Island, which is a part of Palawan province.
The fishing ban, which applies to both Chinese and foreign fishing, started on May 1 and will end on August 16 in the South China Sea. The moratorium, however, does not include the Spratly Islands or the southern reaches of the so-called nine-dash line.
RELATED: Chinese Coast Guard stationed in Scarborough to administer fishing activities
Last April 21, Defense Secretary Delfin Lorenzana visited Pag-asa Island to inspect a dirt runway on the island in the Spratly group.
The government plans to repair the 1.2-kilometer runway and to fortify small buildings on the island as well as on eight smaller reefs and atolls that Filipino forces are occupying in the region.
Beijing, on the other hand, expressed dissatisfaction with the visit of Lorenzana and military officials in the islands.
"This move runs counter to the important consensus reached between the two leadership, which is to properly deal with the South China Sea issue," the Chinese Foreign Ministry said.
READ: Defense, military chiefs visit disputed South China Sea island | China alarmed by Philippine military execs' visit to Pag-asa Island