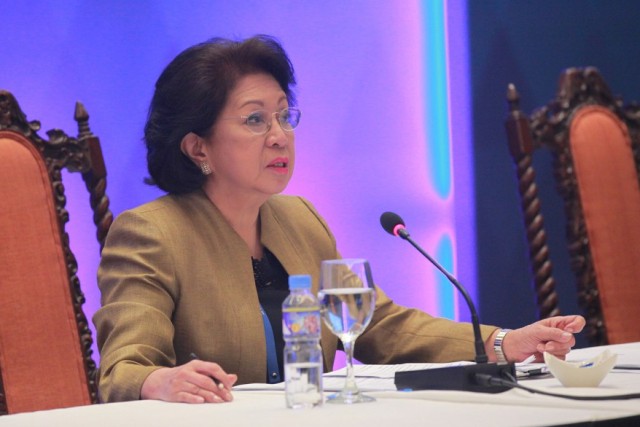 This was President Rodrigo Duterte's reaction to Ombudsman Conchita Morales' pronouncement that he was goading people to kill drug offenders to solve the drug menace in the country. APEC, File
Maranao leader claims HR violations by military in Marawi
Jess Diaz
(The Philippine Star) - July 22, 2017 - 4:00pm
MANILA, Philippines - A Maranao leader and Marawi resident yesterday pleaded with senators and congressmen to end President Duterte's martial law in the city and the rest of Mindanao.
"I am for Marawi. Please ask us what we feel. Please ask us how we stand on this," Samira Gutoc-Tomawis, who belongs to a civil society group calling itself Ranao Rescue Team, said.
Choking with emotion, she claimed the military committed human rights violations in fighting terrorists.
Tomawis cited the case of a 20-year-old with special needs whose hands, she said, were poured with hot water while being interrogated by government forces. One Muslim woman was also forced to shed her clothes.
"As you know, it is against our religion and tradition to do that. That is why we cover ourselves, from the head down," she said.
Another incident, according to Tomawis, saw the military rescue 26 men but asked them to remove their shirts with which they were blindfolded while walking.
"They were told to dig their own grave," she added.
Tomawis also said many Muslims could not bury their dead for days, which is against their tradition, because of the fighting.
She lamented that the suffering evacuees have to endure the situation in their temporary shelters.
Many are already dying due to diseases, according to the Maranao leader.
"Every five days, our volunteers bury a baby," she said.
Upon the request of Sen. Grace Poe, Tomawis spoke in yesterday's special session of Congress on the President's proposal for martial law to be extended for five months.
She earlier sent opposition's Akbayan party-list Rep. Tom Villarin a letter in which she wrote: "Fifty-seven days of suffering. All armed forces from all sides: Please leave us. Enough is enough. Every week, volunteers bury a baby or oversee a patient. Trauma and rage, even insanity, result from displacement."
Villarin said another Marawi-based civil society organization, Ranaw Watch, wrote the President to oppose his request for Congress to extend martial law.
"It's time we listen to the Maranaos. While we take the military's report with utmost importance, the voices of the people should be of paramount value," he said.