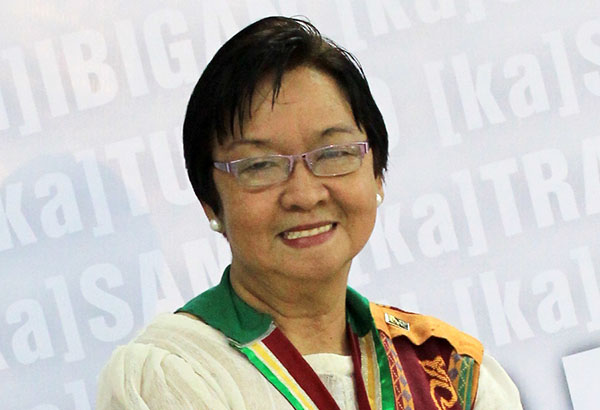 According to Social Welfare Secretary Judy Taguiwalo, the government decided to give P5,000, apart from the P1,000 given at the end of Ramadan, to each displaced family so they can start their lives anew. File
P5k assistance earmarked for displaced residents returning to Marawi
MANILA, Philippines - At least 19,000 families in evacuation centers in Northern Mindanao and those seeking shelter elsewhere will each receive P5,000 once they return to Marawi City when the armed conflict ends.
According to Social Welfare Secretary Judy Taguiwalo, the government decided to give P5,000, apart from the P1,000 given at the end of Ramadan, to each displaced family so they can start their lives anew.
Unregistered evacuees staying in the houses of their relatives or hotels are given until today to register in their respective barangays so they can avail themselves of relief goods and other services from government agencies.
Volunteers from the Autonomous Region in Muslim Mindanao will help encode and revalidate the basic information of all evacuees to prevent duplication of entries, which will be the basis for the Disaster Assistance Family Access Card (DAFAC).
The DAFAC will be used to keep track of services provided to evacuees by different government agencies.
Based on latest figures, more than 350,000 people are still displaced because of the clashes between the military and members of the Maute terrorist group.
Some 17,300 people are staying in evacuation centers, while more than 333,000 are with their relatives and friends.
Taguiwalo said relief distribution is ongoing both for those who are home-based and those in evacuation centers.
"The concerned field offices of the Department of Social Welfare and Development (DSWD) are continuously validating and updating the inside and outside evacuation centers data. Further changes are expected with the continuous validation and movement of the affected population," she said.
More than P123 million worth of assistance has already been provided by the DSWD to the evacuees.
Officials of the Philippine Amusement and Gaming Corp. (Pagcor) also flew to Iligan City on Monday to distribute relief packs for thousands of evacuees.
Pagcor chairman and chief executive officer Andrea Domingo spearheaded the relief operations for 5,000 evacuees temporarily sheltered at the gymnasiums of Barangays Maria Cristina and Sta. Elena.
The state gaming firm initially allocated P3.7 million in relief packs containing assorted food items, toiletries and a malong, a native Muslim blanket.
'Don't hoard food packs'
The DSWD warned all stakeholders not to hoard the food packs that were supposed to be given to evacuees.
It cited Republic Act 10121 or the Disaster Risk Reduction and Management law, which prohibits hoarding and removal or replacement of content of food packs from the DSWD.
"We ask the help of local government units to ensure that all DSWD assistance during calamities reach people in need as soon as possible," the agency said.
Taguiwalo earlier called on the public to report problems in the distribution of the relief for the evacuees.
Sen. Sonny Angara called on concerned government agencies to also focus on the evacuees' mental health and wellbeing following a news report that 2,500 of them have demonstrated early symptoms of schizophrenia.
Angara said the displaced residents of Marawi require sufficient medical aid, including mental health services, to help them cope with their present situation.
"The shattered dignity of the Maranaos is more difficult to relieve. It takes more than food or water or even shelter. It needs much more than that to be restored," Angara said.
Forced to leave their homes because of the armed conflict between the Maute group and state forces, Marawi residents have to cope with living in temporary evacuation centers and limited resources.
Being in this type of situation could lead to mental health problems and according to Marawi Crisis Management Committee spokesperson Zia Alonto Adiong, there are not enough psychiatrists in evacuation centers.
The DSWD said it will also implement a "cash for work" program for evacuees displaced by the ongoing conflict in Marawi City. – With Helen Flores, Paolo Romero, Lino de la Cruz, Marvin Sy, Ben Serrano