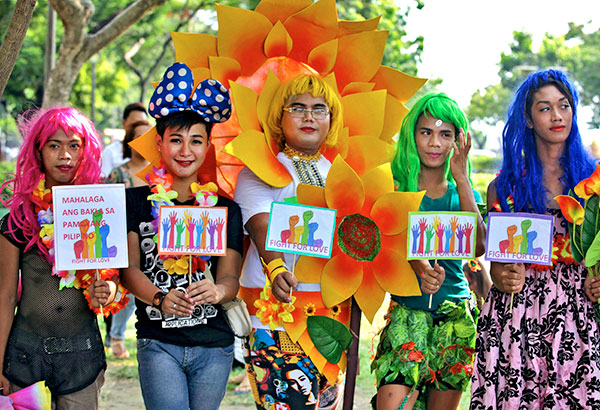 Members of an LGBT group participate in a Gay Pride march against discrimination in Manila. Ernie Peñaredondo, file
Baguilat bats for passage of Anti-Discrimination Bill
BAGUIO CITY, Philippines — Ifugao Rep. Teodoro Brawner Baguilat Jr. is urging his colleagues in Congress to come together and pass a law that will prohibit discrimination based on sexual orientation and gender identity.
This, he said, will help put "an end to the routine discrimination and sometimes violence against lesbians, gays, bisexuals and transgenders just because of their gender identity and sexual orientation."
Baguilat, who has authored an anti-discrimination bill still pending in the House of Representatives, has trained the spotlight on the LGBT community as part of the celebration of Pride Month. A consolidated bill that incorporates similar proposals by Baguilat and other lawmakers is in the period of sponsorship at the House.
The Ifugao lawmaker explained that while there is no law in the country that criminalizes LGBTs, there is likewise no law that expressly prohibits discriminatory actions against them, whether at home, in the workplace or in society.
A counterpart bill at the Senate has reached the plenary but passage of the Anti-Discrimination Bill has been hampered by opposition from the Catholic Church and its supporters who believe that the proposal could lead to the legalization of same-sex marriages.
Rep. Baguilat also noted that while the Philippines has consistently scored high on gender equality reports, this masks systematic discrimination against the LGBT community.
He cited findings by the Rainbow Rights Project, which said that violence against LGBTs ranges from physical to emotional violence.
Sometimes, the harassment comes from family members, particularly males who want to "punish" the LGBTs for their gender identity or sexual orientation.
The Rainbow Rights Project likewise reportedly identified instances where lesbians, bisexuals and transgender women faced discrimination when applying for jobs.
They are often denied employment despite being better educated and having either equal or better qualifications than other applicants just because of their sexual orientation.
There have also been cases where transgender women experienced harassment and discrimination when applying for passports and other documents for international travel, it further cited.
They were told, for example, that they should look like men in their passport photos because of a memorandum from the Department of Foreign Affairs.
Police officers and members of the military have also been known for harassing, bullying and ridiculing transgender women, according to the paper.
In some instances, LGBTs were arbitrarily detained, asked or ordered to provide sexual favors just because they are different.
The Rainbow Rights Project also said that the government has adopted an "uneven approach" to advancing the rights of the LGBT community.
"It is time that a law that will prevent discrimination be put in place, and this should help reduce joblessness and underemployment and end violence against LGBTs," the Ifugao lawmaker said.