Supreme Court faces 'complex' job over martial law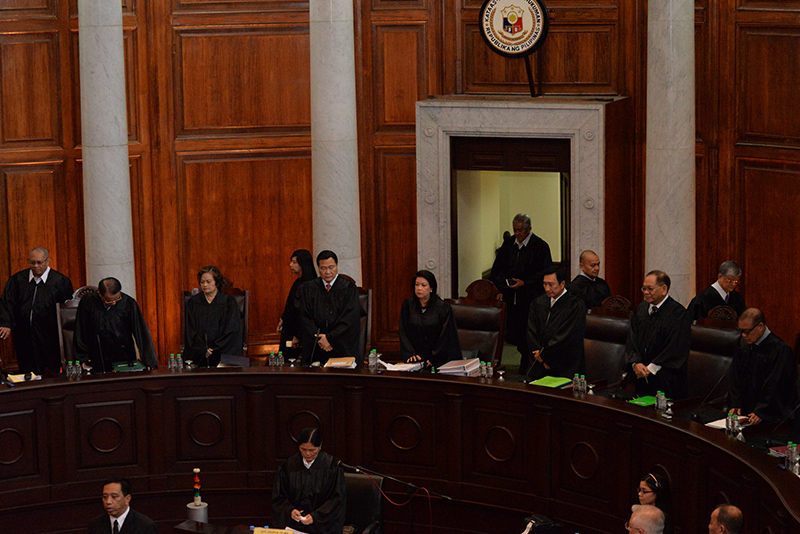 MANILA, Philippines (First Published June 14, 6 p.m.) — The Supreme Court's task in dealing with petitions questioning President Rodrigo Duterte's declaration of martial law in Mindanao is heavier and larger than it initially seemed.
The emergency power granted to the president by the Constitution is largely unexplored since its conception in 1987, following the demise of the abusive martial law regime of ousted dictator Ferdinand Marcos.
On the second day of proceedings, petitioners expressed concern that the ongoing military rule in Mindanao may lead to abuses of power and human rights violations as it did in the 1970s and 1980s under Marcos.
Chief Justice Maria Lourdes Sereno laid out what she called the court's "complex" job to set the grounds upon which martial law can operate while under the current body of laws. It is not only tasked to agree or disagree with petitions discussed at the oral arguments on Wednesday, she said.
Under the 1987 Constitution, and unlike in the 1973 version, the declaration of martial law cannot suspend the operation of the charter, the functions of civil courts and Congress, and the observance of the bill of rights.
But Sereno noted that while these newer limits to martial law are clear, the fundamental law does not set how martial law should be administered.
"We need to find out how we can get out of this emergency situation by trying to define for the president—with all due respect—what can be done and what cannot be done," Sereno said.
RELATED: Broad, arbitrary: Duterte's powers under martial law
In response to an assault on Marawi City by local terror group Maute on May 23, Duterte declared martial law over Mindanao. The factual basis and geographical scope of the declaration that extends beyond Marawi are among the points of contention between petitioners, led by opposition lawmaker Albay Rep. Edcel Lagman and lawyer Marlon Manuel, and Solicitor General Jose Calida who represents Duterte and the government.
Sereno said that while the court will uphold the president's jurisdiction, it is its duty to ensure that it follows the "framework that governs our country."
An omission of the court in its upcoming ruling, Sereno indicated, may lead to the destruction of institutions built over several decades since the restoration of democracy in 1986.
"It is not a simple job of the court to simply say that Marawi is under siege, and on that basis immediately concur with [the government] that we immediately dismiss the petitions that have been brought before us. But rather our job is more complex," Sereno said.
Sereno said that if the court does not provide guidelines for martial law, it will only add to the confusion about what the presidential prerogative entails. The lack of guidance may also expose security forces to possible administrative and criminal charges under domestic and international laws in the conduct of their clash against terrorists.
"It is only a voice of clarity and sobriety that is of most necessary in times of emergency," she said, while grilling lawyer Manuel. "While the court is very concerned about the violence that is happening in Marawi, we must still protect the fabric that holds together our society."
Manuel, who represents a group of Marawi residents, said the court's decision will serve as guide beyond the current implementation of martial law.
"This is a once-in-a-lifetime opportunity for this honorable court to rule on this very novel issue. The first time in three decades, from the 1987 Constitution," he said.
Sereno asked Solicitor General Calida to provide the court with copies of operational directives so far issued under martial law. These include Arrest Order 1 by Defense Secretary Delfin Lorenzana, and Justice Secretary Vitaliano Aguirre II's Department Order 385 directing an investigation into opposition lawmakers' supposed links to a destabilization plot.
RELATED: Aguirre links opposition solons to Marawi
Both parties to the petitions were also ordered to include "very clear" definitions of what can be done under martial law in memorandums to be submitted upon the conclusion of this week's arguments.
"We will expect that they will be full and thorough, including liabilities attendant to those who are implementing [martial law]," Sereno said. — with video report by Efigenio Toledo IV