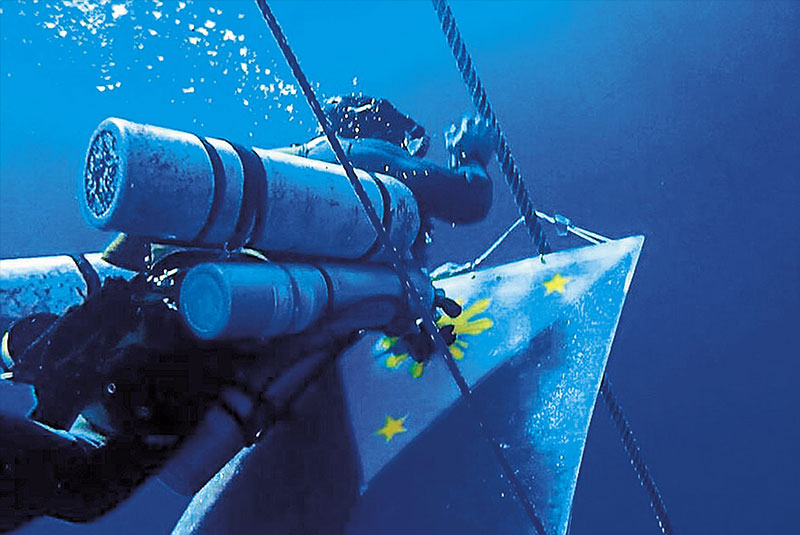 Philippines plants flag underwater to assert maritime rights
Jaime Laude
(The Philippine Star) - June 13, 2017 - 4:00pm
ABOARD THE BRP DAVAO DEL SUR, Philippine Rise, Philippines – Combined military and civilian divers, battling strong underwater currents and other life-threatening challenges, succeeded in hoisting a Philippine flag underwater as the country celebrated Monday its 119th Independence Day.
Technical divers from the Philippine Army, Philippine Navy, Philippine Air Force, Philippine Coast Guard (PCG) and civilian partners aboard this newly acquired landing dock ship (LDS) spearheaded the historic underwater event.
The event lasted 19 minutes, with the standard fiberglass laminated Philippine flag attached to an eight-by-eight-meter, six-inch-thick marker reminding those who will have activities there that the entire area, a 13-million-square-kilometer underwater plateau, is Philippine territory.
"This underwater marker serves as a symbol of Philippine sovereign rights over the Philippine Rise which shall forever be under the vigilant watch of the FILIPINO PEOPLE," the advisory dated June 12, 2017 read, with the words inscribed on a solid marker that has been installed on the 72-meter-deep seabed.
A 14-meter stainless-steel pole was then lowered to the seabed, away from the already established marker.
Overall dive director Lt. Cdr. Kiram Sadava said several glitches, aside from the strong current, forced most divers to surface after a few minutes, leaving only two of them to complete the mission.
"It's not easy but it is our mission to raise the flag and we did it," Sadava, said.
While technical divers headed by Presidential Security Group-Special Reaction Unit (PSG-SRU) commander Army Maj. Christopher Constantino were conducting the ceremony underwater, a flag-raising activity was also held on the helicopter flight deck of this mammoth Navy ship.
Northern Luzon Command (Nolcom) commander Lt. Gen. Romeo Tanalgo, who initiated the patriotic event, was joined by Reps. Bellaflor Angara-Castillo of Aurora and Leopoldo Bataoil of Pangasinan for the surface flag-raising ceremony.
"We have to do this…in compliance with the (directive) of the commander-in-chief of the Armed Forces of the Philippines (AFP) to put up a structure or to assert our claim," Tanalgo said, referring to President Duterte.
Nolcom conducted the simultaneous surface and underwater flag-raising ceremonies with other Independence Day flag-raising rites across the country early Monday morning to symbolize the Philippine's firm stand on protecting its sovereign rights over the region, as per ruling of the United Nations (UN) ruling dated April 12, 2012.
Foreign and local security experts warned that after the South China Sea, Beijing is eyeing the Philippine Rise as its last stop for its naval projection long-range plan.
Late last year, a Chinese survey ship was monitored to have stayed, for yet unknown reasons, over the area for almost three months, Defense Secretary Delfin Lorenzana officially disclosed early this year.
Local fishermen, however, said that since May, Chinese vessels have now become regular sights in the waters bounded by the Philippine Rise.
"We know it's a Chinese ship because we have been seeing them out there," one of the local fishermen told The STAR.
Tanalgo said that while all foreign ships can sail over the vast ocean over Philippine Rise, Nolcom would not allow any illegal activities of these vessels in the area.
"Under innocent passage, we own the seabed but not the waters over it. That's why we are showing our presence here by way of conducting surface patrol," Tanalgo said after the surface flag-raising ceremony.
'Bayan Ko'
The symbolic underwater and surface flag raising rites and the singing of the Philippine National Anthem were followed by the singing of "Bayan Ko" by around 250 military and civilians led by Bataoil.
"This is ours and we must protect this area being part of our territory, just as what our heroes did, starting from Lapu-Lapu onward, who offered their lives for the country and people," Bataoil said.
Angara-Castillo, meanwhile, vowed that she would push Congress for the development of Philippine Rise not only for her local constituents but also for the entire country to benefit economically.
She also said that it is about time that the International Container Port Terminal in Casiguran, Aurora be completed and become operational, to hasten development projects both in the mainland and in Philippine Rise.
The defense department is also building a naval base in Casiguran as part of the government's security plan for the country's underwater plateau, which is not only rich in marine life, but also believed to contain huge natural gas and other mineral deposits.