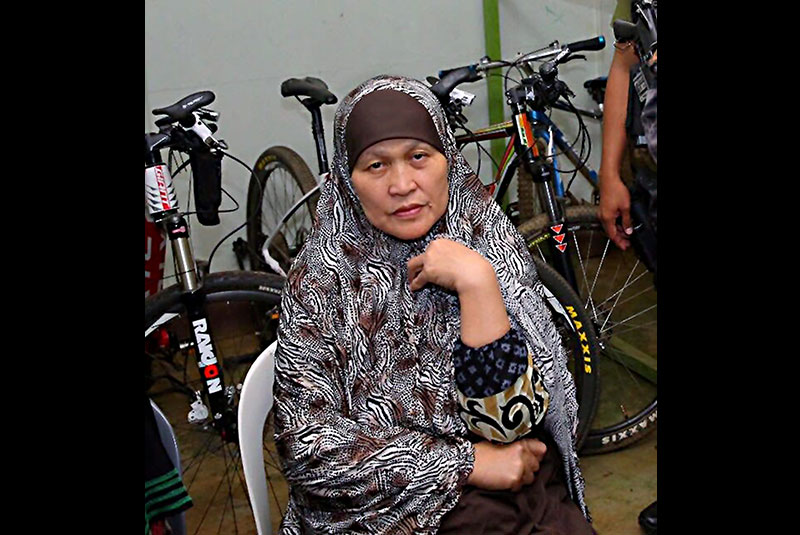 The Department of Justice has started inquest proceedings for rebellion against Ominta Romato-Maute, alias Farhana, and 11 others in connection with the Marawi City siege. File
Mama Maute faces rebellion raps
CAGAYAN DE ORO CITY, Philippines – The Department of Justice (DOJ) has started inquest proceedings for rebellion against Ominta Romato-Maute, alias Farhana, and 11 others in connection with the Marawi City siege.
Farhana is the mother of Maute group founders Omar and Abdullah.
Justice Secretary Vitaliano Aguirre II said the suspects were expected yesterday to face a four-member panel of prosecutors at Camp Evangelista in Barangay Patag in this city.
The suspects will be charged with rebellion, Aguirre said, adding that after the inquest proceedings, high-risk detainees would be transferred to Metro Manila for security reasons.
Capt. Joe Patrick Martinez, spokesman for the Army's 4th Infantry Division, said security has been tightened around the camp where the headquarters of the 4th ID is located.
Farhana was reportedly spotted in the city on the first day of the siege, prompting authorities to include her in the rebellion charges.
The defense department has ordered the arrest of 310 alleged members, supporters, spies and couriers of terrorist groups in Mindanao.
Farhana was arrested on Friday in Masiu, Lanao del Sur, along with several others.
Reports said the group tried to escape as government troops continued to pound the city's downtown area, where the Maute terrorists were believed to be holed up.
Police found several firearms and improvised explosive devices on Farhana and her companions.
Also facing charges is former Marawi mayor Fajad Salic, who was arrested at a checkpoint in Villanueva, Misamis Oriental on June 7.
Last week, authorities nabbed Farhana's husband and Maute patriarch Cayamora at a checkpoint in Davao City.
Cayamora is detained along with several other suspects at Camp Bagong Diwa in Taguig City, where he is considered a high-risk prisoner.
Bureau of Jail Management and Penology (BJMP) spokesman Senior Insp. Xavier Solda refused to reveal the location of the cell where Cayamora is held.
"Definitely, he will have companions in the cell since we don't have exclusive facility for a lone inmate," Solda said.
The panel of prosecutors included Merlynn Uy of Cagayan de Oro, Eduardo Cueto of Iligan, Chuchi Azis of Misamis Oriental and Lilian Doris Alejo of the DOJ main office.
On orders of President Duterte, Aguirre flew in from Manila to ensure that the inquest and preliminary investigation on the suspected members of the Maute group would proceed smoothly.
Duterte wanted to ensure that the panel of prosecutors is sufficient to handle the cases.
Aguirre said he would ask the Supreme Court (SC) to transfer either to the Visayas or Metro Manila the hearing of the rebellion charges against Farhana and her co-accused.
Last week, the high tribunal designated the Cagayan de Oro regional trial court to handle the cases filed against the Maute terrorists and their supporters, and Camp Evangelista for detention.
Resources sought
Aguirre yesterday asked the Department of the Interior and Local Government (DILG) officer-in-charge Catalino Cuy to provide Camp Evangelista with resources for the detained Maute terrorists and their supporters. – With Edu Punay, Cecille Suerte Felipe