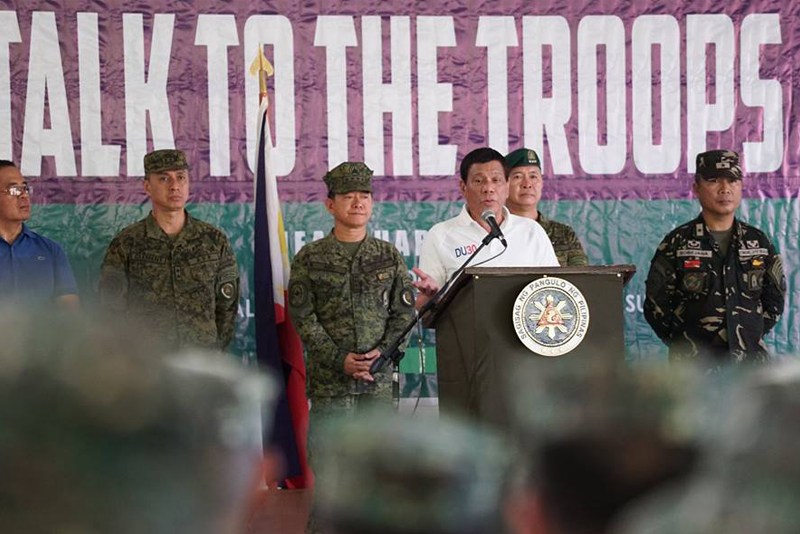 President Rodrigo Duterte talks to the troops of Joint Task Force Sulu prior to his visit to wounded soldiers at Camp Teodulfo Bautista in Jolo, Sulu on May 27, 2017. PCOO/Released, file
'Don't be afraid to do your jobs,' troops told amid challenges to martial law
MANILA, Philippines — Do not be afraid to do your job.
This was President Rodrigo Duterte's order to the military Tuesday following the successive legal challenges to his martial declaration in Mindanao last May 23.
"Hindi ako papayag na ma-dehado tayo. Kaya huwag kayong matakot (I will not allow you to be disadvantaged). If you are ordered to 'destroy,' you destroy. That's what they want. They'll ask 'Why is the order destroy?,'" the president told Army troops in Carmen, North Cotabato.
"Son of a b****, I am fighting a war here, do not interfere. I don't care about whoever will talk about human rights. Sige, kayo dito. Barilin ninyo kaagad (Go ahead, shoot them)," he added,
"So, huwag kayong matakot magtrabaho. Kasi ako lang kasi ang sa Constitution (Do not be afraid to do your job. I am the only one allowed by the constitution to do this). I and I alone can declare martial law."
Duterte made the remark after some members of the opposition filed petitions questioning the legality of his martial law declaration before the Supreme Court.
The first petition, which was filed by six members of the House of Representatives' opposition bloc, claimed that the martial law proclamation has no sufficient factual basis.
The lawmakers claimed that there was no rebellion or invasion where the public safety required the declaration of martial law in Marawi City or elsewhere in Mindanao. Another petition filed by Sen. Leila de Lima and five other individuals urged the Supreme Court to compel Congress to hold a joint session to review Duterte's basis for declaring martial law.
Malacañang has insisted that there was enough basis to declare martial law, saying the Islamic State-linked Maute terrorists had tried to take over Marawi City.
Chief Presidential Legal Counsel Salvador Panelo also on Tuesday said the petitioners have "misread" the provision of the Constitution.
"The Constitution cannot be clearer. Congress is only required to convene and vote jointly on the proclamation of martial law and the suspension of the privilege of the writ of habeas corpus if it intends to such revoke proclamation and suspension," Panelo said in a statement.
Lawmakers calling for a joint session have said discussions must be done to determine whether Congress intends to revoke the declaration or not. Congress has opted to instead pass resolutions of support for martial law in Mindanao, which has overwhelming support in both chambers.
Duterte: Foreign ideology destroying Mindanao
Duterte chided the Maute terrorists for supposedly allowing a foreign ideology to enter the country and to wreak havoc in Mindanao.
"I am angry because they brought a foreign ideology to Lanao. The Moros are dying for it. Kayo diyan, gamitin ninyo ang ulo ninyo (Use your heads)," the president said, referring to the extremism of the Islamic State of Iraq and Syria, which the Maute and the Abu Sayyaf faction led by Isnilon Hapilon have pledged allegiance to.
"Why do you allow other people to come to our country and destroy us for their ideology?" he added.
Duterte noted that the objective of ISIS has been "to kill and destroy," something that he said he is ready to counter.
"I will destroy also and kill, period. Let us finish what you started you sons of b****. Let's finish this," he said.
Duterte reiterated that he would not talk peace with the Maute terrorists, noting that many soldiers and policemen have died during the Marawi siege.
"If it would take me 10 years to do it, I will do it, if I am still around. If I will do it until the end of my term, I will do it," the president said.
Duterte stressed that he is ready to take responsibility for the military's actions in his campaign against terrorism and illegal drugs.
"Everything that will happen here, whether you are wrong or right, I will answer for it. I and I alone will assume full responsibility. Just work. The order is to destroy the enemy," the president, also the military's commander-in-chief, said.
"The same applies to drug addicts. You have to destroy the apparatus," he added.
'Let me live for five more years'
Towards the end of his speech, Duterte congratulated the troops for their accomplishments and urged them to let him live for five more years.
"I have to go but congratulations on your achievement… Ako pa naman ang presidente. Kaya buhayin ninyo ako ng ano, five years (I am still the president. So let me live for five years)," the president said.
"Eh, baka i-coup d'état niyo ako tapos itapon ninyo ako sa isang kanto, eh 'di naloko na. Wala nang mamut**** i** sa kalaban. Hindi naman marunong mag-p***** i** ang military (You might launch a coup and throw me somewhere. No one will curse at the enemies anymore. The military does not know how to curse)," he added.
Duterte vowed to repay the military's services by providing them with new equipment. He also promised to set up a trust fund for the education of the children of soldiers.