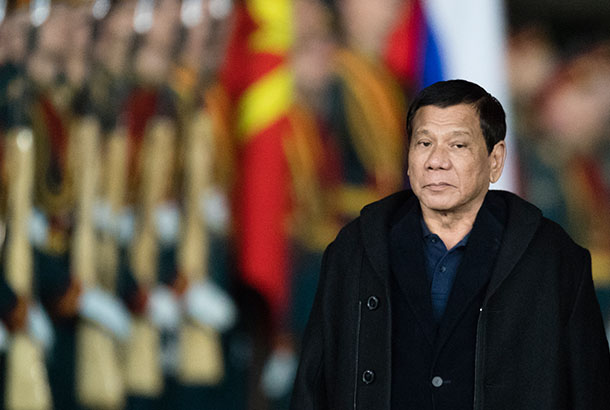 everal senators do not see any basis for President Rodrigo Duterte to impose martial law in the whole country as various personalities and groups have warned against possible repercussions of such a scenario. AP/Pavel Golovkin, File
No basis for Philippines-wide martial law – senators
(The Philippine Star) - May 25, 2017 - 4:00pm
MANILA, Philippines - Several senators do not see any basis for President Duterte to impose martial law in the whole country as various personalities and groups have warned against possible repercussions of such a scenario.
Under the Constitution, the President may only declare martial law in case of invasion or rebellion when public safety requires it. The effectivity of the declaration can only last for 60 days. It is also subject to review of Congress and the Supreme Court.
"I don't see it," Senate Minority Leader Franklin Drilon said yesterday, referring to any basis for declaring martial law nationwide.
Sen. Francis Pangilinan said while they have given their "critical and guarded support" for the martial law declaration to neutralize the Maute group in Marawi City, "there exists no Visayas-wide nor a Luzon-wide invasion or rebellion to merit the declaration of martial law as allowed under our Constitution."
Pangilinan said what is happening in the south could be isolated terrorist acts and they would oppose any plan to place the whole country under martial law.
He said martial law is not the solution to the problems of the country such as terrorism, poverty, unemployment and low wages.
Shortly after his arrival from his abbreviated trip to Russia, the President said he might expand the coverage of martial law to the entire country if violence spills over from Mindanao to the Luzon and Visayas regions.
Unstable
Sen. Antonio Trillanes IV, a former military officer and critic of Duterte, said the President could not be trusted with such a decision and that the Armed Forces of the Philippines could handle the crisis in Marawi City "with or without martial law."
"Duterte's erratic behavior is dangerous because a president has enormous powers. So imagine we give the powers of martial law to an unstable individual like Duterte, our country will be in jeopardy," Trillanes said.
"If we give Duterte an opening, the next (declaration) will be for the entire country. He's conditioning the minds of Filipinos that martial law is OK – no, that's an extreme option," he said.
Duterte, he said, is "pushing the boundaries of our people's patience, the different institutions and various sectors to test the limits of his powers."
He said it appeared that Duterte was "trigger-happy" in declaring martial law in Mindanao and has been "itching" to do so, as he did not wait for the Armed Forces to give an assessment or control the situation within a manageable period.
The senator said the President has been making major decisions without prudent consultations, as in the case of announcing the rejection of aid from the European Union.
World is watching
Former national security adviser Roilo Golez, for his part, pleaded with Duterte not to declare martial law in the entire country, saying the situation may escalate and he may lose the people's support.
"With your indulgence, I offer my unsolicited advice as a citizen and taxpayer. There is no reason for that," Golez said.
He strongly recommended that Duterte focus all his "strong leadership skills" in resolving the crisis in Marawi City and wipe out once and for all the Abu Sayyaf and the Maute group.
"We have to show the world that the government has the decisiveness and competence to solve this crisis very quickly. The world is watching us now. Please end this crisis fast so we can go back to normal, to business as usual, which is the objective of crisis management," Golez said.
He said returning to normalization as soon as possible is clear in the National Security Council crisis management template.
"If the crisis escalates beyond Mindanao, that would mean a failure of the management of the Marawi crisis," Golez said.
He said since the martial law declaration covers only Mindanao, the people in general are with Duterte.
"But an expansion beyond Mindanao I dare say would not generate the same public support and could even erode your popularity in Metro Manila, the rest of Luzon and most of the Visayas," he said.
Golez said he fully supports the President's Mindanao martial law proclamation and prays for his success in ending the crisis quickly and decisively.
Human rights advocates expressed alarm over Duterte's declaration of martial law in Mindanao.
Defense Secretary Delfin Lorenzana said under martial law, the military will have "control of movement, searches and arrest of detained people, suspension of writ of habeas corpus."
"Given the lawlessness of Duterte's 'war on drugs,' in which the police and their agents have been implicated in the cold-blooded killing of more than 7,000 suspected drug dealers and users, military restraint in Mindanao may be wishful thinking," noted James Ross, legal and policy director at Human Rights Watch.
Earlier, Duterte was quoted as saying, "Martial law is martial law, ha. It will not be any different from what the (former) president, (Ferdinand) Marcos did. I'd be harsh."
Ross said Duterte's casual reference to the late dictator should be alarming, especially for Filipinos who lived through martial law under the late dictator.
"For nearly 10 years, beginning in 1972, Philippine security forces carried out massive arbitrary arrests and detention, torture and countless extrajudicial killings and enforced disappearances for which very few were ever punished. The country's downward spiral continued after martial law was lifted in 1981 until Marcos was overthrown in the 1986 'people power' revolution."
However, the group said Duterte faces one significant obstacle to becoming the next Marcos: the 1987 Constitution, which places restrictions on the imposition and conduct of martial law.
"Congress can revoke the martial law proclamation by a majority vote and the Supreme Court can rule on the factual basis for its declaration. Martial law can't be used to suspend the Constitution, the courts or the legislature, and military courts can't try civilians if the civil courts function. Anyone arrested must be charged before a judge within three days or be released," Ross said.
But he cautioned "words on paper are just that" and in the coming days and weeks, "(we) will see if the Philippine Congress and courts are up to the task of keeping a wildly abusive President in check. Since Duterte took office nearly a year ago, they haven't been."
The group Karapatan urged Duterte to lift the martial law declaration, saying the nation "has gone through the monstrosities of martial law" and repeating it will inevitably worsen rights abuses.
"There are inviolable rights that cannot be foregone, regardless of place, time or context. But despite such safeguards, martial law is a Pandora's box that will give way to systematic rights violations. Just like in the time of Marcos, these violations will be justified under the blanket of 'security,' 'protection' and 'national interest,'" it said.
Sen. Risa Hontiveros said allowing civilians to carry firearms outside their homes to protect themselves or for whatever reason would cause more problems than solutions.
Reacting to the statement made by Duterte about having civilians, particularly those living in Mindanao, armed in public was something that should not be taken lightly.
"If you allow civilians to take up arms then you will only worsen our problems with private armies and warlords," Hontiveros said.
"This would also add to our problem with the proliferation of small arms and light weapons, which the PNP said has contributed to the rising cases of firearms-related crimes and violent incidents," she added.
Rather than helping address the problems, Hontiveros said that such declarations by the President would only do more harm.
"His chopsuey declarations and proclamations create more chaos than order," Hontiveros said.
Senate President Aquilino Pimentel III, Senate President Pro Tempore Ralph Recto, Senators Panfilo Lacson, Gregorio Honasan, Sonny Angara and Francis Escudero were not as alarmed and would like to wait for further developments.
Like Hontiveros, however, Escudero cautioned Duterte against allowing civilians in Mindanao to openly carry their licensed firearms to defend themselves. – With Rhodina Villanueva